By the December of 2016, I was a minor veteran of Himalayan treks. Having been on six, I had my share of living the tent life. For my next Himalayan trip, I wanted to experience the mountains in a more relaxed way.  I wanted to wake up early and wait patiently for the sun to rise. Or cuddle up and sleep in a cozy bed if I felt like it. I wanted to chase Himalayan song birds. Or ponder about who I am under a star studded sky. Which place could offer me all this?
In October, earlier the same year, I seized an opportunity to book cheap flight tickets to Delhi without a destination in mind. Hey, I am a travel photographer and blogger and Delhi is the gateway to many Himalayan sojourns.
Discovering The Goat Village
Although I despise Facebook, a few serendipitous connections lead to exciting outcomes. It was through a random Facebook message that I first heard about The Goat Village in Uttarkhand.  I was invited to stay at any, or two of their main farm retreats. Mani Mahesh, a volunteer from The Green People, who sent me the message patiently answered my questions. I devoured information in the links he sent to understand the philosophy behind The Goat Village. After I carefully studied them, I was intrigued. Especially since they had a 'pay as you like' concept. Yes, the travel industry is booming right now, but how many places invite you to stay for no fixed cost?
After exchanging emails with the volunteer in-charge of the booking, I was all set to visit The Goat Village at Raithal. Their property at Nag Tibba had nothing but rave reviews on TripAdvisor and Facebook. But I picked Raithal because I also wanted to trek to Dayara Bugyal – a high altitude meadow. The Goat Village in Raithal was new, operational only since November. To my surprise, my internet research about Raithal lead me to nothing of importance. Heck, Google maps couldn't even provide driving directions to Raithal from Uttarkashi. Was I prepared to take a thousand-kilometer journey to an unknown destination? Was I ready to trust a place of stay that was run by just volunteers? How would I spend five days in a remote place with spotty mobile network and no electricity?
Reaching The Goat Village at Raithal
By the time I arrived in Uttarkashi at 12 pm after a 30-hour journey from home, I had been through the typical travails of traversing from the South to the North of India. I met the usual suspects – first the immaculately dressed stewards and then the insolent taxi-drivers. The one who dropped me at Uttarkashi was curious about why I was there – I definitely did not look like a pilgrim to Gangothri which is about 150 km from Uttarkashi. I mentioned Raithal and his expression changed from confusion to surprise. Although just 75 km from Uttarkashi, Raithal to him sounded like a distant land.
Transport options to Raithal was indeed poor. I learnt that there was only one direct share taxi leaving Uttarkashi at 4 pm. So I ended up waiting a couple of hours in the dusty town of Uttarkashi. Luckily, my 6 hour taxi ride from Dehradun to Uttarkashi was via an extremely scenic route and my spirits where high. Mamta Rawat, the manager of The Goat Village at Raithal was my point of contact. She informed the taxi driver to reserve a seat for me for the ride from Uttarkashi to Raithal and that was a good thing. The taxi was packed! It turned out that she was quite well known in that part of the world. I would later learn why.
Note: The correct coordinates of the Goat Village are: 30°49'04.9″N 78°35'50.5″E. You can enter this in Google Maps.
When we arrived at The Goat Village, it was already dark. Two enthusiastic girls helped me with my bags after we got off the shared taxi. I did not know who they were and where exactly we were going. From the moment we got off the taxi, we were only walking upward. In five minutes as we left the street lights behind, I was huffing and puffing. It was pitch dark, but the girls assured me that the climb was not much. Suddenly, Mamta overtook us, asked me to hand over my bag, and started walking up at thrice my pace. I was told that she had a reputation of being Hanuman. No kidding!
I was greeted with a warm wet towel and a bouquet of fresh wildflowers once we reached The Goat Village. My room was a beautiful twin-bed cottage with an attached bath and a tiny sit-out. Outside my room, it was not only dark, but also very cold. The girls got busy cooking dinner. I stepped out of the cottage and looked at the night sky – what a sight it was! The sky was glittering with a million stars! I could even see the Milky Way cluster with my naked eye.

I was invited to have dinner beside a traditional chulha or mud stove where Meera was making rotis. It was warm inside, and hot rotis took the shortest route from the fire to my plate. There was no doubt in my mind that food would be the least of my worries for the duration of my stay. Everything was fresh, hot, and extremely tasty! There were three young girls, Meera, Vandana and Preethi taking care of the property under the guidance of Mamta. Their constant giggles and chit chatting made for good entertainment.
After a sumptuous Gharwali dinner, I stepped out to try and take some photos of the night sky. There was pin drop silence all around. I could hear the river Bhagirathi flowing at a distance. About half a kilometer above the village of Raithal, we had no neighbors at The Goat Village. Thick Himalayan forest surrounded us on three sides. I had surely stepped into paradise.
Exploring The Goat Village
I was up early in the morning, partly due to excitement, and mainly to catch the sunrise. The sun was the late riser here. I could see it only at 8 when it showed up from behind a cliff in front of The Goat Village. Pretty yellow flowers in front of the farm made for postcard like photos.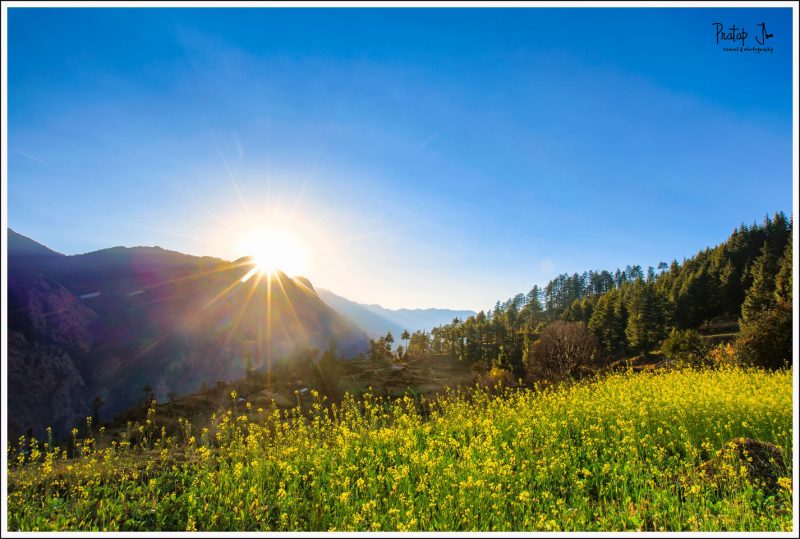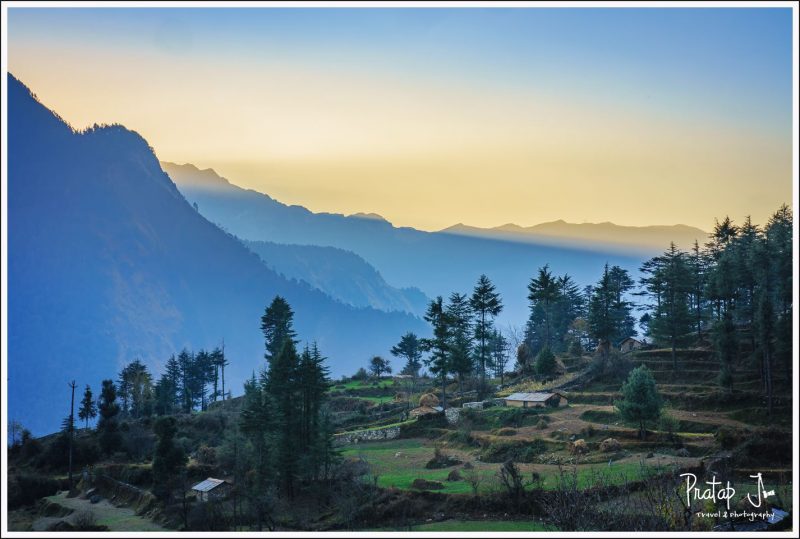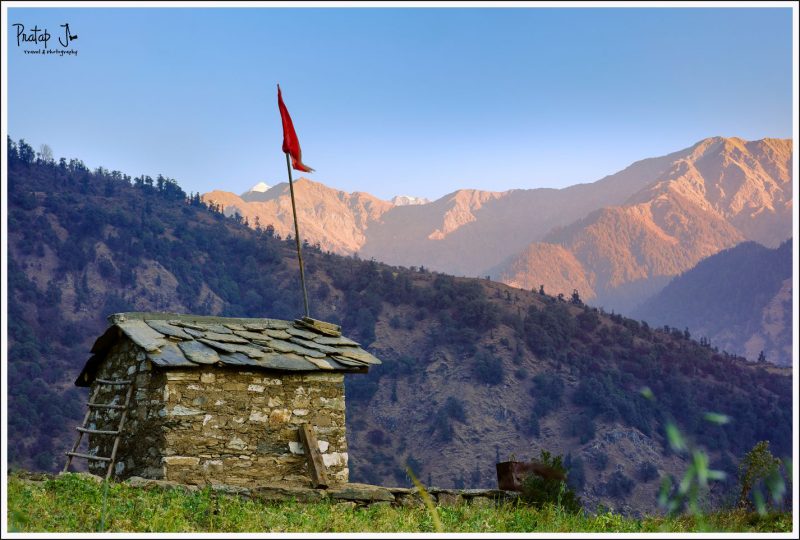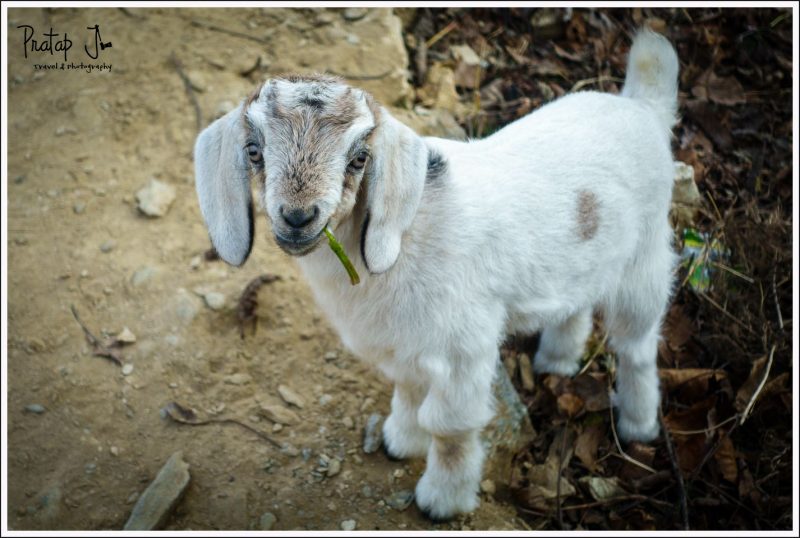 The plan for the day was to visit the cluster of villages around Raithal. My guide was Darvender, a young lad from one of the nearby villages. After having parathas for breakfast and a hot bath, I set out for my cultural tour. Our final destination was the village of Jakhol, where Darvender's sister had invited us for lunch. What I did not know is that we would be walking about 18 km that day 🙂

We strolled through the narrow gullies of Raithal and Natin. Darvender filled me up on life in this part of the country. I learnt about how they prepared for the cold winters, how they lived off the land, and how things were changing with more young people moving to bigger towns to in search of a better life.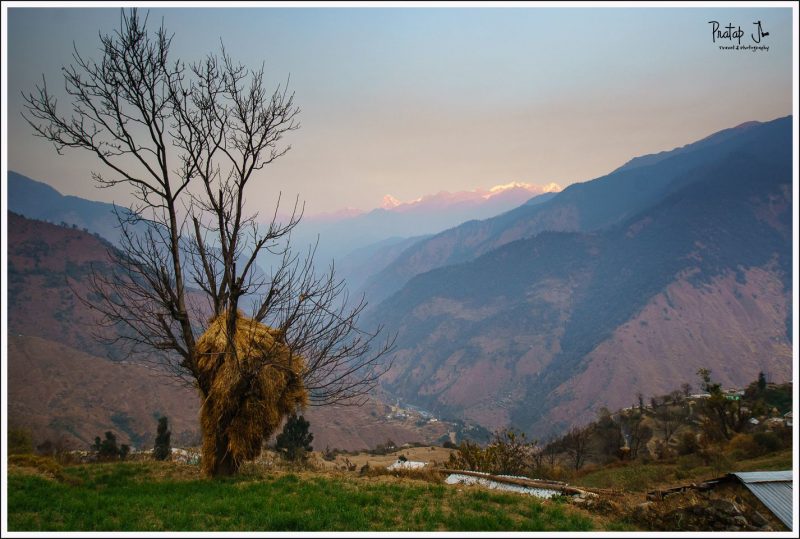 We passed by the comparatively bigger village of Gorsali where I saw an old woman bathing a buffalo (how often do you see this?). On the way we met a bunch of enthusiastic little kids who were also on the way to Jakhol to see the Ram Leela show. The girls were full of life, and obliged us with a few Gharwali songs.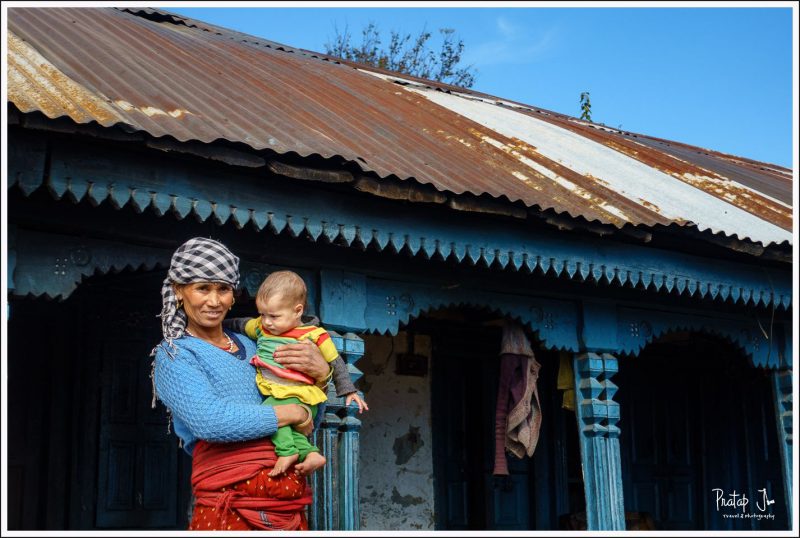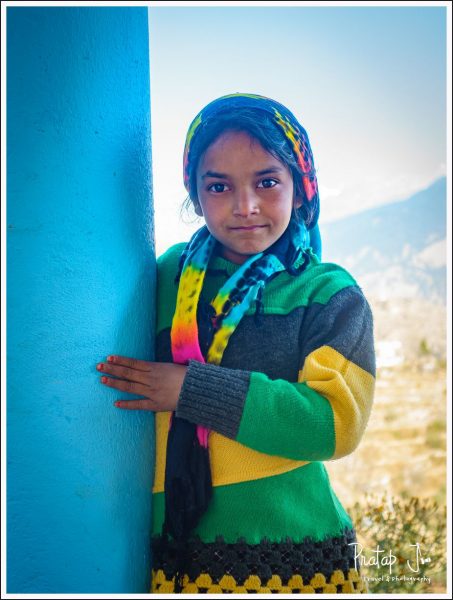 After a simple meal in Darvender's sisters place, the two of us retraced our steps. Although I was an outsider, everyone greeted me with at least a smile. Raithal is on the popular trek route to Dayara Bugyal so visitors were common here. Dayara was where I had planned to go the next day.
Once back at The Goat Village, I received compliments on my stamina. Mamta had instructed Darvender to check my walking pace on the day outing. She was a trained mountaineer from the National Institute of Mountaineering at Uttarkashi and a recipient of several awards and recognitions for her role in rescuing people affected by the floods in the year 2013. I was certified fit enough to trek to Dayara and come back in one day. 🙂
Trek to Dayara Bugyal at 11,000 Feet
On the morning of my third day at The Goat Village, I woke up early in preparation for the trek to Dayara Bugyal and back. It was a total distance of about 14 km which I had to complete in one day. Although my original plan was to camp overnight at Dayara, the cold weather and a few other reasons made me change my mind. We also did not have the necessary permissions from the forest department to camp overnight.
We left the farm at 6.30 am. It was a steep climb via an alpine forest. Darvender was my guide on this day too. Not surprisingly, he was effortlessly walking up the well paved path. I was huffing and puffing, taking small steps. As much as I love trekking, my lungs hate any effort that involves defying gravity. We reached a place called Gokul by 8.45 am and had packed breakfast. Gokul had a few abandoned huts and a small frozen lake.  After eating, we continued the walk through thick forest, and this time my pace slowed down further. Every step was such an effort! The 15 km I had walked the previous day had left me with an aching calf muscle. Finally, we reached Dayara at 11.30. Pro tip – the regular trek route to Dayara via Barsu is a little easier as the climb is less steep.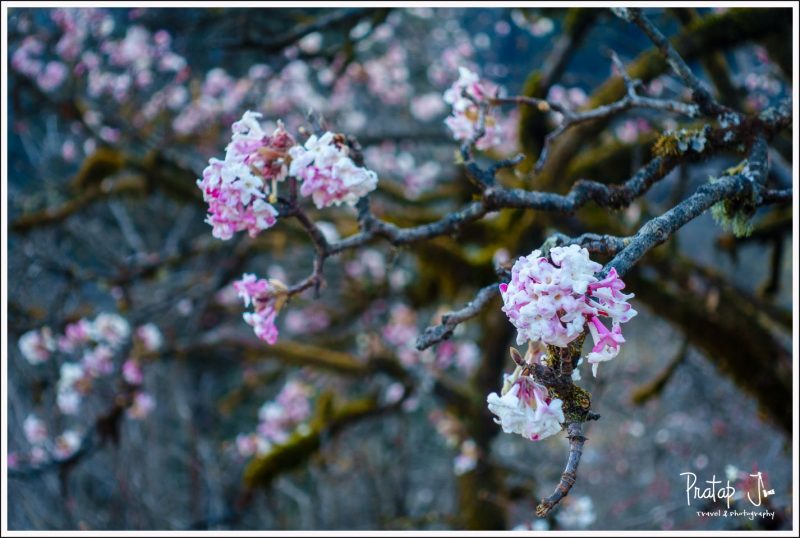 The transition from forest to open meadow was instantaneous. We saw a few abandoned huts when the forest path ended. Darvender told me that this would have been our rooms for the night, had we stayed back. Local villagers leave the huts and migrate down to warmer regions during winter. These huts are available for free for trekkers during winter 🙂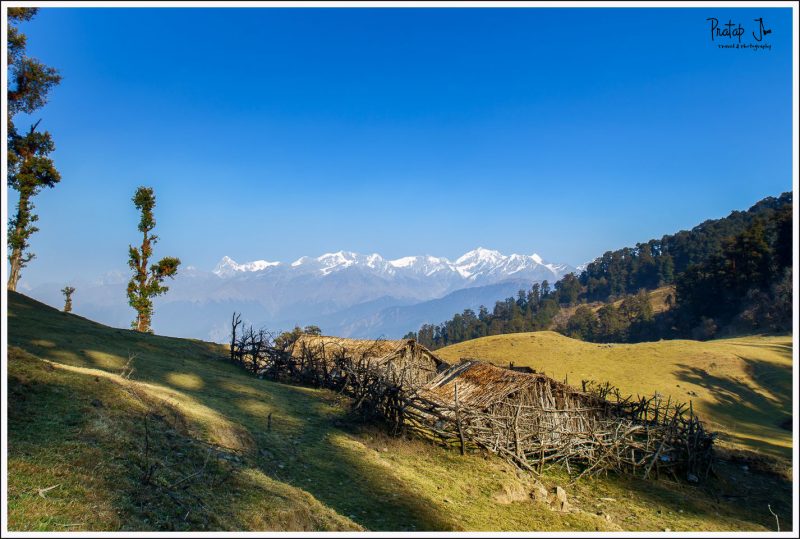 Dayara Bugyal was as beautiful as I had imagined. The serenity of the place is hard to describe in words. Vast and undulating, I could see snow-clad Himalayan peaks all around. Darvender pointed to a flag on top of a small hillock and said that is the highest point in Dayara. He was determined to go there, but I was reluctant. I made a mental note to come back to Dayara well prepared to camp for a day or two. I wanted to experience the beauty of this high altitude meadow in leisure.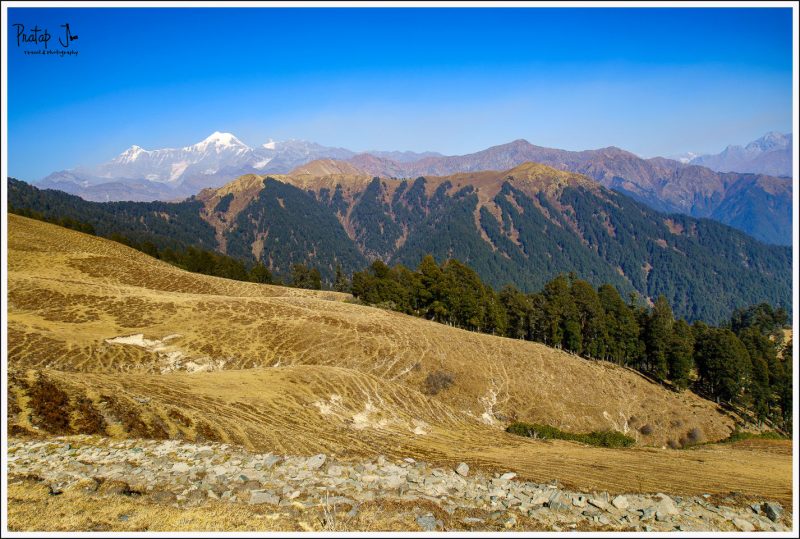 After lunching and clicking pictures, we covered a little more area in Dayara and finally reached the huts again. The meadow is really vast and one can spend a whole day just walking around. I had to make a return trip, so we did not hang around for long.
Airtel signal was really strong at one spot, so I caught up with my backlog of messages and email. I hadn't connected to the internet for the previous three days.
Raithal was also clearly visible from where we halted, so I clicked a few more pictures with my phone after which we started the descend.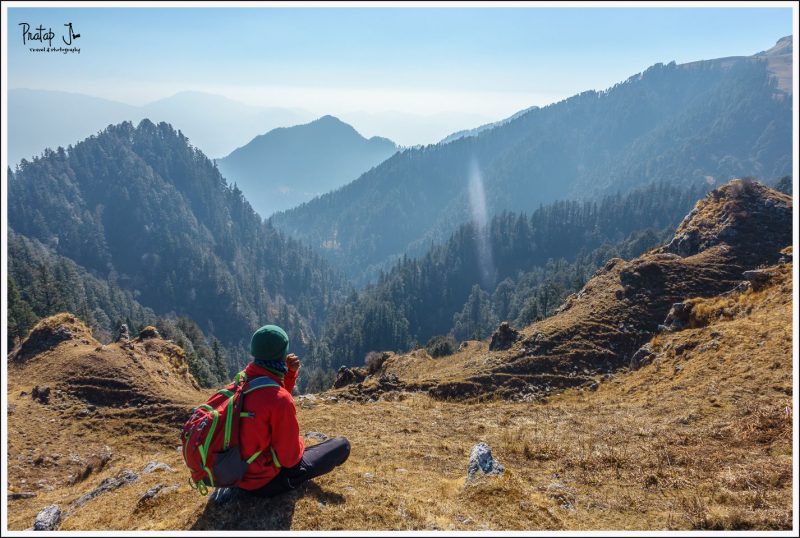 My pace while walking downhill was slow as well. Loose rock and an aching calf made me cautious of my steps. We were back at The Goat Village by 5.30 pm in spite of taking several small breaks. All through the day, we did not meet any other human. I consider that quite a thing, living in a country of 1.25 billion 🙂
Needless to say, that night I slept really well. The best part about the cottages at The Goat Village is that they are warmer inside than the temperature outside. Thanks to the traditional Gharwali architecture, the cottages are well suited for the local climate. In the warmth of my blanket, I did not feel any discomfort.
Places Around The Goat Village
Mamta had arranged something special for me the next day. In the morning, I took the goats for a walk, and visited the nursery. After lunch, we went to the village of Raithal to attend not one, but two weddings! I was even the official photographer for one of them. After the wedding, Mamta took me to watch a short scene of the Ram Leela. It was definitely interesting to see how the locals of Raithal lived as a community.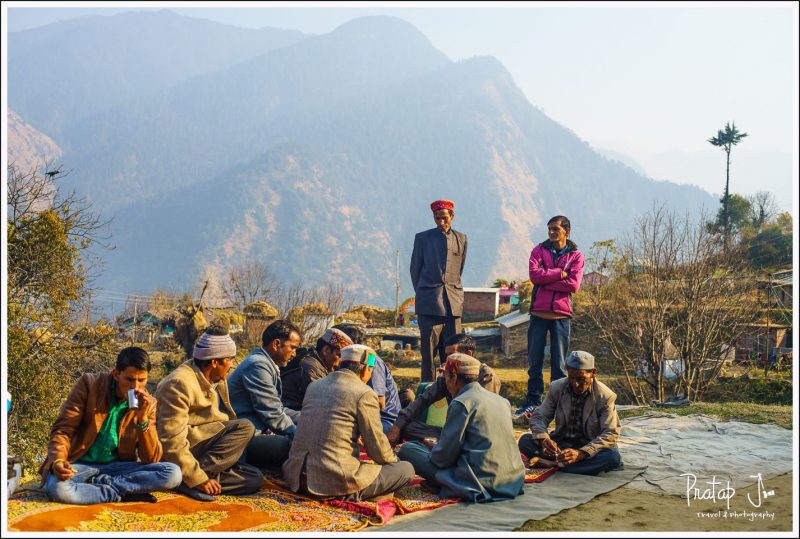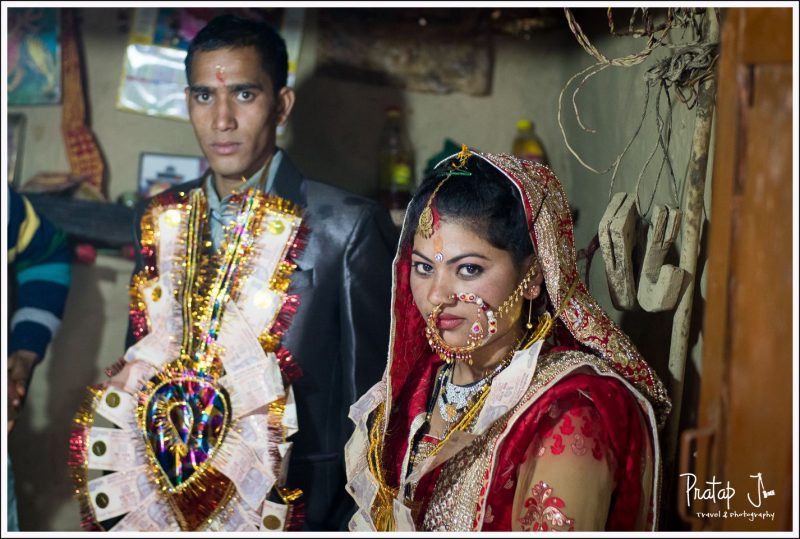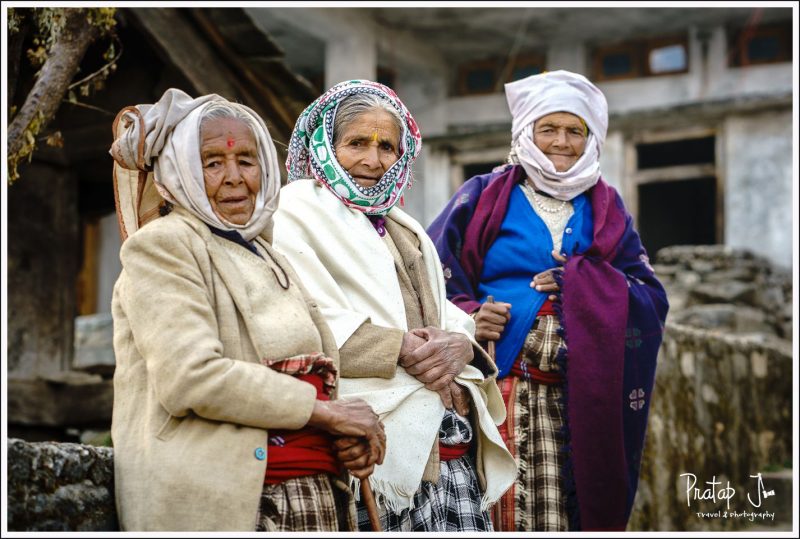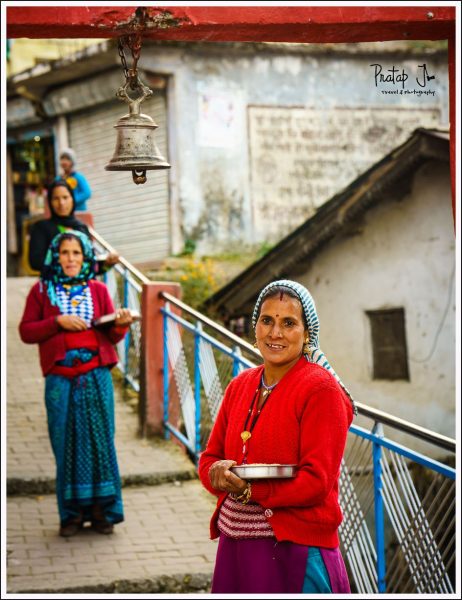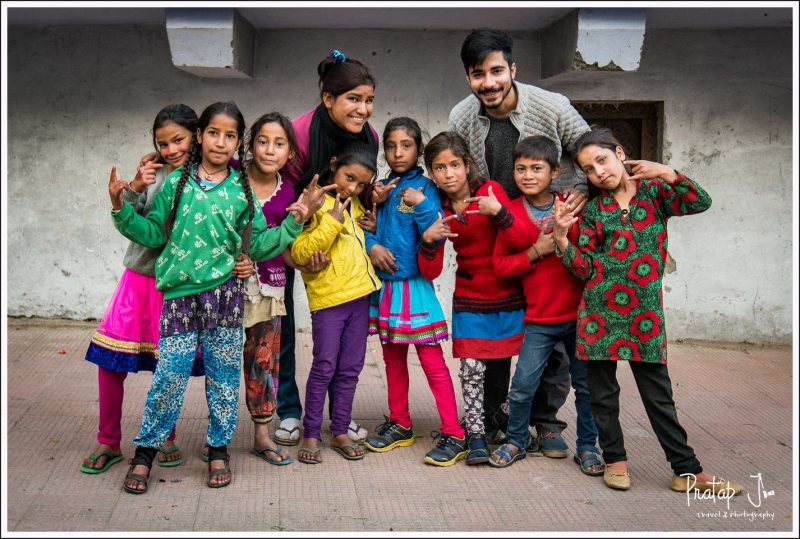 On the last day of my stay at the Goat Village, I met Mani Mahesh in person. He, and a friend, Shubham, made an impromptu visit to Raithal. Mani is the manager of The Goat Village at Nag Tibba. He had a lot to share about the philosophy and mission of the Green People community.
I was thrilled to learn that The Goat Village was a volunteer run organization that welcomed people from all professional backgrounds. Mani shared a few success stories of reverse migration, organic farming, and locals people run and maintain their properties. Apart from the Goat Villages, The Green People organization also operates Bakri Chhap, a storefront that sells organically grown products.
Later in the day, Mani, Shubham and I visited a hot spring at Gangnani on the Bhatwari – Gangothri highway. It was my first visit to a natural hot spring, and I was thrilled. Taking a dip in the water, I was surprised at how hot it was! The warm waters soothed my muscles and I felt totally relaxed. Pro tip – carry water and hydrate yourself well after taking a dip in the hot spring.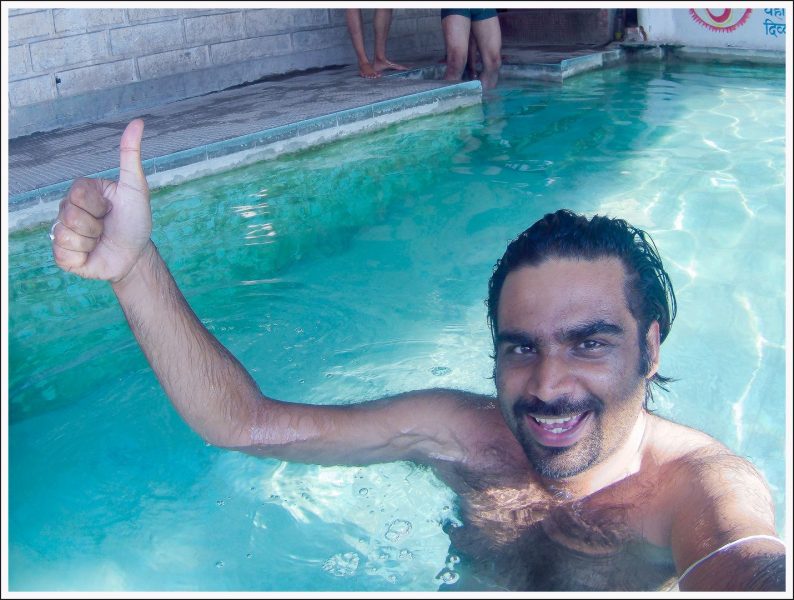 Bidding Farewell
When it was time to leave The Goat Village, I felt a sense of gloom. After four days of eating organically grown tasty food, breathing fresh Himalayan air, and drinking sweet glacial water, I did not feel great about going back to my polluted hometown.
As much as I did not want to leave my temporary Himalayan abode, I was aware that many people from these parts dream about migrating to other towns and cities. The truth is that the grass is always greener on the other side. For whatever it is worth, I was really glad that I got a glimpse of how the greener pastures looked.
I'd like to thank the Green People community for giving me a chance to stay at The Goat Village. Although I was personally invited by them, I paid for my accommodation and food. Yes, they have a 'Pay as You Like' concept so you are free to check out the place for yourself without worry!
The Goat Village: http://thegoatvillage.com/
Green People community: http://www.grppl.in
Bakri Chhap for farm products: http://www.bakrichhap.com/
I also created a video of my experiences at The Goat Village. Do watch with audio!
Here is the equipment I carried for the trip
Sony RX100 Mark IV
Sony A7rII
Gitup Git2 Action Camera
Canon 16-35 f/2.8L II
Zeiss Batis 85mm 1.8
Carl Zeiss planar 50mm 1.7
Movo Photo panning base