Valley of Flowers is a mystical region in the Himalayas, that has been quoted in various texts old and new. I remember reading about it in Swami Rama's book, "Living With the Himalayan Masters" a long time ago, before I did any kind of photography. The interwebs tell me that this place even gets a mention in the Mahabharata. Mythology and spirituality aside, Valley of Flowers was discovered as we know it today by Englishman Frank Smith, in 1931. But it is botanist Joan Margaret Legge who is remembered in the Valley. A grave marks the spot where she died in 1939, while collecting flower samples. Truth be told, reading these facts mean nothing, compared to the actual experience of trekking to the Valley and reading the following words written on Legge's grave:
"I Will Lift Up Mine Eyes
Unto The Hills
From Whence Cometh
My Help"
Having actually felt the silence, beauty and solitude of the this Himalayan paradise, I can confirm that the above words touch something deep inside you. In spite of bad weather, a tough ascent and chilly winds, the Valley filled our hearts and minds with peace and satisfaction. The government of Uttaranchal has done a good job in ensuring that the sanctity of the place is preserved. All along we felt we were in the lap of Mother Nature, and not in some artificial man made park. Apart from a path paved in stone, the entire region is as Legge would have seen it. This actually means a lot, considering the crowd that visits the more popular destination adjacent to the Valley – Hemkund Sahib. In fact, having lost a day, we chose to visit the Valley twice, skipping Hemkund completely. Because the choice really was between walking in the clouds through flower beds, v/s mingling with horses and pilgrims huffing and puffing up the mountain to the gurudwara at 13800 feet. Of course, Hemkund Sahib has its own fairytale like history. It is situated in an equally splendid location as well. Apparently one can see 7 snowy peaks on a clear day from Hemkund, apart from the beautiful high-altitude lake. Vivek from our group visited Hemkund, although he was not treated with any spectacular views owing to foggy weather. He did the ascend on a horse, which he found quite an experience. Our journey to the Valley of flowers had its challenges, but it was a fun and satisfying overall.
The Itinerary:
Ours was a well planned trip. The tour was customized with Garhwal Mandal Vikas Nigam – Uttarakhand's tourism department. In their Bangalore office sits a very interesting character called Anurag Dangwal. Our interaction with Anurag started almost a month in advance. During our first meeting with him we fixed a tentative itinerary, decided on what kind of rooms we will stay in, and what kind of vehicle we will travel in. He gave us a quote which more or less suited us. Before our second meeting we schemed on how we could bargain on the quote and went prepared for it. But even before we could speak, he gave us a new figure which was almost 10% lesser than the first one! Satisfied with this quote, we paid an advance to book the tour. GMVN was responsible for hotel and travel booking starting from Haridwar. Here is how the itinerary looked like:
Dat 1: Bangalore (BLR) – Delhi (DEL) by flight. Haridwar by train. This is when we had our taste of cattle class, traveling by second sitting instead of AC chair car because of a ticketing mistake from yours truly.
Day 2: Haridwar – Rishikesh – Joshimath by vehicle. On this day, the least anticipated and most ridiculous thing delayed our entire trip.
Day 3: Joshimath – Govindghat by vehicle. Govindghat to Ghangaria on foot. 14 km of ascent up the mountains!
Day 4: Ghangaria – Valley of Flowers trek.
Day 5: Ghangaria – Hemkund trek.
Day 6: Ghangaria – Valley of Flowers trek.
Day 7: Ghangaria – Govindghat trek. Govindghat – Birahi (beyond Joshimath) by vehicle.
Day 8: Birahi – Rishikesh by vehicle.
Day 9: Spare/Travel to DEL
Day 11: DEL – BLR by flight
Getting to Joshimath
After an uneventful flight to Delhi, our ordeal reaching Haridwar was due to excessive humidity in the plains. The weather did not improve even after sunset, which is when we checked in at the stately GMVN hotel. There we met our driver, a seemingly experienced man named Kishore Lal. We had an Innova booked for the entire tour. It provided great comfort against the sultriness of the plains and bad stretches of road up the mountains. Tired due to the heat and journey, we washed, had dinner and retired for the night. The next morning we were up and ready to leave for Joshimath by 7. The thought of having to start the trek the next day was exciting! Our proposed breakfast halt was Rishikesh, 30 km from Haridwar. We had an ETA of 8 am. Joshimath was further away, another 8 hours uphill.
After loading our luggage, we left the GMVN hotel and proceeded to exit the city. Our first sight of bad news came almost immediately. Scores of people clad in saffron were overflowing onto the roads. The river Ganga runs almost parallel along the national highway to Rishikesh, so we thought it was some sort of a Kumbh Mela event. But soon our driver had to slow down because of traffic piling up ahead of us. The crowds looked nasty. Young men clad in saffron, with bandannas and sticks were behaving aggressively. I felt like I was in a Ram Janma bhoomi riot. Shortly, we saw groups of men running. Watching all this from inside the air conditioned Innova felt like a jungle safari. Our driver didn't seem intimidated one bit. Soon we realized that this was not an unknown phenomena for the locals. We were stuck amidst the Khavadia crowd. If you are wondering what this Khavadia business is about, you are not alone. Because even we didn't have a clue, and were experiencing the madness in real time. According to our driver, Khavadias are young men who pledge to carry water from the Ganges and reach their respective villages within a specified time. This meant that these men were in a hurry, ready to do anything to complete their task as planned.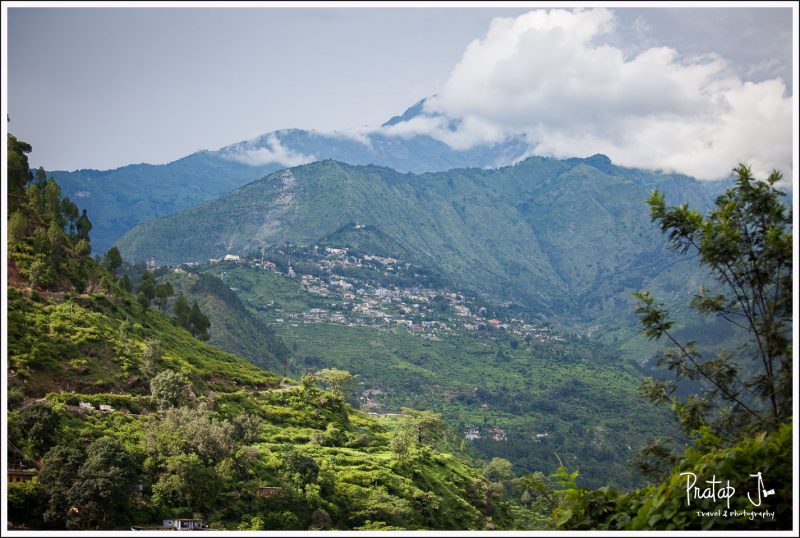 When a bunch of Indians decide to be on time, all hell breaks lose. And boy, where we were in trouble or what. 8 am came and went, but we hadn't moved even half a kilometer. Khavadias were everywhere – running, riding on bikes and trucks, sleeping in makeshift camps by the road side and all in all, creating a ruckus. With every junction crossed, we were hoping to see the end of the jam. But it only got worse. Outside, the mercury was rising. Photographing sadhus, Khavadias and colorfully decorated trucks soon got boring. We were hungry as well. With no decent place to eat, we resigned to having muesli that I had packed for anticipated delays. Only that the delay I had imagined were the ones caused by landslides. Who would have thought that a mob of wild, religious (fanatical?) and irrational youth would hold up a national highway for eight hours? That was precisely the situation. It was 3.30 pm when we reached Rishikesh. Lunch was at a dhabha, but otherwise it was muesli and fruits that saved the day.
The advantage of booking with GMVN is that we were able to cancel our room in Joshimath and get one in Rishikesh with no loss of money. GMVN owns guest houses almost everywhere in the
Garhwal region. The guest house at Rishikesh was very nice, akin to British manors. After freshening up, we decided to go see the evening aarati by the banks of river Ganges. It was a good 3 km walk, but we were actually jogging because we wanted to reach before the aarti. It was sultry and we were sweating like crazy. Unluckily for us we couldn't make it on time and our effort was wasted. Later we stopped by a shop selling rudraksha malas, and briefly browsed a few other curio shops. Back in the hotel, we had a sumptuous dinner and retired for the night. The unexpected events were a little disappointing, but our spirits were high. Up in the mountains, it is good to have a plan, but it is better to be flexible and not let delays frustrate you.
The next morning we loaded the Innova once again for Joshimath. It was a pretty uneventful drive. Lunch and evening tea were at GMVN hotels in Srinagar and Birahi respectively. The journey can get boring and tiresome if you don't have company. We were lucky to be traveling in the Innova, but if you are doing the journey in a bus, be prepared to tend to tired bones at the end of the day.
The climate changed after Birahi. By the time we reached Joshimath at 5, it was quite chilly. From the hotel balcony we could see cloudy mountain peaks and a brilliant sunset. Finally it felt like we were in the Himalayas! There were numerous other trekkers staying in the same hotel. The excitement was building, but we didn't have much time to relax. In fact we reached Joshimath quite late by the driver's standards. Driving after sunset is risky in the hills, with potentially dangerous landslides possible anywhere.
After sunset, the most important activity was to repack our bags into what we wanted to carry to Ghangaria, and what we wanted to leave behind in the cloak room. This facility in the GMVN hotel at Joshimath is very useful, because otherwise one would have to carry everything up the mountains to Ghangaria. With so many battery chargers, camera equipment, and of course clothes, repacking was a herculean task. Three of us had DSLRs, along with other gadgets. We were anticipating bad weather in Ghangaria, so we had to pack clothes for all the 5 days. After completing all this, we crashed at 11 pm. The plan was to leave at 6 am the next day, so that we could reach Govinghat by 7. This was our last halt in civilization – or so we thought. Ghangaria happened to surprise us. 😉
Onward!
Govindghat to Ghangaria
We left the comfort of Joshimath in our Innova on the slightly chilly morning of 9th August. The route we were taking was also the one that leads to Badrinath, so our driver suggested starting early. The route outside of Joshimath is down a valley, and the early morning scenes were beautiful. There was also the threat of incessant rain, which was slightly unnerving. Walking 14 km up a mountain in rain didn't sound very easy. In fact, the sheer height of the mountains around us was daunting. But since this is what we had signed up for, we had to do whatever it takes to reach Ghangaria.
Our first sign of trouble came rather quickly and abruptly. We were enjoying the scenery around, when our driver suddenly stopped the vehicle. Ahead of us huge boulders had fallen on the road. It was a landslide, freshly served on the tarmac ahead. We got down from our vehicles to investigate (understanding the risk). Most travelers only see landslides that have already happened. This is not as harmful as being in place where rocks from
above can fall over you any time. Luckily for us the landslide was not major. There was only one huge rock blocking the road. Other boulders were smallish, so we began moving them aside. Soon a few more vehicles that were behind us arrived, and other people started to help. After about 20 minutes we made enough room for vehicles to pass. Ours was the first, so we crossed over and drove up towards a bridge. But our driver pulled over to the side of the bridge again. On the other side there was a bigger landslide that had again just occurred. Since we had come to Uttaranchal to trek, and not clear rock debris, the five of us didn't lend a helping hand. There were already some optimistic people doing what they could. Within no time, plenty of vehicles had lined up behind us. All we could do was kill time by taking photos, and joking around. This delay was rather long, and not looking good. I had concluded that we wouldn't budge till the arrival of the Border Roads Organization personnel. At a distance we could see men still shouting and trying to dislodge the huge rocks.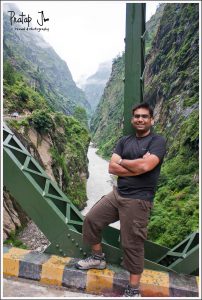 But faith and determination literally moves mountains. What we thought wouldn't happened, finally did. Without the aid of a bulldozer, the 20 odd men managed to clear the debris and make way for all vehicles, including buses. Since we were already ahead, we managed to leave the chaos behind us and were soon zooming towards Govindghat.
The downpour had increased when we reached Govindghat. All goods and humans have to reach Ghangaria/Valley of Flowers and Hemkund via this small village. Presumably for this reason, Govindghat was bustling with activity. There were shops selling all essentials required for the trek. There were small eateries, and of course boarding and lodging. I also noticed a building where a lot of vehicles were parked. This was for pilgrims who ride/drive from their respective villages. Because there is no motorable road after Govindghat, they park here and complete the pilgrimage on foot. All in all, the support system at Govindghat seemed excellent.
We communicated plans on when and where to meet our driver once back from the jungles, and bid him goodbye. We unloaded our luggage which formed a pile as big as one of the mountains. Our first task was to find a porter. Vivek and I set off in the drizzle to do that. The others stayed behind at the parking complex which sheltered the bags from the rains. The whole of Govindghat is just 1 narrow street, at the end of which is a bridge. A steep ascent begins immediately afterward. Near the bridge is a Gurudwara, and here the porters and mule owners hang out. Opposite the Gurudwara is the porter booking complex. The whole thing appeared well organized – you pick your porter(s), pay at the counter, transfer your luggage, try and ignore your doubting mind, and begin the journey. Of course, 1 porter wasn't sufficient for our bags, so we hired a mule (khachar) plus a porter. Once the trek starts, the mule guys don't wait for you – they go at their own pace and dump your luggage at Ghangaria. And they reach in about 3 – 4 hours easily. Hence the porter – to carry our camera bags and other stuff which we would need on the way. The mule owner agreed to escort us back till the parking lot, which was a good half a kilometer or so. This was a good thing also because otherwise we would have wasted energy lugging our bags to the bridge.
After fixing the mule and porter, we had breakfast. We were expecting our fate to be a diet of aloo and parathas for the four days ahead. We ate light – 2 parathas and eggs. It was still raining when we were done, already 10:30 and quite late. We dumped our bags into the porter's basket (pittu), put on our raincoats and started the climb. Yes, 1 porter carried 4 daypacks! I was carrying my camera backpack. I knew it would get sweaty soon, so I didn't wear my fleece. The rains stopped after half an our, and our group halted to remove raincoats and fleeces. 🙂 But in half an hour, we had barely manged to climb a kilometer. This pace was set for the rest of the journey, which meant that we would reach Ghangaria only by 7. A good 8 hours to climb 14 km. 🙂 What definitely needs a mention here is the patience that our porter displayed. He probably would have done this trek in half our time, but not once did he complain of our pace, or go too far ahead. He was always with us, encouraging and allowing us to take our photo and refreshment breaks.
The path up the mountains was horrible for most part. There were stretches of well paved (sometimes cemented) track. But navigating through mule traffic and slush added to the effort of climbing. In the order of inconvenience, mules take the number 1 spot. There is no stopping them, because they have their own agenda. It was also raining on and off – which meant asking the porter to stop for the drill of putting on or removing raincoats. I tried to be self-sufficient by carrying my own bag so I didn't have this problem. There is absolutely nothing wrong in hiring a porter – because you then can enjoy the trek and not have to worry about carrying heavy loads. I also see it as offering employment to the porters, most of whom are really decent guys. Over the course of the trek, I learnt that our porter was educating his children. These guys do one trip per day, which means they have to spend the night at Ghangaria. About 80 rupees goes for the room and food, while about 190 goes to the organization that does the booking at Govindghat. So they make 200 rupees from the 470 we pay the porter organization at Govindghat. Of course, being good Samaritans, we paid our porter extra at the end of the day. 🙂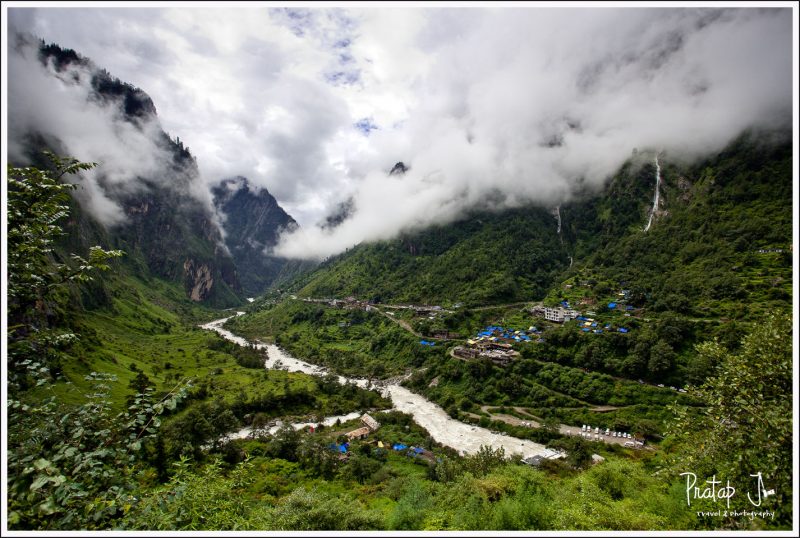 The path till Ghangaria is dotted with petty shops. Food is not a problem, but toilets are. So is getting fresh and clean drinking water. At the place where we stopped for lunch, I asked for my bottle to be refilled. Upon inspecting it, I saw tadpoles swimming in the water. 😐 We wanted to be as eco friendly as possible, so we had carried water from Joshimath. But buying bottled water is inevitable. It was good to find dustbins at regular intervals, although it is up to you to carry your trash till the nearest bin. Most Indians don't have that kind of patience. The path was generally devoid of plastic and water bottles, because cleaners from the Eco Development Committee Bhyundar were at the top of the problem. As for loos, there were only 1 or 2 clean, tin housed toilets on the way up. Because the track is narrow, it is not very convenient to irrigate the jungle either. These minor inconveniences apart, the trek was quite enjoyable. We tourists were a minority compared to the pilgrims, but there was no discrimination or exploitation by the vendors. Expect to pay at least 10% more than MRP for most items.
We had lunch by 3 at the midway point (Lucky Midway Hotel), and tea by 6 pm. After that, the ascent was very steep. We were also tired by this time. The inconvenience of having to trek in the dark was upon us. I was shooting till about then, but with the light going down and the final lap to complete, I packed my gear. I handed over my backpack to the porter as well (!) It was dark when we reached Ghangaria, so we had to use torches for the last 500 meters or so. As mentioned, our porter was with us, showing little short cuts, encouraging us and being an all round nice guy. The wooden walking sticks that we purchased at Govindghat were of immense help too. I'd recommend getting two. At 20 bucks a piece, they are great for what they do. Almost everyone uses them (expect the porters, of course). They were a minor irritation when using the camera, more so because I had to prevent them from falling and coming in contact with the slush at any cost!
Reaching Ghangaria felt like an achievement. At the GMVN hotel, I was greeted by a friendly staffer, Rawat, who said he was a little worried because we got so delayed. 🙂 The whole of Ghangaria runs on generators from sunset to 11:30 pm. Again, in the morning the generators start at around 5:30 till sunrise. These things happened like clockwork. It was amazing to see how no one complained about the lack of electricity or used it as an excuse. We had deluxe rooms, which were a little away from the main complex. Eight hours in the slush and rain meant that I felt like a pig. There was a ration of 1 bucket of hot water per person, per day. But before bathing, we were in for some royal treatment. A masseur was hanging around, and at 50 bucks, his services was cheap as hell. We all got massages, bathed, and were at the dinner table for some nice hot dinner. Food was pretty good, so sleep followed naturally. 🙂