Pretty much everyone on this earth knows that Goa is the place to visit to have a good time. For those who are a little more familiar with the geography of the place, North Goa is where the parties happen, while South Goa is quieter. I grew up in a coastal city, but I've been living away from one for more than 12 years now. I wanted to get a little bit of Vitamin Sea, so I picked the Southern most part of South Goa as my destination. And there I discovered that two hues dominate the region – Blue and Green.
While most tourists in Goa look for places to either relax and unwind, or party all night, I was zipping across narrow village roads on two wheels, waking early to explore small nondescript beaches and studying Google maps to locate photogenic spots. South Goa is where the forests and hillocks of the Western Ghats meet the blue waters of the Arabian Sea. The terrain here is surprisingly hilly and covered in a soothing green after monsoon. Gentle rivers criss-cross the National Highway and foggy mornings reveal rolling hills as the sun lazily rises.
South Goa has all the conveniences for the weekend tourist, while still retaining the character of the Konkan coast. Fishermen go about their duty ignoring the wanton behavior of young visitors who are thankfully confined to a few popular beaches. Foreigners in summer clothes and tanned skin buying groceries or eating masala dosa in shanty restaurants is a common sight. The desi crowd covers the spectrum of youth – college goers, bachelors, just married couples and young parents.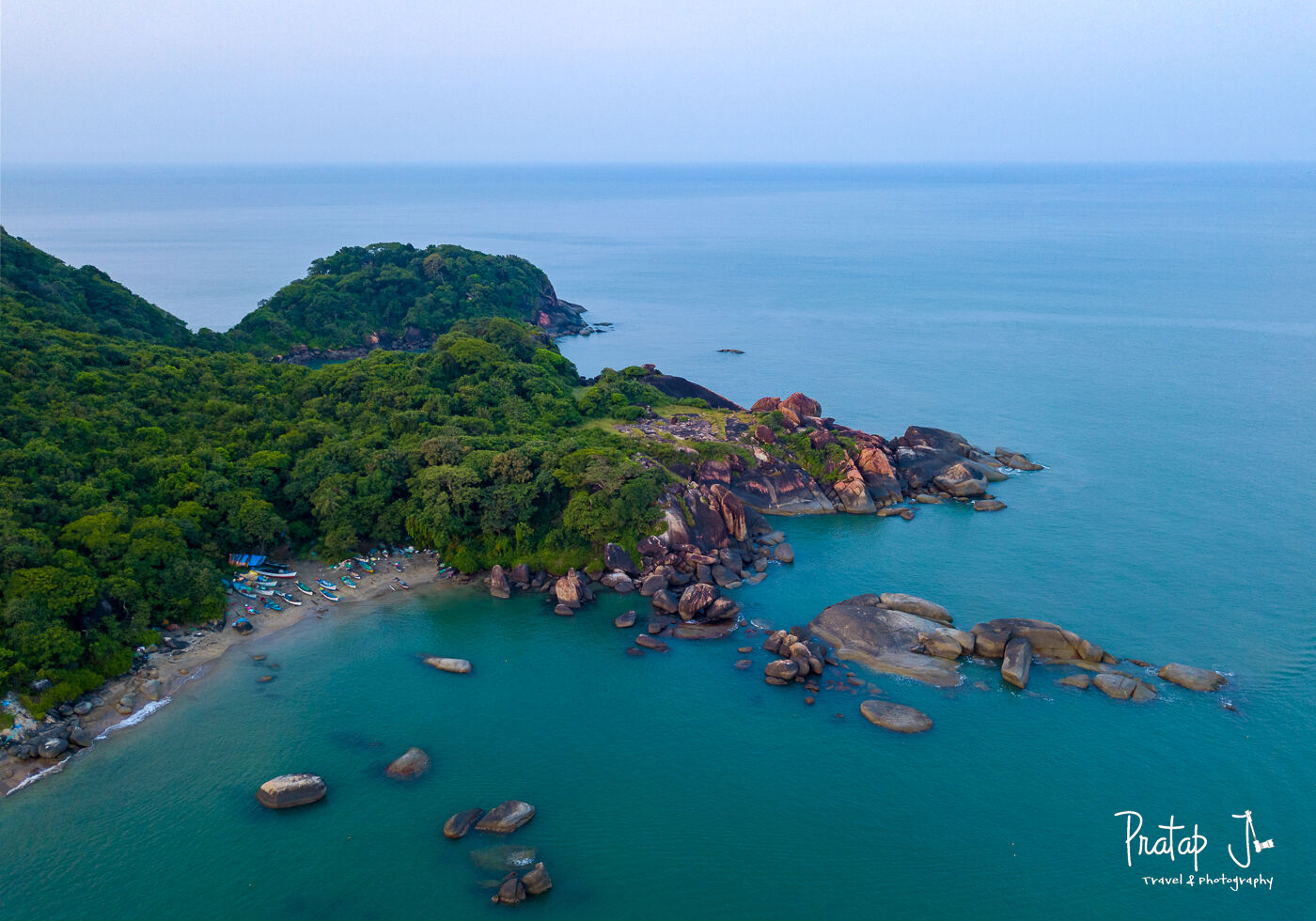 Reaching South Goa
Canacona in South Goa is only 36 km from Karwar – the last town on the Karnataka side. An overnight bus from Bangalore goes all the way to North Goa via Karwar and is the preferred mode of transport for most revelers. To reach Canacona, I took the Madgao Express passenger train from Udupi to experience the engineering marvel of the Indian Railways. The Konkan Railway runs along one of the most scenic routes in the country and all Indians must experience it at least once.
The Madgao Express left Udupi at 10 am and the coastal heat was unbearable. Most passengers were locals, but there also a few young people from the educational town of Manipal. The rapidly changing scenes of paddy fields, mountains, rivers, backwaters, lagoons, tunnels, and bridges kept me awake for a while. But after crossing Honnavar, the heat knocked me out and I dozed off. I was woken up when the train reached Canacona – early by twenty minutes.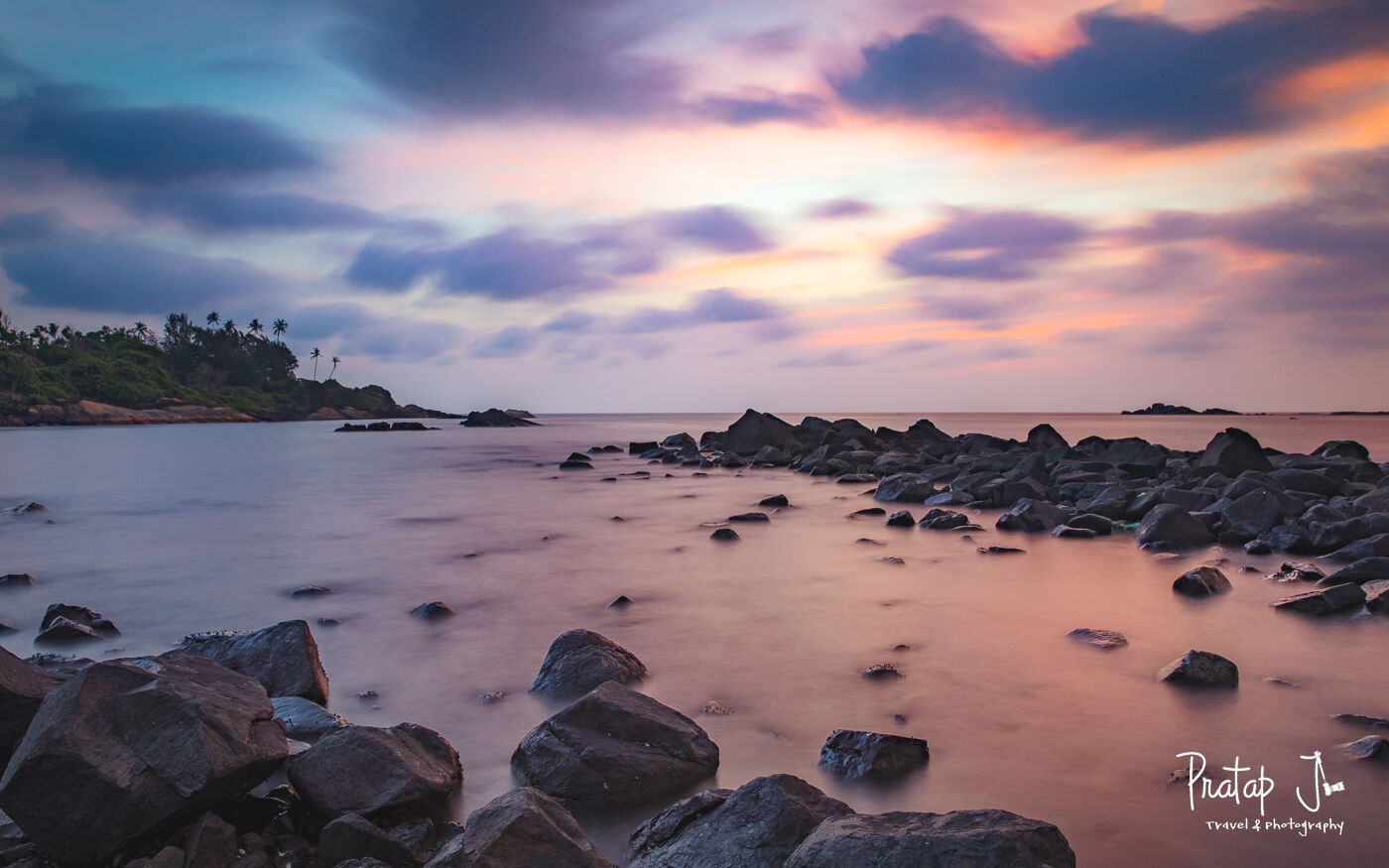 The Canacona station was deserted at 2 pm with no autos anywhere. There was no main road in sight, and I dreaded having to walk in the heat. Luckily an auto rickshaw came by and I was in the cool interiors of my Airbnb in 10 minutes. There are plenty of trains running from Coastal Karnataka to Goa, so if you'd like to experience traveling by the Konkan Railways, I highly recommend the rail route. There are 8 railway stations in Goa, with Madgao and Vasco De Gama being the popular ones. If you take a flight, you land in Dabolim Airport which is 25 km from Madgao – technically also known as South Goa. Sleeper buses seldom run on time, and the journey is uncomfortable as the roads in Karnataka are bad. I took a return bus back to Bangalore so I know.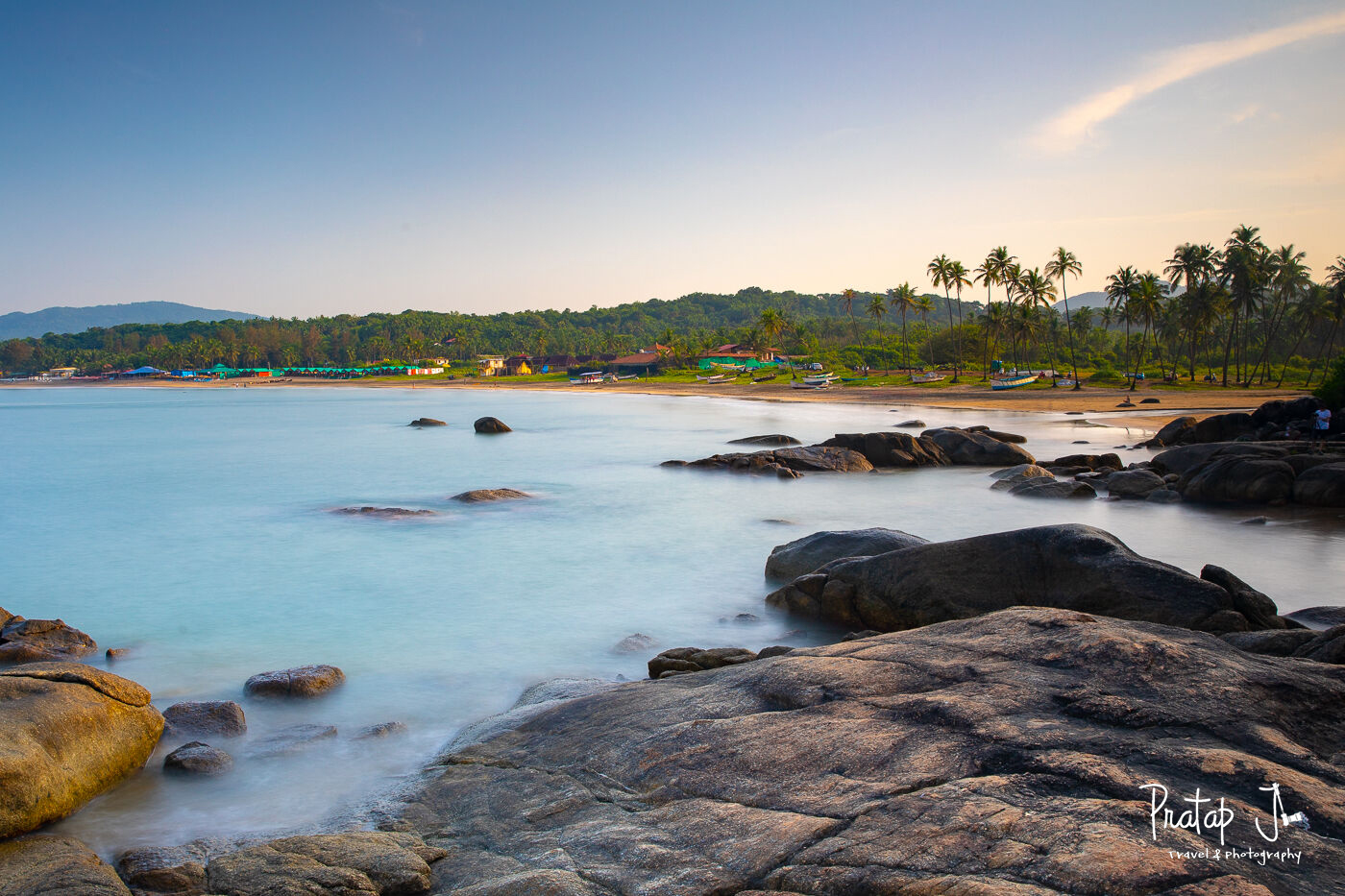 Staying in South Goa
My life-goal is to live near the beach. My best memories from childhood are that of walking by the shore and enjoying the cool sea breeze without a care in the world. You do not need Vitamin M to enjoy Vitamin Sea. Only in a city like Bangalore, where I now live, good times happen only if you open up your wallet. Booking an Airbnb in Canacona was the closest I came to living my life-goal. The house was fully furnished and had everything required for a comfortable stay. I strongly recommend looking up Airbnb to book a stay in Goa.
Canacona is an extremely small town. The main bazaar is called Chawadi (the original name for Canacona) and my Airbnb was just five minutes away. In this bazaar, I found a vehicle rental, purchased groceries, and had my meals in an Udupi hotel. The auto-rickshaw stand was also right there, but they are very rude to tourists. Palolem – the most happening beach, was a 15 minute ride away. Agonda was about half an hour.
There are a lot of properties close to Palolem and Agonda. If you drive to Goa, you can also book a resort close to one of the beaches. If you are looking for something upmarket, there is the LaLiT Golf & Spa Resort Goa.
Getting Around South Goa
It is easy to rent vehicles in Goa. However, Canacona had only one two wheeler rental shop. A two wheeler is better than a four wheeler because the roads which lead to the beaches are generally very narrow and parking can be a problem. Riding a two wheeler through the winding roads and discovering tiny Goan villages is so much fun. Choosing to get lost with a purpose, a rental Honda Activa was the easiest way to explore the lesser known places around Canacona.
I looked up Google maps to discover places for photography. However, Google Maps did not always show the most optimal route. Luckily my common sense and internal compass was intact despite the heat.
Most rental shops let you keep the vehicle overnight. I paid Rs 500 as one day rental, and fuel was on me. Prices vary based on the season.  Needless to say, carrying an ID proof and valid driving license is mandatory. So is wearing a helmet. I was caught by the Goa police for not wearing one on the highway, but was let go with a warning. Because I had the vehicle with me overnight, I could leave early for sunrise shoots.

Beaches Close to Canacona
Goa is in the Western part of India, so all beaches offer nice views of the sunset. I visited Palolem on the first day and was a little late to catch the sun go down. Palolem is touristy and vast. It also has an interesting looking hillock to the East.  To have some fun by the ocean, drink beer and eat good food, you can visit Palolem. But to experience some quiet time, there are several other beaches close to Canacona.
Agonda Beach
I visited Agonda in the morning hoping to catch sunrise from the hillock at the end of the beach. The sky was beautiful that morning, but the two wheeler ride up the hillock turned futile. After reaching the peak and not finding a suitable vantage point, I rode back to the water front. The rocks at the base of the hillock proved to be an excellent spot to enjoy the sunrise.
Agonda had very few tourists. Apparently, Agonda is a Ridley turtle nesting site. It is 15 minutes from Palolem.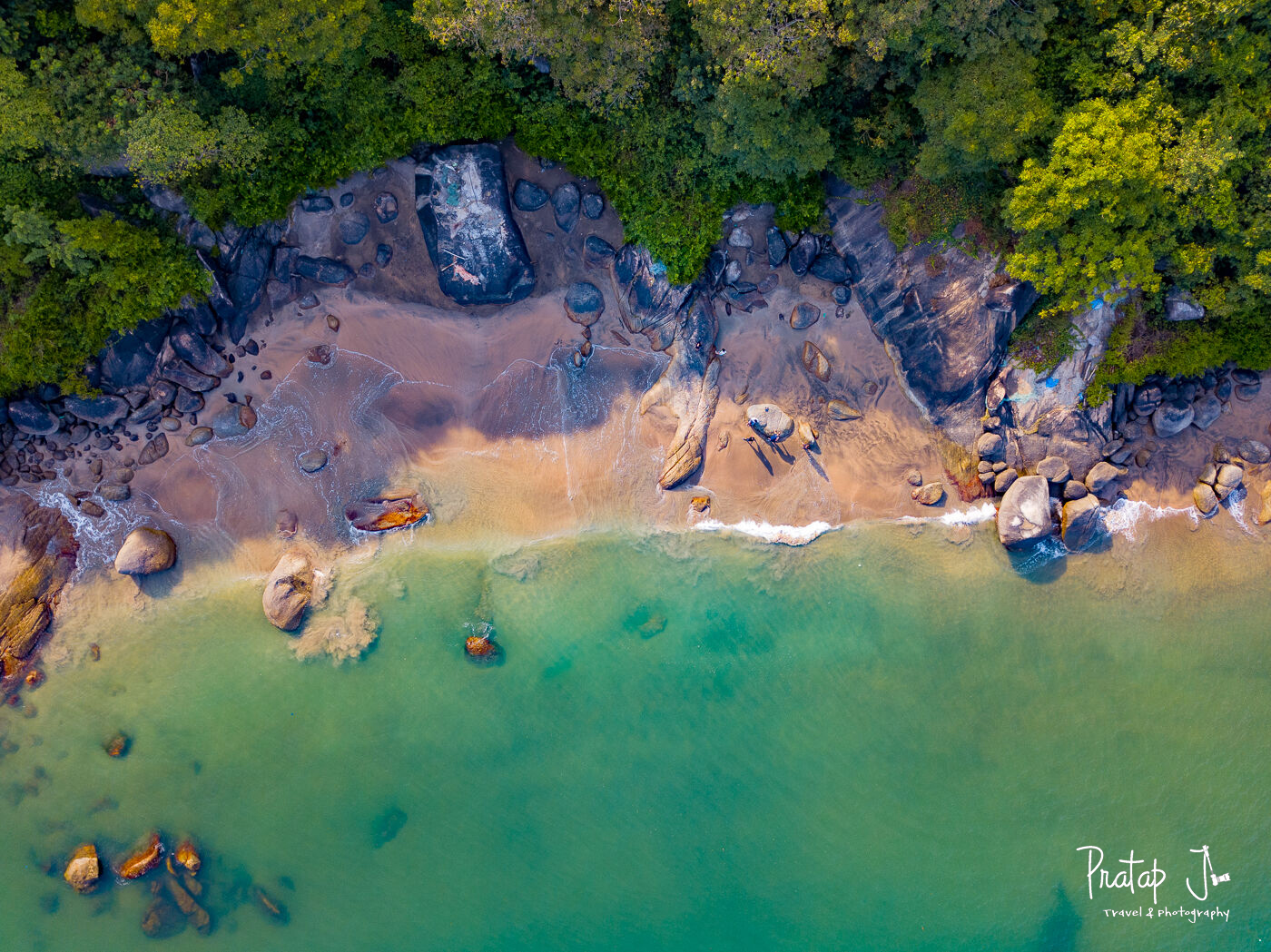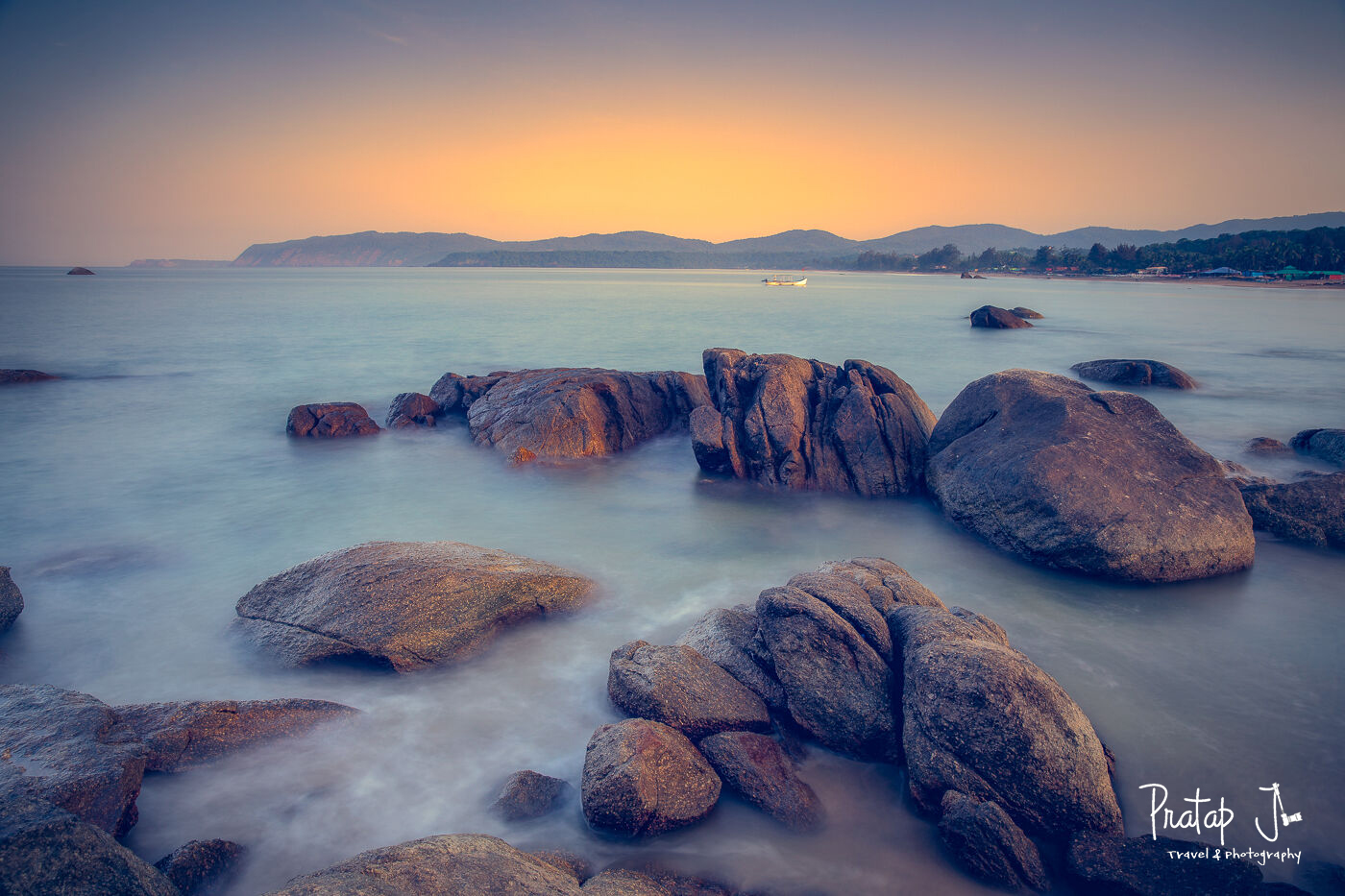 GalgiBagha Beach
I visited Galgibagha close to mid-day. The ride to Galgibagha took me through really beautiful Goan villages. The road ran parallel to the Galgibagh river at first, and then meandered deep into the mainland. Tall trees and lush green valleys surrounded me as I zipped through empty roads. Once the road construction on the Chaudi – Talpona route is complete, you will no longer need to take this longer route to reach Galgibagha from Canacona.
There was pretty much no one else at Galgibagha at that time of the day. It was sunny, but not very hot. The presence of life guard towers indicated that tourists did visit here. A foreign couple came in a little later to bathe at the backwater close to the end of the beach.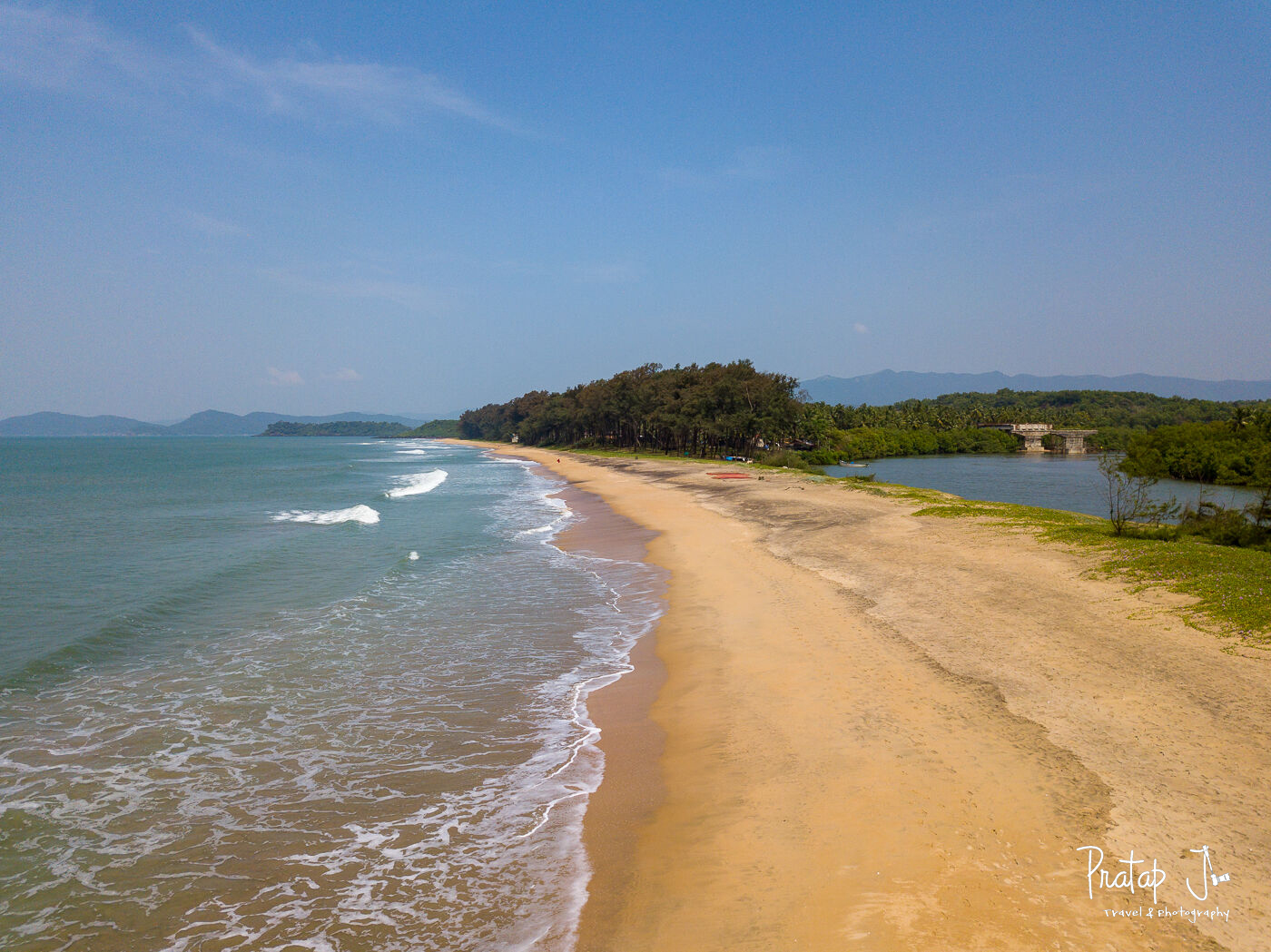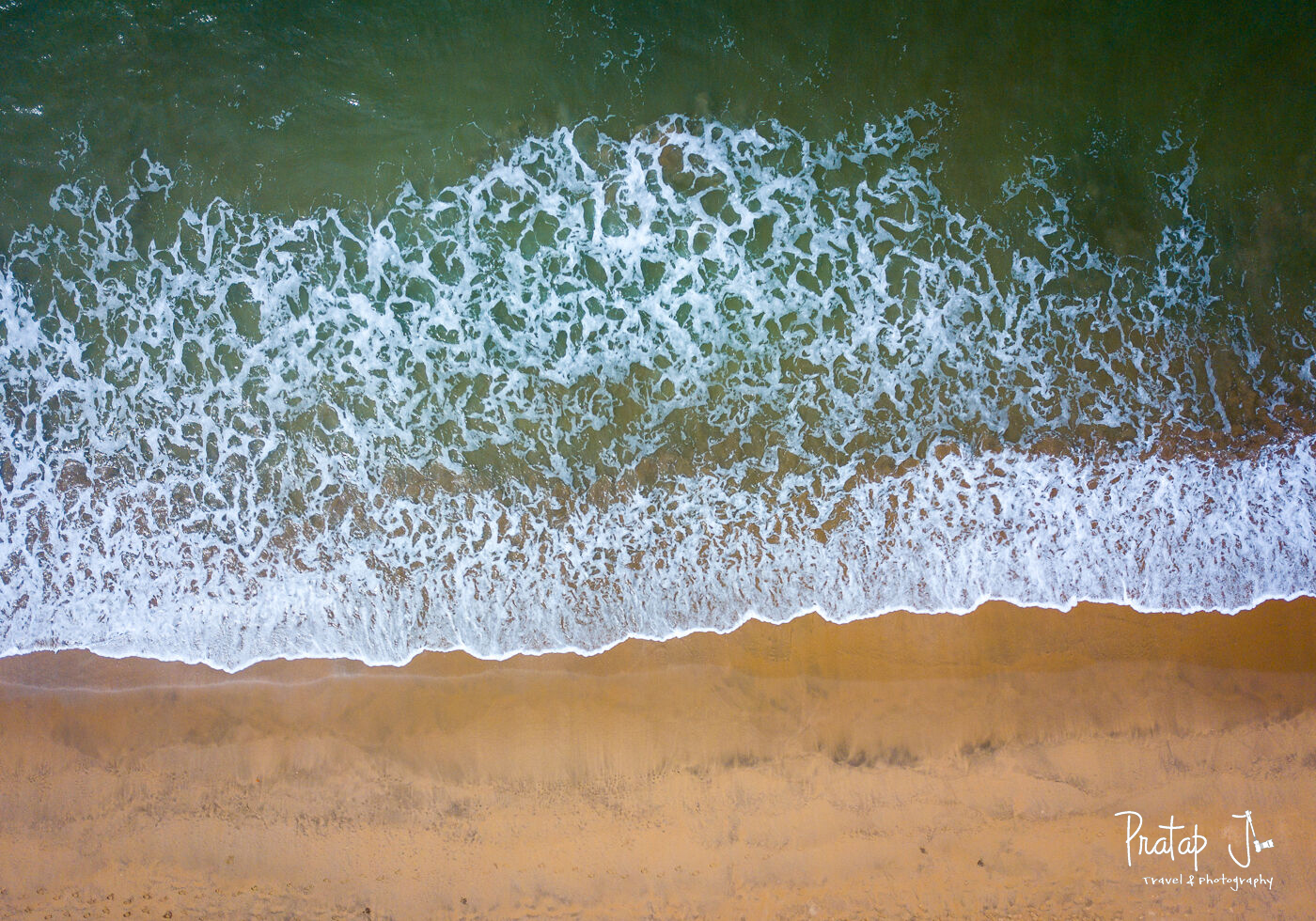 Patnem Beach
This is a popular alternative to Palolem beach. The road to get here is very narrow and parking a four wheeler can be difficult. A lot of restaurants dot the shoreline along Patnem. Rajbagh beach is on the other side of a small hillock. You can sit on one of the boulders at the base of this hillock and enjoy watching the sun go down. Rajbagh is almost like a private beach for the LaLiT Golf & Spa Resort Goa although it is open to public. Visit Rajbagh to see the lawns of the LaLiT Golf & Spa Resort Goa 🙂
Colomb Beach
Colomb beach is situated in a shallow bay that has a lot of black rocks. Apart from a few beach front houses and resorts, there is not much there. Hence, it is not frequented by tourists. I visited Colomb to capture the sunset and found the black rocks great for long exposure photography.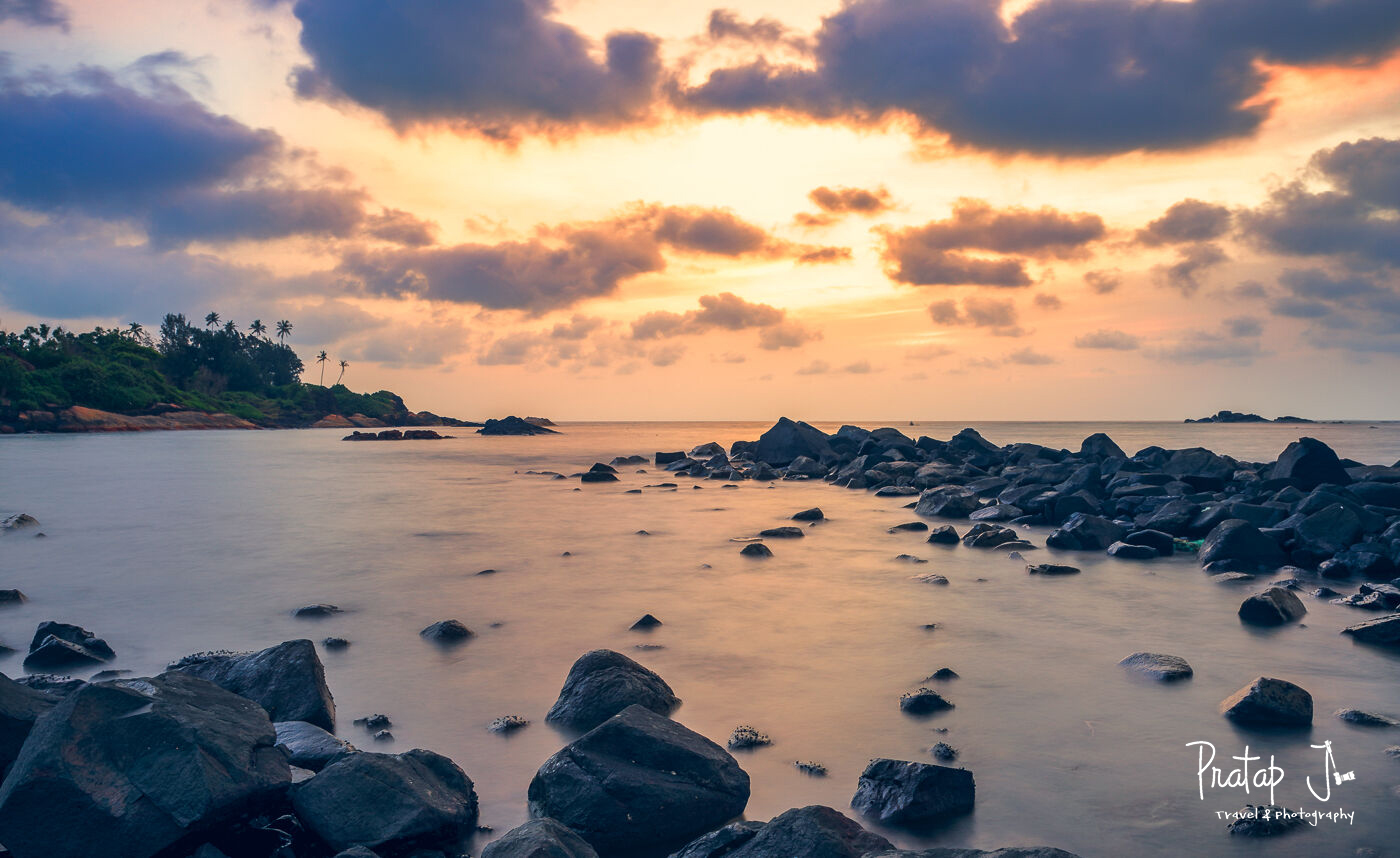 Goodbye Goa
Goa is a sort of place that warrants more than one visit. You don't travel to Goa to knock off places to see from your bucket list. You visit Goa to experience a different kind of life – one which traces its roots back to the hippies who made this quiet fishing region their home. The beach side shacks, the Airbnbs, the tattoo studios, the shops selling curios are all remnants of a carefree life that the hippie culture represented. These days, tourism is a big money generator and the people of Goa know it. But in South Goans you will find locals who have nothing to do tourism. They go on with their daily lives unmindfully. This is the charm of Canacona and if you are looking for a more authentic Goan experience, skip the wild side of Goa and go South.