In June 2022 I left Bangalore for good. I moved to the coastal town of Udupi. This decision which was largely possible because of the remote work options which many IT companies, including mine, provided after the COVID-19 pandemic.
I had modest expectations from my move. I wanted a simple, stress-free life. I love photography (and travel!) but staying in Bangalore wasn't helping me with my passion. With the city's infrastructure crumbling, it is almost impossible to go out and spend quality time in nature.
In this blog post I outline the background to my decision, how I went about executing the move, and how a change of place did more harm than good in certain aspects.
Foreword
This world is big. Bigger than our minds can fathom. When we are young, we are inquisitive about the vastness of this world. But at that age, we have very little access to this big world, so we revel in small joys of discovery. As we grow older, we have the means to see more, but most of us end up shrinking our worlds. We lose our curiosity, and work hard to build walls. The big world is no longer accessible to us because we have cut ourselves out.
It is also safer to follow a template when growing up. Education, studies, job, marriage, kids…..it's all hunky dory till something bad happens. And that is when you learn some lessons in life, and hopefully become a better version of yourself. With me, I don't know if things go wrong because I am always striving to become a better version of myself, or because I am an idiot.
As we age, being 'responsible' becomes the most important duty of life. In the process of taking responsibility of our lives and our loved ones, we get pushed and pulled by forces not in our control. We also start processing change, grief, loss and other difficult emotions which life throws at us, very differently.
Some of us are lucky to take charge of our lives from these external factors. But some internal factors also decide how we sail our ships as we navigate through life. We make decisions based on:
What brings us happiness
What keeps us away from negative emotions which we cannot handle
Greed and ambition which drive us
Personal insecurities that we carry from childhood
Bottom line is, adulthood is all about balancing external and internal forces which push and pull us in all directions.
However, these personal life experiences of mine have shaped me in a way where I now no longer relate to a conventional way of life. Irrespective of how we see our lives, the common thread which unites us all is the realization that our lives come with an expiry date. For some, this realization is yet to come. For others like me, it has already dawned and my urge to see and experience more has only increased. But what does all this have to do with me moving out of Bangalore?
Why did I move?
During the pandemic, a lot of us started to work from home permanently. Once the pandemic was no longer killing enough people, the concept of workation became main stream. Remote work, which many of my Western counterparts in my company always benefited from, even before COVID-19, was suddenly opened up to Indians. Combine that with a vacation, and you have a workation. But vacations don't last long. That is why I decided to permanently move out of Bangalore.
A shift in HR policy was what I was waiting for to set the ball rolling. I would have left home right after college 20 years ago. Unfortunately, I did not have the means to do so then, and being the only child, I was always emotionally coerced into doing what my parents wanted me to do.
After facing all the ups and downs which life brings, including death of a parent, divorce, a layoff etc, I finally decided it was now or never. I also had the monetary resources to execute this decision now. To map this to what I had mentioned earlier:
Right from a young age, staying connected with nature has what brought me happiness. I love to watch birds, cats, dogs, trees, rains, sunshine etc. to pass my time. Weekend trips from Bangalore to get a dose of fresh air were getting increasingly difficult thanks to the poor infrastructure.
The daily grind of city life can evoke a lot of negative emotions and stress in any one, and I seized the first opportunity to leave that behind. The paradox of living in a city like Bangalore is that you have access to all the comforts of life. But the happiness tax that you pay to live here is rather unreasonable. There are very few ways to de-stress in Bangalore without spending money. I didn't want to deal with this anymore.
My greed and ambition luckily or unluckily has nothing to with my professional life. All I expect from my job is a sense of financial security. My company's policies were tweaked to allow work from anywhere after the pandemic which worked in my favour.
Amongst my insecurities, the one which I wanted to face and overcome was the one of having to fend for myself. I had no prior experience of cooking before moving out from Bangalore. I knew that the only way I could train myself in the kitchen was to stay by myself.
A lot of folks whom I spoke to were very excited for me. I was going to do which many of them could only dream of doing. The grass is always greener on the other side, as they say. A few are ready to jump over the fence to go over to the other side – and here I was, going to do just that.
Planning the Move
Udupi, is a town which most Indians would be aware of because it is associated with good South Indian food. So, even if you don't know where it is on the map, you must have seen or heard of an Udupi (or Udipi) restaurant in your town.
The decision of moving out wasn't the toughest part. Figuring out how to, was. I would have loved to chuck all my worldly possessions and start afresh, but in reality I had to take them with me to Udupi. And I couldn't break the continuity of my professional life. It wasn't like I could take a week or two off, move lock stock and barrel, and then get on with office work as usual. I had to move in phases.
Finding Accommodation
I looked up rental properties on Olx and FB, and connected with a few property brokers (again, whom I found on these two platforms). Unfortunately, the concept of rentals isn't popular in Coastal Karnataka (as much as it is in Goa), and many house owners hesitate to rent to bachelors. Staying in Bangalore and looking for a house in a different region wasn't easy either. I guess I just got lucky finding finding a house via an ad on Facebook Marketplace. It is 15km from heart of the city, and 5km off the highway which goes towards Kundapur. Now that I have actually lived in it for a few months, I can say that is meets most of my expectations.
My house owner is a government servant who lives close to Kundapur. He purchased this house just after it was constructed, and never actually occupied it, because he has his own place in a government quarters. I was happy to be the first one to occupy the place, because most houses don't age very well in the Coast. When the quality of construction is poor, or if the house is not well maintained, the tropical climate takes a toll on the building very quickly. This fact was corroborated by some older houses which a local broker showed me.
Setting up the House
Once I zeroed in on the house, I had to decide how to set it up. I ended up having to buy basic furniture, and items for the kitchen. I had no experience in cooking, so my mom's expertise in that matter helped. I purchased most of the items in Bangalore, and transported them to Udupi myself.
I made several car trips between Bangalore and Udupi, transporting what I had already owned, and some household goods and furniture which I purchased new. I bought a lot of stuff on Ikea because their website displays the exact dimensions of not only the product, but also the box in which the product comes. This helped me pick exactly what would fit inside the car. There wasn't an Ikea store in Bangalore then, and they did not deliver outside of a few metro cities, so I had to do this.
I already owned a computer and study table, which surprisingly fit in the boot of my Maruti Vitara Brezza. So, the on my first trip, I moved my tables, and household goods which I purchased in Bangalore. On the second trip, I moved a lot of furniture which I purchased online on Ikea.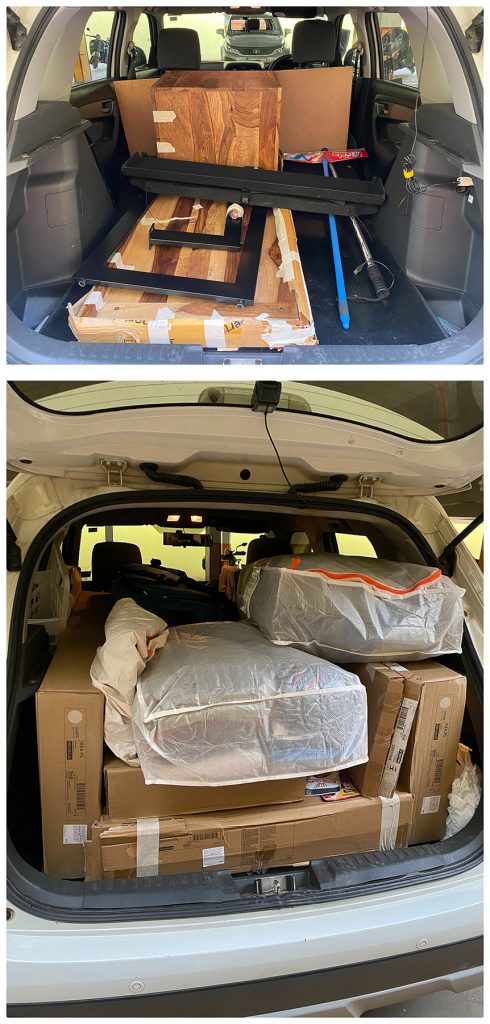 Except for some small hiccups due to external factors, things went as per plan. Every trip which I made by car, with a boot full of stuff, was an adventure. It takes around 7-8 hours on the road to reach Udupi and every minute you spend on an Indian road is an exposure to risk. After the third road trip, I started to feel like a truck driver. Apart from the car trips, I also rode my newly purchased KTM 390 Adv motorcycle to Udupi.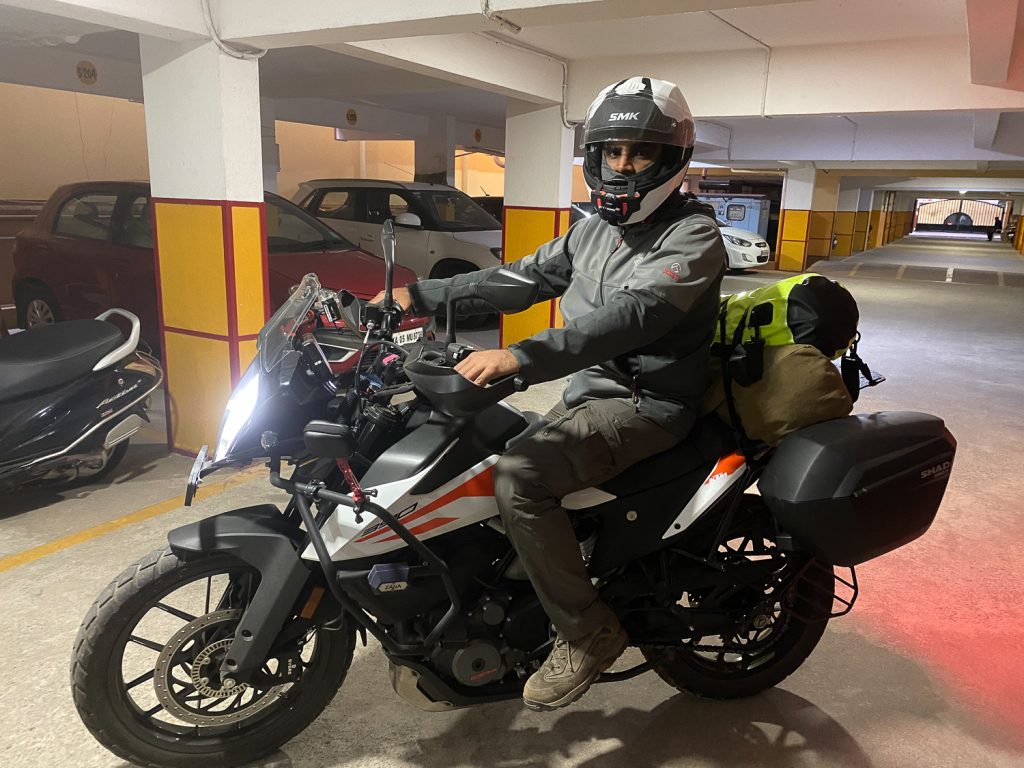 After every journey to Udupi, I had to set up the things which I had brought with me. Again, I did all of this by myself. April, May, June is peak summer and the heat along the coast is brutal. So driving 8 hours, reaching an empty house and then setting it up wasn't exactly easy.
I purchased large furniture like a cot, diwan, and wardrobe locally. They were cheaper than online furniture stores, and transporting them to my house from the shop wasn't an issue. I rented a refrigerator and washing machine for a period of 11 months – which is the duration of my rental agreement. Both appliances weren't exactly in great condition, but they do the job.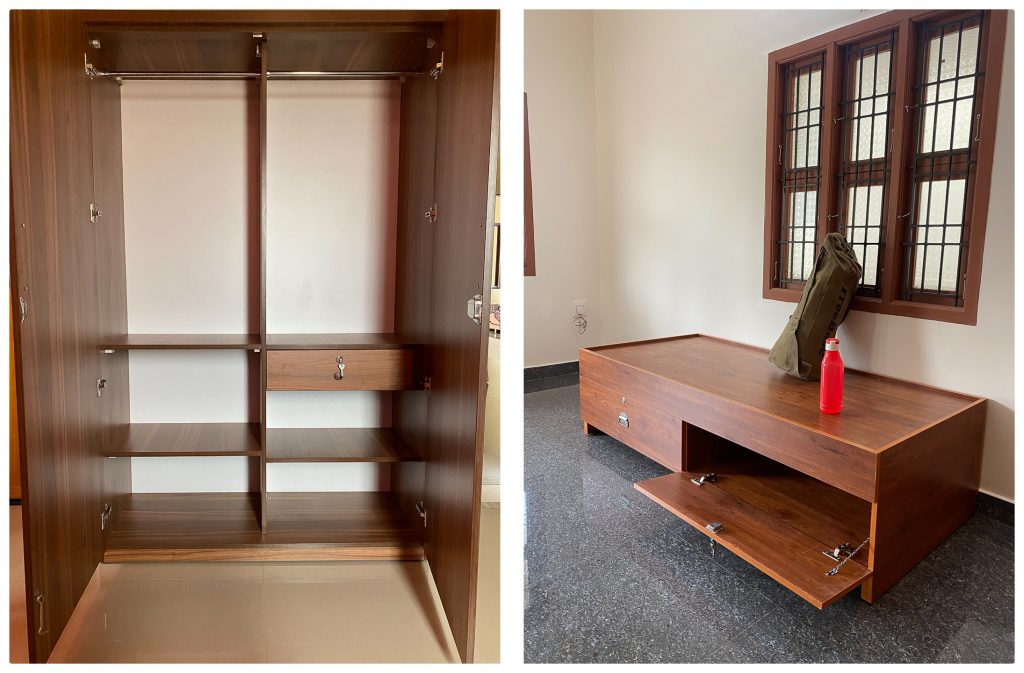 On my penultimate drive from Udupi to Bangalore, my car broke down after hitting a dog on the highway. Luckily, I wasn't carrying a lot of luggage because I was returning to Bangalore. The speed at which the dog ran into my car did not give me any time to react, so the roadkill was something I just couldn't avoid.
It took me 4 hours to find a tow truck and another 3 hours to get my car towed to the nearest Maruti service centre in the outskirts of Bangalore. The delay in getting my car back from the garage scuttled my plans quite a bit. Although I did claim insurance, I had to pay towing charges amounting to ₹8000 from my pocket.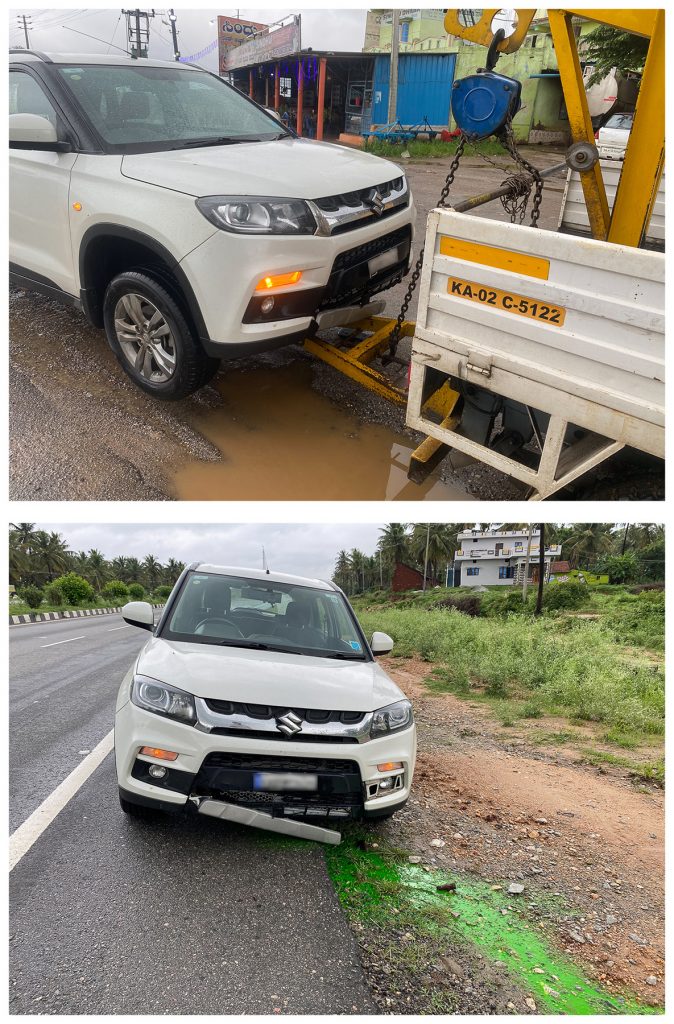 Looking back, moving goods on my own is not something I would want to do again. The next time I move houses, I'd rather hire packers and movers to do the job. Since this was the first time I was moving cities in 17 years, I did it the way I did it.
I had to set up the house not just to my liking, but also to accommodate Smokey, my cat. I put a lot of thought into how I would transport, and accommodate her in the new place. I also read up on how to prepare her for the journey and life in a new place.
A Day in My New Life
The rhythm of daily life generally revolves around one's profession, family, and then hobbies, if there is any time left for it. A day in my new life revolves around the weather. When I moved in, it was summer and extremely hot. I tried to finish most of the household work before 10 am. Then came monsoon, where it would rain continuously for days on end. That is when I started a new hobby of watching TV, something I never did in Bangalore. Fortunately, the rains brought down the temperature to a point where I could run the fan at the lowest speed. Rainy days were frustrating because I barely got a chance to step out. I eagerly awaited dry evenings to visit the beach or explore some new locations for photography. Now that the monsoon of 2022 is almost over, I look forward to winter when I can become a regular at some of the places of natural beauty near my home.
On most days, I sit for work by the door, watching the the slow pace of life outside. It is very silent around me, and the birds are the noise-makers. I have peacocks, bulbuls, ashy prinias, parakeets, sun birds and grey horn-bills to watch out for. It has been more than 2 decades, living in a ground floor house and I enjoy stepping out barefoot and feeling the earth when I feel like it.
There is nothing glamorous about this life. A large part of the day goes in cooking meals, apart from attending meetings and doing my day job which pays the bills. I purchased an electric pressure cooker (not an electric rice cooker) which really brought out the master chef in me. Jokes apart, I learnt, rather quickly, how to cook simple food which I enjoy eating. On most days, I consume freshly cooked home food which satisfies my taste buds.
There is nothing I miss about Bangalore, either. I was never the types to go out to expensive restaurants or hang out in malls anyway. For purchasing household goods, I head out into town and finish my work effortlessly. I don't have to worry about traffic jams, parking troubles, or avoiding old uncles who ride their scooters in the middle of the road.
A Life for a Life
Smokey was a Covid kitty, born during the lockdown of the first phase of Covid-19. She grew up in the security of my apartment basement, and under the watchful eyes of Lucy, her mother. For every day of the last two years, either my mom or me made sure that Lucy and Smokey were fed twice a day. I tried to domesticate Smokey several times by bringing her indoors in my apartment in Bangalore. But she hated it. The only attempt to get her adopted when she was around 6 months failed, because her adopter couldn't handle her incessant crying and returned her to me. She was the same adamant cat, even after 2 years. The only place Smokey wanted to be, was the basement of my apartment. This was ironical, because Smokey was extremely skittish, and was constantly worried about Tom cats stealing her food. Her only defense was to run and hide. In fact, I have never come across a more skittish pair of cats than Smokey and Lucy. Smokey regularly skipped meals because she would be hiding somewhere. Except for this one time, where she was severely wounded after being electrocuted at the transformer behind our apartment. Read about it here.
While moving to Udupi was my attempt at changing my every day life, it was also an ambitious move to make Smokey an indoor cat. I took this calculated risk after reading up a lot about how cats can be made to stay indoors. Smokey had no safe future in the outdoors in Bangalore. I was willing to give up my passion of travel (and photography, if need be), to be with Smokey while she transitions from an outdoor free roaming cat to a domesticated, indoor one. However, that decision ended up becoming a huge mistake, one which I cannot get over. Read about it in Part II.