In late 2008 I visited Gujarat with a sketchy plan of touring the State along with my friend Uday. He was then studying there at the National Institute of Design (NID). Having completed his course, he was working on the post-production of his diploma film. I had flight tickets to Ahmedabad from Chennai where I had to attend a friend's engagement. Uday and I hadn't talked much about how we would go about visiting places, so I was prepared for either of the two possibilities – visiting interesting places all over Gujarat keeping the city of Ahmedabad as the base, or backpacking through the State – seeing places by day and covering distances by train or bus at night.
This is not a regular travelogue. In fact it is not even complete. This is purely a celebration of travel, and I hope the photographs that I have added here bring that out.
Itinerary
Day 01 (21/12/2008): Ahmedabad
Day 02 (22/12/2008): Ahmd/Heritage walk
Day 03 (23/12/2008): Ahmd/Tourist Home/Sarkej Roza/ Adalaj Stepwells
Day 04(24/12/2008) – Sabbath, bloody Sabbath
Day 05 (25/12/2008): Ahmd/Modhera/Little Rann of Kutch
Day 06 (26/12/2008): Bhuj/Crafts village/
Day 07 (27/12/2008): Bhuj/Kavada/Kala Dunger (Oh, the wonderful sunset)
Day 08 (28/12/2008): Bhuj/Mandvi
Day 09 (29/12/2008): Ahmd
Day 10 (30/: 12/2008): Ahmd
From Shore city to Pol city
My flight was scheduled to leave Chennai at noon. I was staying at my cousin's vacant apartment which was close to Elliot's beach, and with nothing much to do there, I packed and decided to be at the airport early. I had nothing to do but wait there as well, so I watched a movie on my trusty Creative Zen. A single traveler can get lonely in times like this, and a little modern technology sure helps.
I am not a frequent flyer, but I have consistently flown at least once a year for a few years now. This infrequency helps in keeping the thrill of flying alive. Chennai to Ahmedabad was the longest flight I had ever taken, and boredom killed the thrill of taking to the skies. Soon boredom was replaced by hunger, but Kingfisher was good enough to supply small-eats not once, but twice (second time after a stop over at Hyderabad). My only muse on the flight was trying to get my GPS to work. I had grand plans of trying to find the speed of my flight using a program I had loaded on to my Portable Navigation Device's (PND), but much to my disappointment it didn't work after take off. Was it the thick glass window of the airplane? Or was the airplane too fast for the device to catch signals? In the empty mind of a single traveler, such inane thoughts are not uncommon I suppose. (Incidentally I did get the GPS to record altitude and speed when flying back from Delhi to Bangalore on another trip).
Staying by myself at my cousin's place, waking up early and reaching the airport two-and-half hours before my flight, combined with the three-hour journey blanked out my mind. Added to that, the airport at Ahmedabad had very few travelers. The emptiness of my mind was matched by the emptiness of the airport.
After exiting from the terminal, I had the task of catching an auto rickshaw to Uday's place. Unlike nasty and greedy auto drivers that greet you at places like Chennai, and now Bangalore, less intimidating blokes welcomed me outside the airport at Ahmedabad. I was following a time-tested tradition of ignoring these pre-branded opportunists, but one of them seemed too well mannered and mild to be a tout. I fell for his bait, and struck a deal with him to drop me off at Paldi for 150 bucks. This was the amount my friend Uday had told me to expect. Unfortunately, this seemingly nice chap ripped me off after reaching the destination by justifying an extra twenty rupees for dropping me off at Uday's room instead of the originally agreed upon place. My high-paying IT job had numbed me enough not to be bothered about a few extra tens slipping out of my hand.
At Uday's place, not far from the college, I stepped into a room that was shabbier than anything I had seen in a long time. I was prepared to stay at a bachelor's pad, but I wasn't lately accustomed to dusty, dingy rooms with bare minimum furnishing. I was taking another step closer to a forgotten reality. It was 6 years back that I last called a single, unfurnished room as 'home.'
Flying has its obvious advantage of being able to cover great distances with minimum strain. In spite of not having anything significant for lunch, I had regained my enthusiasm and was ready to hit the streets. "Street photography" was a mantra playing in my head. Unfortunately Uday uttered the forbidden word, "dosa" and in an instant I transformed from Street Photographer to Hungry Indian. An authentic Udupi hotel (which would become a favorite hangout for the next couple of days) fulfilled all my gastronomic desires, after which Uday and I were soon zooming in an auto to explore the Pols of Ahmedabad.
Ancient houses with intricate wooden designs on their walls, where once large joint families lived, are known as Pols. One section of Ahmedabad still has a large number of these Pols – many of them in a dilapidated condition. A journey through these streets is like a journey through time. And this has become a subject of an organized tour called Heritage Walk. My walkabout with Uday through the Pols was a sneak preview to the more elaborate, trivia filled heritage walk that I participated in the next day. I was in my elements (the dosa was partly responsible), and started shooting with great zest.
For any photographer, interaction with the subject is important. I have seen locals with bad attitude, like in Chennai one time, a rickshaw guy showered abuses at me for wanting to take his photo. He said he wasn't any lesser than anyone else for me to frame him and treat him as a tourist showpiece. In contrast I have seen vegetable vendors in Bangalore who have grown indifferent to scores of bored IT photogs who take their shiny new DSLRs to places like KR market to practice a very diluted form of street photography. But Gujarat was different. I saw genuine smiles and at the same time, sugar coated shady remarks. All these remarks echoed against the ancient walls of the Pols. NID-ians have a lot to study and absorb from the state of Gujarat itself, and I was walking through streets that have been inspiration for many young designers.
Walking also acted as a good appetizer. Looking back now, eating was an integral part of the good times I had in Gujarat. Eating food cooked by Uday and his roommates was as thrilling as eating street food and unique delicacies that we handpicked after careful investigation in narrow lanes. The cooking at Uday's pad was a sort of community event with everyone contributing to the process. Being a 'guest', I shamelessly didn't do my bit, and I just enjoyed the hospitality showered at me. Yes, you can call me lazy.
Back home after the stroll cum warm-up shooting session, we had a sumptuous dinner and I hit the bed. Others planned to stay late to celebrate Sharani's birthday. Sharani was Uday's roommate and a hobbyist photographer himself. He was leaving to Bangalore early next morning. So we planned to leave the house together, and I was to get off at Swami Narayan Temple where I was told the Heritage Walk would start.
A meeting of cultures
I reached Swami Naryan temple at half-past 6, expecting to be late for the Heritage Walk. I was wrong – the walk was to start only at 8. I had a whole hour and a half to myself, so I busied myself shooting photos of the life around the temple. In between composing and shooting, I was breathing in the place. It was a nice feeling, just being there as a silent spectator watching devotees moving around, small kids playing, and the town waking up to start the day. Surprisingly, not one person minded my presence – it was as if I was invisible It was only after a while that the security guards at the temple got curious. I convinced them I am harmless by showing my camera, and they asked me to shoot photos of them. I gladly obliged, especially because unlike security at other places, these chaps didn't put an air about who they were. This kind of genuine warmth that I saw in the people of Gujarat has left a lasting impression on me.
At about eight, a really pretty girl opened the doors to the Heritage Walk office. . The heritage walk is conducted by volunteers, and the registration fee is just Rs 20. I was the first tourist to enter (of course!), but soon the place was filled with around 15 young girls who seemed to be on some sort of educational tour. A few foreigners joined in. I also got talking to a young couple from London among that lot – Esther and Feso. They were on their first visit to India, and were really excited about the place. An enthusiastic young person – our guide, ushered us all into a room after we were done with our registrations. He played us a brief slideshow of places we would cover during the walk. An elderly couple accompanied by an Indian lady, were the only other members of our group comprising of a bunch of giggly girls, Feso, Ester and myself. The teacher escorting the girls seemed very interested in the slideshow. She was stopping the guide to give time for her students to take notes. Sitting in the dark room as part of the audience, I was amused by two things. The composition of our group was interesting mix of locals, tourists and two architects (the aged couple). Secondly, the old-school type projector – the manual one with small film-like slides appeared as aged as the Pols itself. It did the job just fine, but coming from an IT company, I had forgotten that these simple, yet functional devices still have their use.
After the slideshow we started the Heritage Walk. Our guide had lot of tidbits to share, and poured out trivia with a sense of pride. He was speaking in both Gujarati and English as he chaperoned us through the narrow lanes. Since I had already been through these streets, I had a fair idea of what to expect. The group broke ice and we got to know each other over the course of the morning. This is when I got to know that Feso and Esther had not made any plans for the rest of the day, just like me. So we decided to team up and explore Ahmedabad.
The walk concluded at a mosque. After that, Feso, Esther and I were discussing what places to see for the rest of the day. They had a train to catch late in the evening, so we had about 9 hours on our hands. The Calico Textile Museum was on our list of places to visit, but our guide told us that we couldn't enter after 11. We dropped the plans of visiting Adalaj step-wells, which was in the outskirts of the city. Finally we decided to first have breakfast and then decide what to do next. So as suggested by our guide, we had a sumptuous Gujarati breakfast at a Pol that had been restored and converted into a restaurant. After that, I called up Uday and he suggested we visit the Gandhi museum. So we headed there by auto. The museum traces Gandhi's life and serves as a hangout for connoisseurs of history.
From the Gandhi Museum, we took another auto-rickshaw to the City Museum. The auto driver was full of suggestions of places to visit, and he stopped over at a place not on our list. It was an unkempt step-well. Though unique in its own respect, it was not as grand as the Adalaj step-well that I was to see the next day. The auto-rickshaw ride itself was a trip of a lifetime for my two foreign friends. I have to admit that the rickshaw drivers in Ahmedabad do drive rashly – but being Indian it wasn't frightening enough for me to scream. But scream they did – both Ester and Feso were on the edge of their seats!
On reaching the city museum, we got to know that it was closed. Monday is a weekly holiday, which I learnt is true for most museums world over. Luckily, the city museum was right opposite NID, which meant that I was very close to the Udupi restaurant. Feso and Esther were no strangers to the Great Indian Dosa, so the three of us trouped over to feed ourselves some more. The restaurant didn't fail to satisfy – I am sure the two travelers will have tales about the dosa to tell overseas.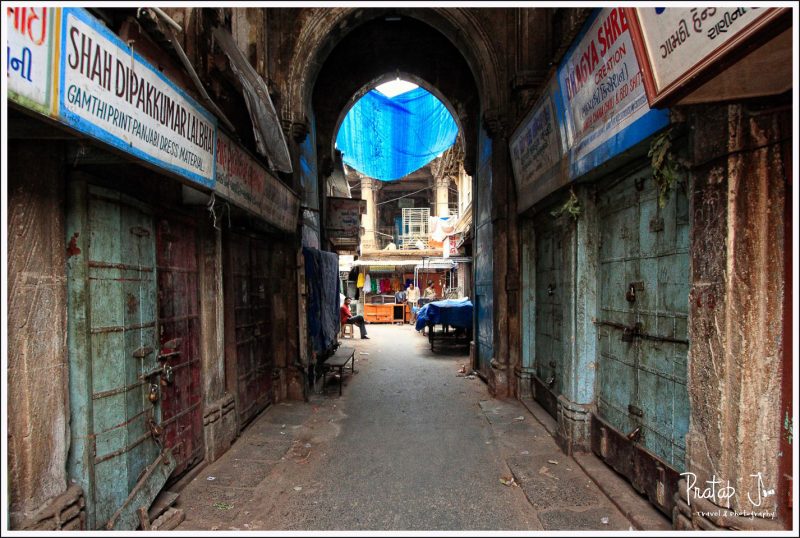 Not knowing what to do next, I called up Uday once more. He suggested we do some shopping near the Law Garden Park. It was nearing 4 pm, and we first rested at the park. It had been a long day so far, so we enjoyed the serenity. We also caught up on the general state of affairs in our respective countries. I got to hear that the Greek society has much of the same problems we face in India. After that, we walked by the road next to Law Garden to do some street shopping. But heck, I was totally ignored because I was with two foreigners. The hawkers found them more interesting. We walked some more, this time moving away from pavement shops to see bigger malls. Truth be told, we were actually building an appetite to eat at a place suggested by Uday. When we couldn't walk anymore, we decided to go straight to that place, but no one could tell us where it was! We were thoroughly exhausted when we finally found the restaurant. But because of the exhaustion we could do justice to the food.
Post dinner, we said goodbyes and I got off at Paldi while my two friends continued to the railway station to catch a train to their next destination. Thus ended a day by the end of which I made two new friends.