In Nov 2015, I also wrote an article about Gokarna for Jungle Lodges. Click here to read it.
Gokarna is a temple town in North Karnataka. There are several small secluded beaches in and around Gokarna, which makes it a nice getaway from the city. Visitors come to Gokarna for both pilgrimage, and recreation. If Goa is too far or expensive, then Gokarna is the next best option to experience the sun, sand, and sea without buring a hole in your pocket. The facilities in Gokarna may not be anywhere close to that of Goa, but the place has its own old world charm. Whether you are laid back, frivolous or devoted, Gokarna has something for you. The auxiliary beaches of Gokarna are clearly separated from the temples, although one can find plenty of beach bums hanging around in the main town. This makes for interesting strolls in the evenings. You can trek through hillocks to go from one beach to another, or take a motor boat to beach-hop faster. The trek route is good for the mildly adventurous and definitely devoid of local tourists. I love clean, pristine beaches so naturally I love Gokarna. The beaches and the town have plenty of photo opportunities. In the town, the locals have adapted to the presence of both the worshipful and the wanderers. It is not uncommon to see a priest, cow, and backpacker walking on the same side of the road towards the beach. This travelogue captures my visual and mental imagery of Gokarna, along with basic information about the place. Let's get started with the mundane first, because I want to be search-engine friendly and all that.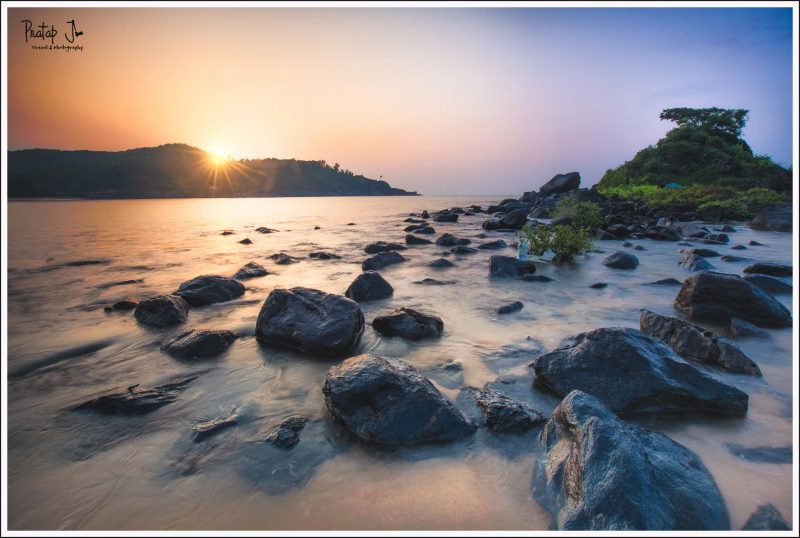 Places to see
Apart from the main beach at Gokarna, the following beaches are popular chill-out zones:
Om Beach (connected to Gokarna by road)
Half moon beach (connected to Om beach via a hiking path)
Paradise beach (connected to Gokarna by road)
Kudle beach (connected to Gokarna by road, but you still need to walk down to get to the beach)

All beaches are connected by ferry, which is an inexpensive mode of transport if you are in a large group. There are numerous temples in Gokarna. The following are the popular ones:
Mahabaleshwar Temple
Maha Ganapathi
Koti Tirtha
Rama temple (which has a freshwater spring, popular among locals for clean drinking water)
According to the book, "The Ramayana of Valmiki," Vol 5, Hanuman was born in Gokarna. But there are two places in the world named Gokarna, and the other one is in the Himalayas. So except for an arbitrary board on the way to Kudle beach, there is no conclusive evidence that Hanuman was born in Southern India. Nevertheless, you can play along with the myth and imagine the vast landscape around to be the monkey-god's childhood playground. Gokarna is also a place where pious Hindus perform the last rites of departed ones (muktistal). It is not uncommon for families to be hounded by local priests offering a 'last rites package'. In Hindu custom, the last rites of a dead person typically goes on for 13 days, of which the 10th day and 13th day is considered auspicious.
Getting to Gokarna
Here are typical distances to Gokarna from some of the major towns of India:
Bangalore – Gokarna: 500 km via Tumkur, Hiriyur, Chitradurga, and Haveri.
Mangalore – Gokarna: 230 km via Kundapur, Murudeshwar and Kumta.
Goa – Gokarna: 160 km via Karwar and Ankola.
Hampi – Gokarna: 325 km via Gadag and Hubli.
To reach Gokarna by train, look for the station called 'Gokarna Road (GOK)' on IRCTC.in. There are trains to Mangalore, Goa, and Bangalore from GOK. I would not recommend the train from Banaglore to Gokarna because the travel time is 16 hours, as against 10 hours by bus. If you are visiting from Bangalore, taking a private or government bus (KSRTC) is a better option than the train. I prefer sleeper buses from private operators. Ticket fares in 2014 were around ₹650. If you like to drive or bike down, then the route from Bangalore to Gokarna makes for an interesting journey. The toll road from Nelamangala to Haveri is excellent. After that, you get to see typical country side life. It would take you anywhere from 7-10 hours to drive down to Gokarna from Bangalore.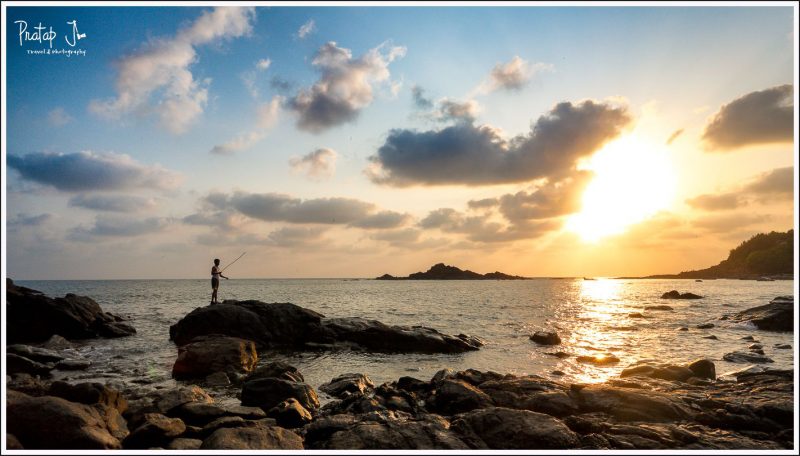 Getting around in Gokarna
Having your own ride makes it so much easier to travel between beaches in Gokarna. Expect to pay a minimum of ₹100 for an auto rickshaw ride otherwise. For instance, Gokarna to Om beach is a fixed rate of ₹150 by auto.
This is certainly expensive, because the distance is just 5 km. Auto rickshaw rates are fixed by the union, so don't bother haggling. Most auto driver are happy to give you their mobile number, so you can fix up a 'day package' with them. The beaches are also connected by ferries. Charges depend on the number of people available at the time of your departure. These guys too are willing to work out 'day packages.' I would not recommend renting a ferry for a 'beach sightseeing' package because you will not get to set foot on the beach. For those who want something laid back, bicycles are available on rent in Gokarna. This can be a good option if you are staying in the town. To visit the beaches, I recommend renting a two wheeler if you find one. Unlike in Goa, the concept of two wheeler rentals for tourism has not yet caught on in Gokarna.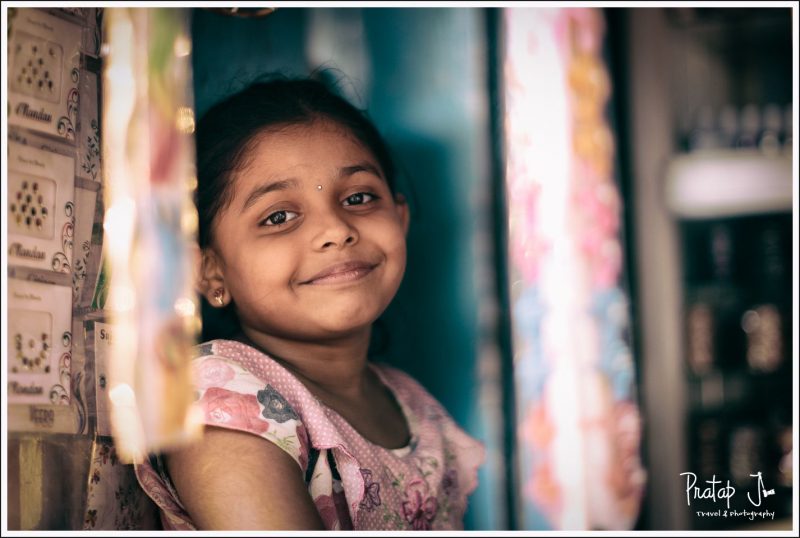 Staying in Gokarna
You can either stay in the town of Gokarna where road access and food is easy, or stay with the drifters on Om Beach or Kudle Beach. If you really want to get in touch with your gypsy roots, you can also stay right on the beach. Half-moon beach would be ideal for a night under the stars. Here are some of the popular brick n' mortar staying options for the less adventurous:
Haripriya Residency in Gokarna. Good reviews and clean rooms. They even have a website.
Namaste Cafe in Om Beach. This place is right next to the shore. A VFM place, and you are better off doing an advance booking by calling them up.
Gokarna International. There are two of these. One in Kudle, and one in the town.
SwaSwara. An exotic resort for those who like their privacy while doing Yoga (otherwise it is absolutely acceptable to do a headstand on the beach).
This is certainly not an exhaustive list. Gokarna has a number of other lodges, but do watch out for seasonal crowds that may leave you stranded if you have not made an advanced booking. I have personally stayed in Namaste Cafe and I like it because of its proximity to the beach. Heck, the waves crash into the foot steps of Namaste Cafe during high tide. The place has a restaurant that serves world cuisine. Italian, Continental, Greek, Indian or Sea Food. They are all on the menu but food is expensive and nothing to write home about. But hey, you should be getting your calories from the beer.


Why I Like Gokarna
I could try and write at length about the beauty of Gokarna, but ideally that is something for you to explore and experience yourself. To tell you why I like Gokarna, I should mention that I despise crowds. Indian crowds, to be specific. Indians are fussy, noisy, and messy travelers. Cleaner the place, the greater the need to pollute it. I believe in respecting the sanctity of a place. Most Indians are champions at overpowering the charm of a place with din.
This is not meant to be condescending. This is the reality I have seen around me all over. The Taj Mahal may be the epitome of human expression, but the streets of Agra are the heights of urban decay. Gokarna too has its share of the great "Indian Traveling Company." But one can predict when to expect the crowds. Like locust swarms, they are all over on weekends, when kids have summer holidays, and in November/December. The rest of the time, the beaches of Gokarna are spared the audio-visual pollution. This is golden for someone like me. I like Gokarna, simply because in between the tourist rush, there are interludes of great calm, with only the lapping of the ocean to break the silence. Like in the evenings after the screaming kids leave Om beach. Like on a quiet weekday in the town. Or early in the morning when most of the folks are still sleeping after the previous evening's party.
How I Like to Spend My Time
Gokarna is great to do exactly three things.
1. Take photographs. There are photo opportunities pretty much everywhere.
2. Watch the motley mix of ethnicity, culture, and growing social awkwardness.
3. Nothing.
The list is in the order of effort. Photography is actually hard work. Waking up early and hiking to where the view is great requires you to be sober and fit. Fiddling with the camera instead of soaking in a beautiful sunset is a sacrifice. Gokarna is a landscape photographer's delight. The shore is rocky and lends itself to long exposure. The cliff overlooking the Arabian Sea between Om Beach and Half Moon Bay is intoxicating and beautiful. I have spent hours watching the magic of sunrise and sunset. When there are no crowds, I can peacefully set up the tripod and do my thing, undisturbed. If the scenic landscapes get repetitive after a couple of visits, there are umpteen opportunities to shoot life on the street.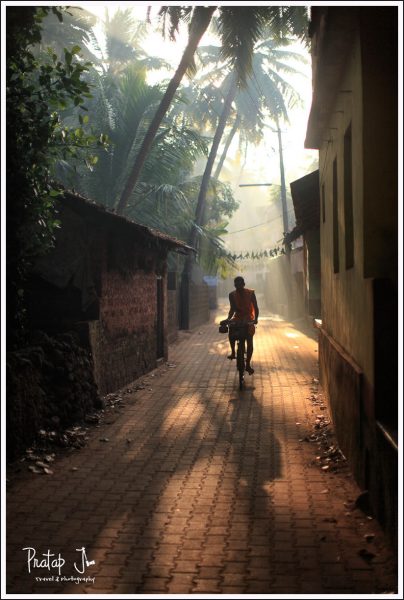 Gokarna makes for a good three day getaway. It takes about two days to soak in the beach and sea. One can spend a day in the main town, watching the locals go by their daily routine. If you are in a group, or interested in seeing more of village life, you can hire a boat that will take you to the backwaters where the fishermen live. Nature lovers can spot plenty of birds or the elusive dolphin. Karwar is 60 km away, and makes for an nice day trip. Devbagh resort in Karwar is a popular stay option.
Whatever your reason to visit Gokarna, I really hope you do not litter the place. Try not to buy bottled water, because even if you trash it responsibly, it is invariably going to end up in the ocean. If you really need to buy water, purchase a big can and refill your bottle as and when required. Make merry, get high, but do not pollute the place.
Photos from Gokarna
If you wish to experience Gokarna, check out these fixed itineraries from HikerWolf.