Meghalaya, as every Indian has hopefully learnt in school, receives heavy rainfall in Monsoon. Cherapunjee was once the the wettest place on earth but the current champion, Mawsynram, is also in Meghalaya. Our visit to this tiny state in the North East of India coincided with some very wet days. Such heavy rainfall was unusual for late May but it gave us an opportunity to understand Meghalaya's reputation.
ChaloHoppo, a travel agency based out Guwahati, helped us with our itinerary. We were three landscape photographers who wanted a very customised itinerary and ChaloHoppo patiently helped us plan the trip. We were looking to capture some beautiful waterfalls and the signature Living Root Bridges of Meghalaya. Before contacting ChaloHoppo, I intended to keep Shillong as the base and travel to some of the popular destinations. Looking at Google Maps, this seemed very much possible because most places were within 200 km of the capital city. Only after visiting Meghalaya did I realize that this would have been a foolish idea. My suggestion is to either hire a taxi or self-drive and stay at the various places listed below.
Umiam Lake
We spent the first night of our trip in a boat house at Umiam Lake. We took an early morning flight out of Bangalore to Guwahati. After a 5 hour journey by road, we reached the beautiful man-made lake at around 3 pm. It had been a long day and the wooden boat house located on the other side of the lake was a great spot to relax. We had to take a ferry to reach the boat house. The caretakers were a friendly old couple who lived in a house a little away. There were no other tourists so we had the entire island to ourselves! We spent the evening exploring the area on foot and shooting some landscape photos. We spotted a few fishermen in the lake doing their thing. They turned out to be nice subjects to shoot. The skies were mostly clear, except for an occasional drizzle.
There isn't much to do at Umiam. This worked well for us because we were tired after the long journey. An alternate plan that I would recommend is to stay in Shillong and experience the famed nightlife there. The houseboat isn't exactly luxurious but it certainly makes you feel like you are away from the hustle and bustle of a big town.

If you wish to stay at this boat house, get in touch with Kong at 9856528233.
Double Decker Living Root Bridge at Nongriat
The plan for day two was to stay at Nongriat – home to the famous double decker living root bridge situated in the East Khasi hills. The ferry that had to pick us up from the boat house unfortunately did not keep time. When it finally came and we got into it, the skies opened up into a heavy downpour. With nowhere to run, we watched helplessly as our bags got wet during the 10 min journey across the lake. This set the stage for the rest of our trip.
As per our original plan, we wanted to stop by Nohkalikai. After a brief WhatsApp exchange with fellow blogger, Roving Heart who had visited Meghalaya earlier in the month, we decided to skip Nohkalikai and head straight to Tyrna, This is the village from where we started the trek to Nongriat. Wesley, our guide, was waiting for us at Tyrna. We used his house as a cloak room. It was raining when we got to Tyrna so we had very little hopes of our clothes drying. We packed essentials for a night's stay and set off to Nongriat which is in a valley below. We had to trek down 3500 steps! Tip: Rent a bamboo walking stick at Tyrna. Your knees will thank you. Wesley filled us with trivia throughout the trek. There wasn't much 'guiding' to be done as the route is well marked and frequented by locals and travellers.
If you cannot spare a day to stay at Nongriat, you can visit a smaller living root bridge which is also on the way to Nongriat. It takes about half an hour to reach this place.
Walking down from Tyrna to Nongriat is more exciting than it sounds. The real fun starts after the first living root bridge. You don't have to cross the living root bridge to continue the journey, but a little ahead you come across a hanging steel bridge. And this is how to looks:
The steel hanging bridge is not for the fainthearted because it sways like crazy! The gushing river beneath, clearly visible through the gaps in the steel ropes, makes your imagination go wild. What if the bridge tilts? What if your foot gets caught in the gap between the ropes? Or worse, what if the ropes snap? Crossing the first steel hanging bridge felt like going on one of those scary amusement rides. By the time we got to the second one, we had a plan. We decided to synchronize our footsteps and take gentle strides to prevent the bridge from swaying too much. And it worked! There are several steel hanging bridges around Nongriat and we employed this technique successfully in crossing every one of them. It felt like mastering the art of tight-rope walking 🙂
It was late evening when we reached Nongriat. Sunsets are early in Meghalaya. The double decker living root bridge is at the entrance to the village. On that dimly lit rain-drenched evening, Nongriat looked like a scene from a fairy tale. We had just crossed a few steel bridges to reach a place far away from civilisation. There were no automobiles or shops in Nongriat. The village was surrounded by thick jungle.
The intensity of the downpour had increased, and the light was fading. The walk from Tyrna took us almost 3 hours and we were sweaty. The humidity levels were high. We quickly kept our luggage at the homestay in Nongriat and clicked some photos of the double decker bridge. We learnt from Wesley that the villagers had started creating a third deck by twisting and shaping the roots.
Ours was the first house in Nongriat. As we settled down, we began to notice that the village had a curious sense of hippiness to it. Nongriat is accessibly only by foot. Every house doubled up as a homestay. That evening, Nongriat was teeming with backpackers of many different nationalities. Random folk constantly walked in and out of our homestay. Our hosts didn't speak much of English but there was strange familiarity that some of the aforementioned visitors shared with them. Wesley disappeared somewhere and made brief appearances once in a while. As the sun set and the incandescent bulbs started to glow, I realized that the living root bridge was hardly the reason for people to visit Nongriat. Some of the foreigners we interacted with told us that they liked Nongriat for its remoteness.  A New Zealander who visited our homestay for dinner said that it wasn't his first time in Nongriat. Two girls from Europe whom we spoke to at length were renting a house and staying for more than a month. In a populous country like India, Nongriat was a secret getaway for budget travellers who were ready to trade modern comforts for seclusion.
Young people kept pouring into Nongriat even after dark and soon there was no space in any of the homestays. So they pitched tents wherever they could. Dinner that night was a local cuisine which tasted nice. I don't remember the name, but I think it had tapioca. Our homestay was run by a couple and by the looks of it, the place also served as a mess. The foreigners ate there too. Wesely later took us to a "football" field nearby to show us a tree full of glow-worms but we couldn't see any that night. The glow-worms disappear when it rains very heavily 🙁
Our plan was to hike to see the crystal blue waters of Rainbow Falls the next morning. However, we decided not to do the three our trek. Given the intensity of rains, Wesley said that the waters at Rainbow falls wouldn't be crystal blue. We also had to retrace our steps and reach Tyrna by noon. So instead of visiting Rainbow Falls, we went on a short hike and took photographs of some of the many waterfalls that we came across. And yes, there were more steel hanging bridges to cross! After a successful photography session and getting both ourselves and our gear throughly wet, we left Nongriat. We climbed up the 3500 steps to reach Tyrna at around 1 pm. It was sunny and just the kind of weather that we would have loved having when we were in Nongriat.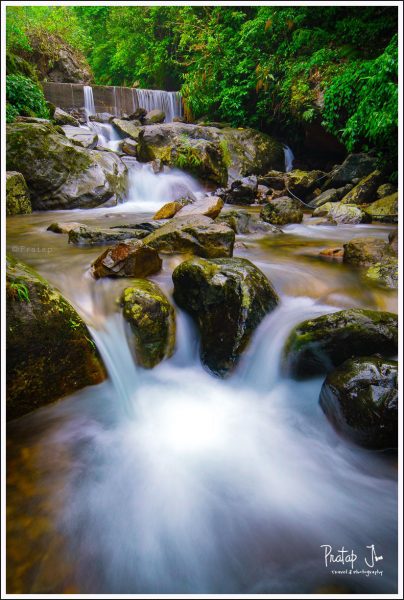 Mawsynram
From Tyrna we drove to the wettest place on earth – Mawsynram. We stopped at Nohkalikai hoping to see the famed waterfall but all that was in front of us was thick fog. Nohkalikai was a touristy place so we quickly scooted from there.  It was late afternoon when we got to Mawsynram. The last part of the journey to Mawsynram was also through thick fog. There wasn't much of Mawsynram that I remember seeing because it was mostly fogged out. The plan was to stay in tents but there was a twist to this. The tents were pitched inside an empty room to save ourselves from getting wet again 🙂
The weather didn't permit us to do much at Mawsynram that evening. The food was good and we binged. Travel and rains can make you very hungry. The next morning we went to a nearby river for some water activities. Our trip was no longer about photography. Batista and his friend guided us expertly through the water-walk activity. We had to walk on the path of a shallow river that had undulating terrain beneath. In some places we had to swim across while in other places we had to slide down rocks. It was a whole lot of fun! I never expected walking on a river bed to be such a memorable experience. Strangely, it never rained until we finished that activity but we were soaked nevertheless.
The next activity was kayaking in the calm waters of the river. I was in a two-man kayak with Srinivasa. We gently rowed up and down the river. It started to rain by then, else we would have continued this activity for long. There was no other group that day, so there were no time limits for the activities. A perfect vacation, if you ask me.
Shillong
From Mawsynram we left for Shillong after lunch. It had been two days since our last shower, so our luxurious homestay in Shillong was a welcome relief. We explored a little bit of the city in the evening and spent most of the next morning drying our clothes. The sun shone bright in Shillong and we were able to make the most of it. I really enjoyed my brief stay in Shillong because it had the right elements of a modern town and a hill station.
We checked out of our home stay and drove to Laitlum. This is place is famed for its great views of the East Khasi hills but not a regular tourist spot. However, we could see nothing but fog after reaching Laitlum. We waited for almost an hour but there was no sign of the fog clearing. With nothing else to do, we headed towards Mawlynnong, also known as Asia's cleanest village.
Mawlynnong
Mawlynnong was quite a disappointment. We found this tiny village close to the Bangladesh border very touristy with nothing much to offer. It was certainly clean but so were most other places we had visited. Luckily, our halt at Mawlynnong was not a
complete flop as we got to see yet another living root bridge at the nearby village of Riwai. I got some nice photographs in the brief period that it wasn't raining at Riwai.  But I'll remember Mawlynnong for the downpour that we experienced that evening. Our homestay owner himself remarked that it was quite something. The rains lasted almost an hour and was the heaviest I had ever experienced. Our homestay owner was a resident of Riwai and a retired school teacher there. We had a nice time chatting with him about the rise of tourism in Meghalaya and Mawlynnong in particular. When asked about Mawlynnong's popularity, he did not know why, either 🙂 We attributed it to the media. I guess the Indians who had heard about this place were curious to see how a village can remain clean in a country as filthy as ours.
Krang Suri, Dawki and Langkawet
The next morning, we left Mawlynnong to visit Dawki first and Krang Suri next. Our plan did not go as expected because it rained throughout the four hour journey. We were hoping to see the crystal clear waters of the Umngnot river at Dawki and take a boat ride to Bangladesh. Unfortunately, the heavy rains had left the water completely muddy waters so we decided against it. It was the same story at Krang Suri and we did not even bother going near the muddy waterfall. In spite of walking for just ten minutes, we couldn't get back to the car in time to beat a sudden storm. We ended up taking shelter in a rickety shack where we met some interesting characters. They were locals who were taking shelter from the rains too. There were a few dogs, a small bon fire, and a man smoking up something that made him the happiest person I had come across. His wife was not amused by his habits, though.
When the rains finally subsided, we made a dash to our vehicle and proceeded to Langkawet. We got to listen to some Bangla rock on a Bangladeshi radio channel for a good part of the trip. One particular song stuck in my head until I got back to Bangalore. With the help of the app called Shazam, I discovered the artist, Ayub Bachchu. I am a fan for life now 🙂 You can listen to "Madhobi" on YouTube. Driving through wet roads surrounded by tall trees on either side, listening to Bangla rock left a lasting impression.
The homestay at Langkawet was away from any tourist spot. In fact, it was more like a farm house. Victor, the owner, lived in Shillong but he drove down to host us that evening. If I mention one more time here that it was raining at Langkawet and that we couldn't do much, I would be sounding like a broken record. Yes, the rains were heavy again so it was mostly conversations with Victor and looking back at our trip. Our flight back to Bangalore was the next day, so we repacked our stuff. It was to be a long journey from Langkawet to Guwahati.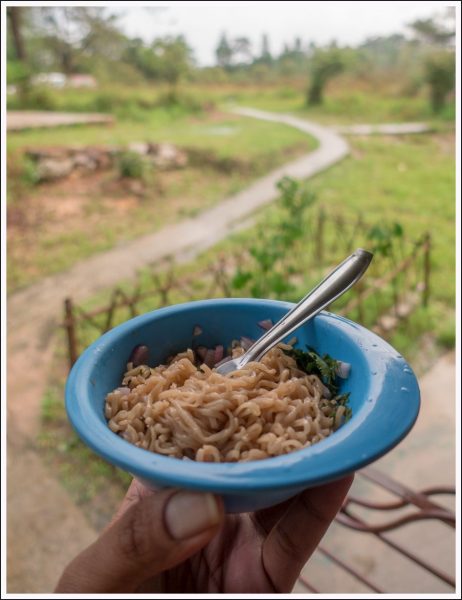 Closing Thoughts
Coming from a city like Bangalore, I had several interesting observations about Meghalaya. In spite of not featuring prominently in the tourist map, the infrastructure was adequate. Many spoke very good English which made it easy to communicate with the guides and homestay owners. Nowhere did we witness the heavy rains disrupt normal life. Strange that rainfall, an occurrence that has happened since the earth was created, brings big metro cities like Bangalore to its knees. We did go to Meghalaya with a different set of expectations but got to witness the rawness of monsoon. That didn't disappoint me, because in the end every journey is about the experiencing something new.
Watch the Video!