I visited Spiti Valley in late July 2014. Going solely by photos on social media, Spiti isn't as popular as neighboring Ladakh. I was surprised to learn when reading up before that trip that Spiti is in Himachal Pradesh. I always imagined this Himalayan state to be nestled in lush green forest, with fair skinned men and women in colorful clothes singing melodic songs. Spiti Valley didn't look anything like that.
Itinerary
Our journey to Spiti was handled by Darter Photography.  Arun, who runs Darter, is a good friend who shares a common interest in landscape photography. Here is what Darter had in store for us:
Day 1: Arrive at Manali.
Day 2: Depart to Kaza from Manali by taxi. Stop by Rohtang Pass and Kumzum La Pass on the way.
Day 3: Explore Kaza, stop by Ki Monastery on the way to Langza and overnight in a homestay at Langza.
Day 4: Back to Kaza and onward to Dhankar. Visit Dhankar Monastery and Lake. Overnight at Kaza.
Day 5: Depart from Kaza to Chandratal. Overnight at Chandratal.
Day 6: Chandratal to Manali.
I wrote this travelogue almost a month and a half after the trip.  There is so much to see and do in the Himalayas that each person's story is different. The only way to truly experience the Himalayas is to be there. In that aspect, this travelogue itself is only one version of what you can expect on your own trip to Spiti. These photographs hopefully do justice to Mother Nature's beauty.
Epic Journey from Manali to Kaza
Manali is like any other hill station. Colorful tourists aimlessly walk up and down narrow streets. Tall alpine trees hold back mountain mist, and hotels are conspicuously everywhere. We stayed at Johnson's Lodge, one of the nicest properties in Manali. The journey from Delhi by an AC Volvo had left me lethargic, so I spent day one lounging about. A quick sight-seeing trip later, I concluded that Hadimba temple was not exciting, and only the makki roti and sarson ka saag at Sher-E-Punjab would entice me to go back to Mall road. Although dubbed as Himachal's adventure capital, I found Manali good to only unwind and prepare for greater adventures that lay ahead for us.
Our mandate was to leave by 4.50 am on Day 2. The previous evening, our group leader had briefed us about the highs and lows (pun unintended) of traveling in Spiti. Warnings about Acute Mountain Sickness (AMS), importance of keeping hydrated, and the need to preserve energy were well heeded to. The types of photography opportunities that we would encounter were noted. We were mentally prepared for physically what was to come.
There were three jeeps waiting for us outside the hotel the next morning. After the drivers loaded our bags in the carrier above, we set off like thieves when Manali was still asleep. I choose to sit in the last row of the Xylo – a real torture chamber. Just outside the city, the morning light gently caressing the upper peaks of the mountains awed us as we began to advance uphill. Morning mist began to obscure these splendid views as we gained altitude. We were driving towards Rohtang pass – infamous for traffic jams and drunken tourists. Luckily for us, we saw none of that. Neither could we see Rohatang pass, thanks to the mist.
After a quick stop for breakfast near Beas Nala, we commenced our journey. The surroundings began to change drastically. The tree line first disappeared. Soon the tarmac disappeared too. After a while, the road to the north branched off towards Ladakh, and we continued eastward to Kaza via Kumzum La. This high mountain pass, which connects Lahul and Spiti, is open for not more than 5 months a year.
The traveling conditions deteriorated completely once we started to descend into the valley. At one spot, water from a melting glacier had washed away the track completely. The Xylos ahead of us crossed the stream, but we weren't so lucky. Our driver managed to lodge the vehicle right in the middle of the flowing stream. The minor adventure was thrilling, although our driver was not amused. To our left was a 100 foot drop into the valley and it felt like the vehicle was gravitating towards it!
Any break in the journey was seen as a chance to shoot photos. The others began photographing a cave formed by the glacier, under which the stream was flowing. Above the cave was a seasonal waterfall. Our driver was revving the engine and trying his best to get the vehicle moving away from the rocks. After considerable effort, he succeeded. An Innova behind us promptly got stuck in the same spot. This time, it took lorry to tow the Innova to safety.
Luckily, we didn't have any such misadventure thereafter. We continued the drive through Chandra river valley. The surroundings turned arid as we drove, and the body was coping with the dry air and high altitude. We stopped at Chatru for a break. It wasn't really cold, but the hot lemon tea tasted brilliant. The warnings about dehydration felt real. The air was dry and my throat felt parched.
It had been not more than 4 hours of travel, and my bones and back were aching for some comfort. The mind, enthralled by the Himalayas, was yearning to do something about it.  Somewhere along we briefly halted to shoot a shepherd and his flock of sheep. A wonderful chance to get the creative juices flowing. The next halt was to cross another flowing stream. This time we alighted from the vehicle and watched the action as spectators. From there, we kept driving uphill till we reached Kumzum La.

Kumzum La pass is at a height of 15,060 ft and beautiful in a surreal way. Uninhabited and desolate as far as the eyes can see, a small Buddhist temple stands still next to colorful prayer flags that flutter in the high winds. Shigri Parbat towers over everything, reminding you that you are never too high in the Himalayas. Sorry for the bad pun, but high and wobbly was how I quite felt. The low level of oxygen was really getting to me, and my mind was fuzzy. Photography was not a possibility with a semi-functioning mind. Well, not until we saw a lone cyclist approach Kumzum La from the other side. I was stunned! Getting out from the car felt like chore, and here was a man cycling!

Our German companion was extremely co-operative when we asked if we could photograph him. We usually offer to email photos to the people whom we shoot, but he politely said he didn't want one of himself. Maybe he already found inner peace on the saddle.
We didn't stay in Kumzum la for long. Not only where we behind schedule, the low levels of oxygen is not good for the body. From Kumzum La, we started to descend. At our next halt we met another crazy traveler who was walking from Losar to Manali. With an innocent smile, he said he was doing it because he had a lot of time in his hands. I didn't know if I was envious of the time he had, or the fact that he was so bad-ass!
It was lunch time when we stopped at the busiest dhabba at Batal (there were only two). Hungry and weary from bouncing around in the Xlyo, I couldn't wait to gobble up a hot meal. I am not particularly fond of daal-chawal, but on that day the food tasted like bliss. A popular couple, simply called chacha and chichi, run Chandra Dhaba. Now in their late 60s, the humble husband-wife team have dedicated their lives to serving travelers. Not only do they whip up amazing food, they also save lives when needed. A few bravery awards hanging on the mud wall was proof of this. The shack is an-all-in-one.  Cooking, eating, sleeping and storing of supplies all happens under one roof.
From Batal, we started driving uphill. Kaza is only two hours away on a regular day. We stopped at Losar to check on a few others who were not keeping too well. Foreigners need to complete entry formalities at Losar as well. I was in the last vehicle to leave Losar. We had decided amongst us ourselves to drive straight up to Kaza without any breaks. However, just outside Losar, our driver stopped the vehicle to check for what he thought was a flat tyre. Instead, it turned out to be a malfunctioning joint between the power steering and front vehicle. We were in a soup! The other two vehicles had gone ahead and there was no cellular network for us to contact them. The driver did not have the necessary tools to repair the problem either.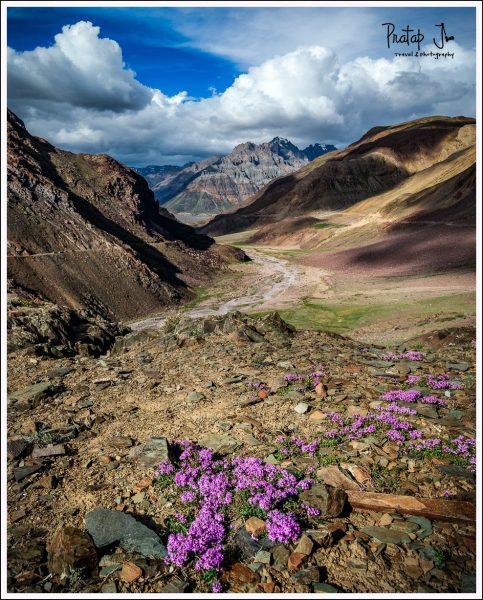 Amongst other things, we considered going back to spend the night in Losar. Luckily for us, a passing vehicle helped with a temporary fix. This did not allow us to continue the journey at normal speeds. We had already lost an hour, and it was turning dark. With the risk of another breakdown – and this time far away from help – we continued the journey. Luckily nothing untoward happened. We were 'rescued' on the outskirts of Kaza when another one of our Xylos came looking for us. It was almost 8.30 pm when we reached Kaza. We had spent 16 hours on the road!
Traveling Back in Time
After the previous day's adventure of reaching Kaza late, we had a leisurely start on day three. Kaza is a transit town with not much to see. Kaza monastery was close to our hotel, so we walked up. It appeared to have been newly constructed. The bright colors of the monastery seemed out of place in the desert-like region of Kaza. There were no restrictions to shoot inside the monastery so I took the opportunity to shoot portraits of a young praying monk. His hypnotic chants were intriguing and he was so very unmindful of three photographers.
Once we got back to the hotel, we learnt that a few members of our group had decided not to join us to Langza. They were advised by the doctor at Kaza to rest. Falling sick on a vacation can be terribly disappointing.
We left for Langza post lunch. Our first destination was Kee Monastery on the outskirts of Kaza. We followed the Spiti River all along the drive, and to our utter astonishment, the roads were tarred! On the opposite bank of the river, tiny patches of greenery with human settlement dotted the rugged terrain. We saw a beautiful view of Kee Monastery from the road that marked our first official photo stop for the day. This 9th century monastery is perched on the edge of gargantuan boulders and creates a dramatic visual impact.
At 13, 668 feet, the walk from the parking area to Kee was quite a task. The entrance-way offered a brilliant view of the valley. I was so engrossed in shooting that I almost refused a special invitation to visit the terrace of the monastery. We spent around an hour and a half at Kee which I thought wasn't enough to do justice to the place. Buddhist culture dominates these desert regions. For the culturally inclined, Kee can be interesting.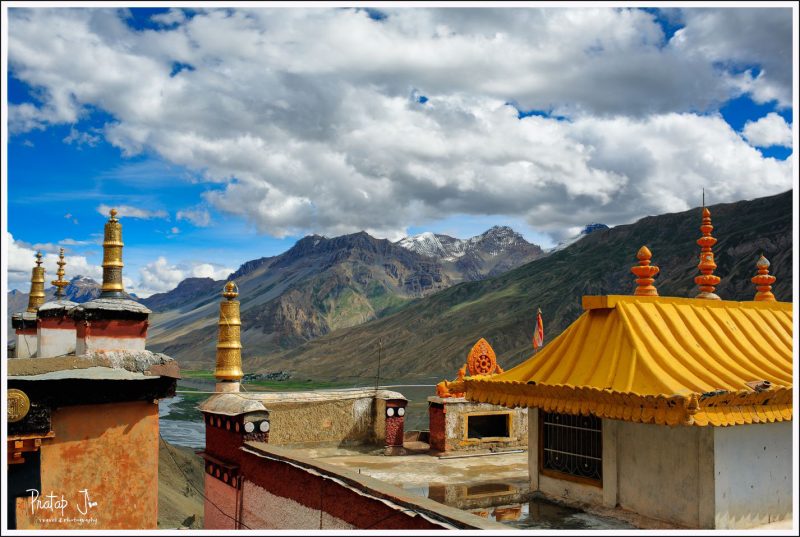 To get an eagle-eye view of the landscape and to shoot the monastery with the valley in the backdrop, you need to hike higher up – a task we did not attempt due to lack of time. We left Kee monastery and headed higher up towards Langza. The terrain felt like we were taking a time machine to a bygone era. After an
hour of driving uphill on narrow and vertigo inducing terrain, we reach a gigantic green plateau. Flanked by distorted looking mountains to the east and green pastures to the right, the tiny village of Langza stood unprotected below snow-clad mountains. The sight in front of me was overpowering. I swear my mouth was wide open, and it was not just the lack of oxygen.
We stopped the vehicles to capture the striking landscape. After half an hour of desperate attempts to capture the beauty, we left. It is difficult to make good pictures in abstract terrain.
Rain greeted us after we entered Langza. Our group leader had logistical matters to take care of as we waited in the car. The bags that the drivers had unloaded were getting wet. The vehicles were parked on slushy terrain. Getting in and out was proving to be messy. All of this was forgotten the moment we saw a beautiful rainbow appear over the horizon. It was like a fairy tale! The setting sun gave the green fields a hint of gold. Langza was turning out to be photographically very fruitful.

Our abode for the night was Tanzi home-stay. The rustic, mud-walled houses of Langza open up to visitors in the tourist season. We were excited to stay in a traditional village house and get a firsthand feel of the local traditions. One such tradition is to dig and hole in the ground and use it as a toilet.
Later in the evening, we gathered around the heater in the center of the living room for a conversation with our hosts. We were all quite beat after the travel, but Tanzi, the 5 year old child in the house was extremely excited to have guests in her house. Her granny was a sharp 75 year old who kept us occupied with stories as we sipped hot chai that Tanzi's mother served.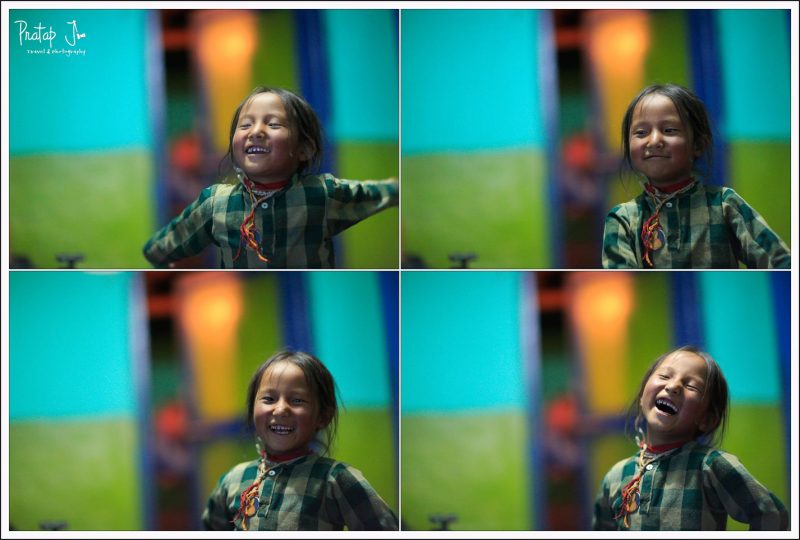 The exhaustion really got to me as the evening progressed. I was looking forward to a good night's sleep. But we had an agenda to shoot the stars at night, and it involved hiking up a small hill. I was reluctant to do this because my body was severely protesting against any form of physical activity. After some encouragement from my fellow photographers, and to experience the cold of the Himalayan outdoors, I the others. Three of us formed a group. Arun went to a different location to mentor the others.
Nights in the upper Himalayas feel very different from the nights in the jungles down in the plains. There is no damp smell in the air, there are no wild animals prowling in the dark, and no eerie sounds. Just howling winds, a zillion stars, and thin air that leaves you gasping. We spent almost an hour and a half shooting. Being out in the open was an exhilarating experience.
Read on, page 2.