I ride a 2009 model Royal Enfield Machismo 500cc Bullet. This model has an AVL engine. There is a legacy associated with Royal Enfields and part of the legacy is its looks. The Machismo is a very handsome motorcycle. I wanted to restore the bike to its original glory. Here is a guide on how to restore your Royal Enfield based on my experience.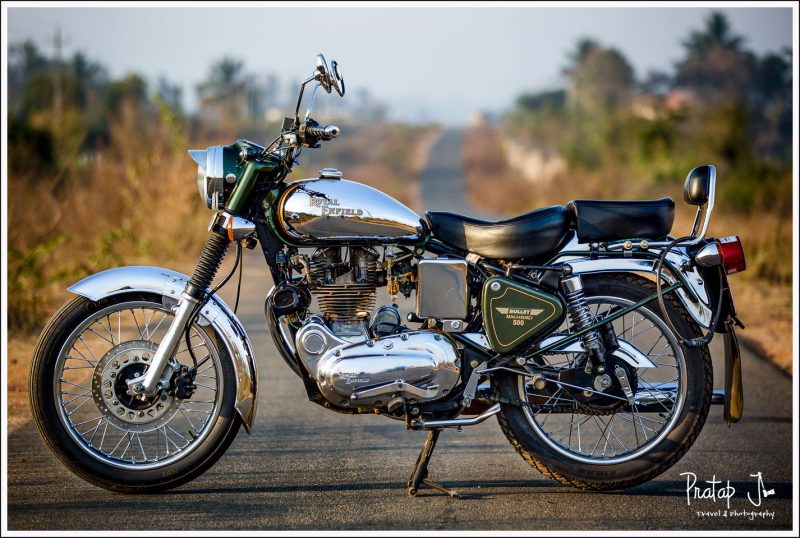 Going About It
Based on my experience, here is the rough order in which you should be going about with painting and restoring of a Royal Enfield Bullet:
Find a reliable mechanic. A reliable Bullet mechanic is hard to come by these days. There are old timers who have a wealth of knowledge, but who are struggling to keep up with the demand. You need to keep pestering these guys to look into your work. Many a times, these old timers aren't good with the newer Enfields. Then there are the young mechanics who have gotten into the trade because of their passion. You will have to first deal with their attitude before you speak business with them. These guys can be efficient and technology friendly. For example they can show you samples on their phone and give you status updates on WhatApp. But maturity is something that comes only with experience.
I recommend that you find a trustworthy mechanic who can:
Take the motorcycle apart and put it back together skillfully.
Fix any issues that you might have had, while the motorcycle is taken apart.
Deal with the painter and chroming person directly, or guide you towards someone reliable.
Give you suggestions, but at the same time not interfere with your decisions.
Think of the modifications that you want to make to the bike. You could either restore it to the factory condition, or modify it completely. The latter is obviously a more complicated task which I avoided. I just wanted my Royal Enfield Machismo to look as  good as new.
Make time (and ask your mechanic to do the same). Taking apart the motorcycle can take about a day. Then the painter would generally require 15 days to do his job. Chroming and buffing could take a week. During this time, you will not have a ride, so plan things out carefully. I had the misfortune of dealing with a mechanic who couldn't estimate things properly. He did not give the parts to the chroming person in time, and consequently I had to wait three days extra after already waiting for 3 weeks for the painted parts to come back. To ensure that you get your money's worth you will have to sit with the mechanic and supervise the work. So keep aside a time for that also.
Decide on your budget. Painters charge based on the quality of paint. Some parts might not need chroming at all because buffing will bring back the original sheen. Sometimes it is cheaper to replace a part than get it painted or chromed. Get an estimate for everything from the different people involved. Talk  to different painters and ask them to show you samples of their work.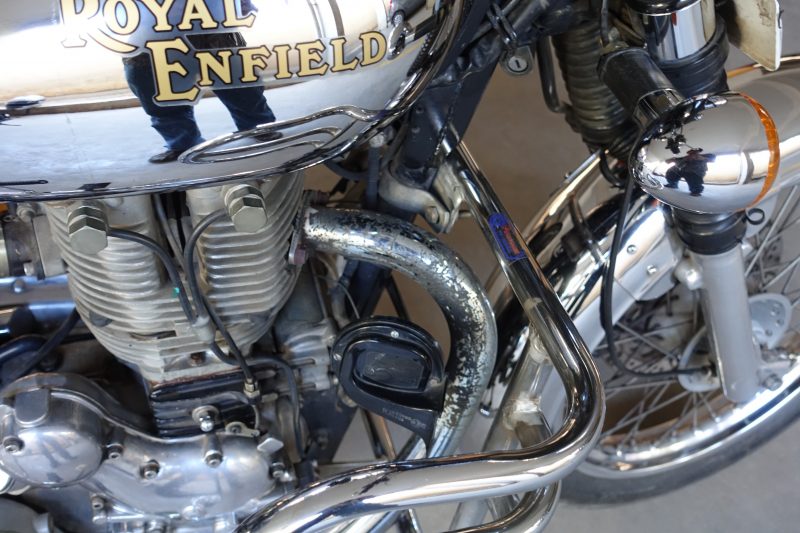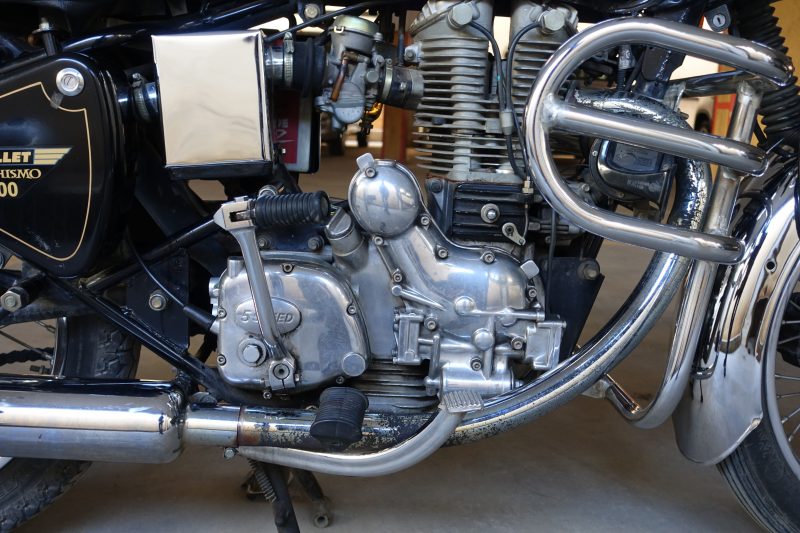 Quotation and Cost
I got my motorcycle painted by Select Stoving Enamel Painting Works And Sandblasting Works in Ilyas Nagar, Bengaluru. Mohamad Akrammulla is the proprietor and a veteran at painting motorcycles. If you don't know of a mechanic, he can arrange for someone who will take the motorcycle apart and put it back together. He charged me Rs 13,000/- for the entire work – stripping the old paint by sandblasting, applying a primer, painting, lacquering and stickering. I found this quote reasonable, although I wouldn't say that his work was the best. But I would certainly recommend him to someone who is on a budget.
I also approached four others before going with Select. The first was an unknown but fairly big garage in Jayanagar. They gave me a quotation of 35,000/- for painting, chroming and servicing, inclusive of labour. This was a fairly reasonable quote as I was to later learn.
Next, I approached the Art of Motorcycles. I had a long talk with Junaid. I did not go with them because of two reasons. Firstly, I found the quotation pretty high (Rs 50,000/-), and secondly I had to deal with what I have described above about "young guns" and attitude.
Third, I approached Fusion Kustoms. I interacted with Shashank Surya who came across as a gentleman. The quality of his work appeared to be world class from the samples that I saw. The only downside was that he did not have a Bullet mechanic and chroming person in-house. I was looking for a one-stop solution. I would still rate Fusion Kustoms as highly recommended based on my interaction with Shashank and observation of samples.
The last quotation I got was from Technik Motors in Indiranagar. Their quote was the lowest – the point that I did not believe that they knew what I was expecting them to do. So I dropped the idea of going back to them.
The final breakup after I got my motorcycle restored is as follows:
Painting and Stickering – 13,000
Buffing of engine parts and exhaust bend pipe – 2500
Chroming of misc items such as wheel, spokes, bolts etc – 2700
Tyre and spokes fitting – 1100
Labour – 4000
I also purchased a new rear mudguard in chrome for Rs 2400 (factory one was black), new back tyre (Michelin Sirac Street for Rs 2600), split touring seats (Rs 3600 from Rao's). The regular service included expenses on consumables and oils.  This project made me poorer by Rs 34,480/-. If you think this is expensive, you need to know that this is not the first time I was spending so much on the bike. A few years earlier, I had spent close to Rs 20,000 to change the engine bore! Whoever said Royal Enfield are cheap to maintain 🙂
Things to note:
I did not get the frame painted. the cost of labour would have gone up had I opted for that.
I paid for painting of the headlight dome, tool boxes, tail lamp, stay and tank. While the quality of paint turned out to be good, I was not happy with the stickering on the tool box (it was skewed on one side). The finishing of the tank was not great either. The lacquering on the tank is more prone to scratches than the other painted parts.
The chroming and buffing turned out to be very nicely done. However, I did not do anything to the the fins. In hindsight, I should have got the fins painted in silver for consistency.
As far as possible, do not re-chrome the factory chromed parts. I was told that the quality of factory chrome is superior. The Machismo tank has a lot of chrome, which in spite of scratches, was not re-chromed.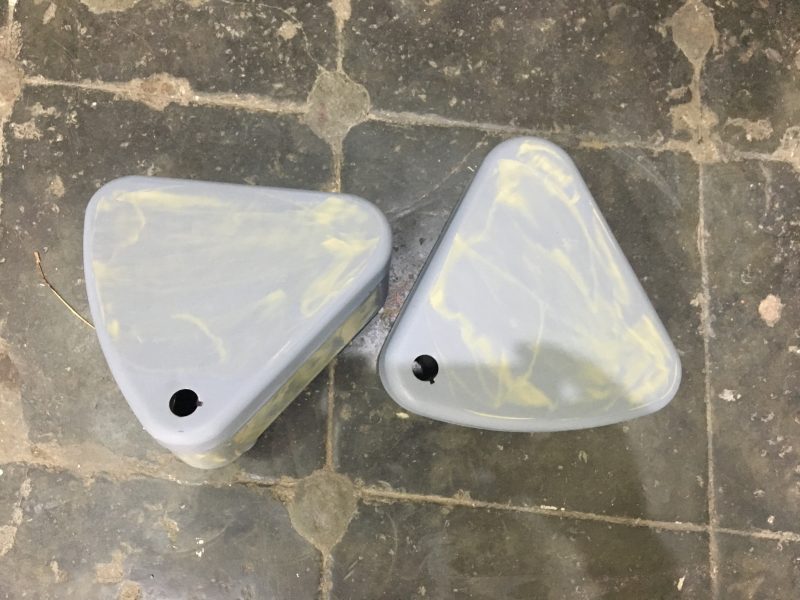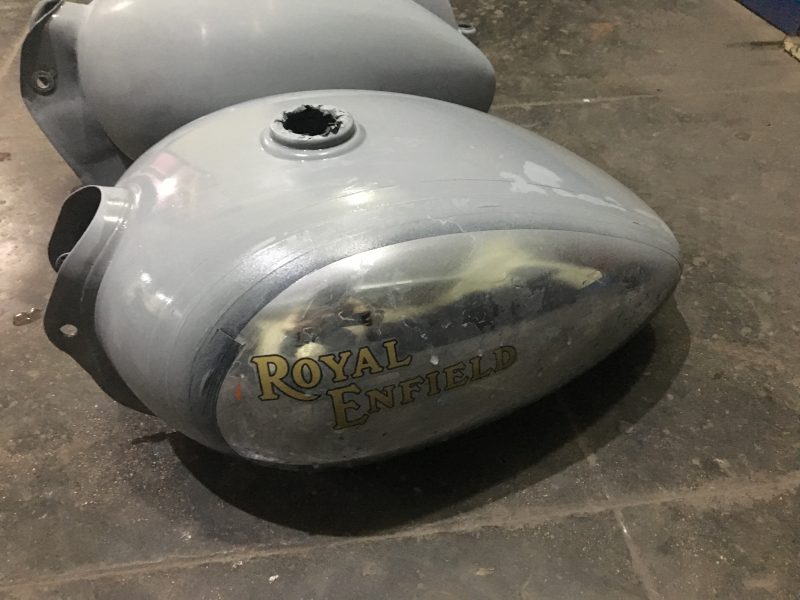 The End Result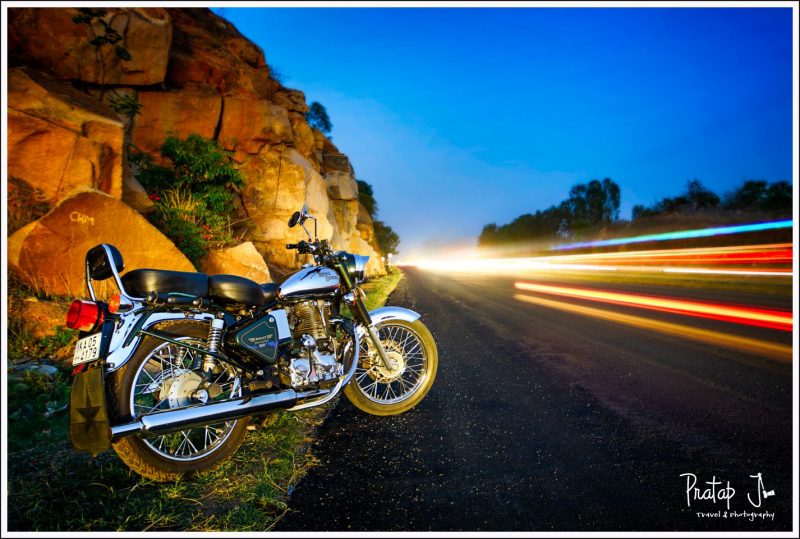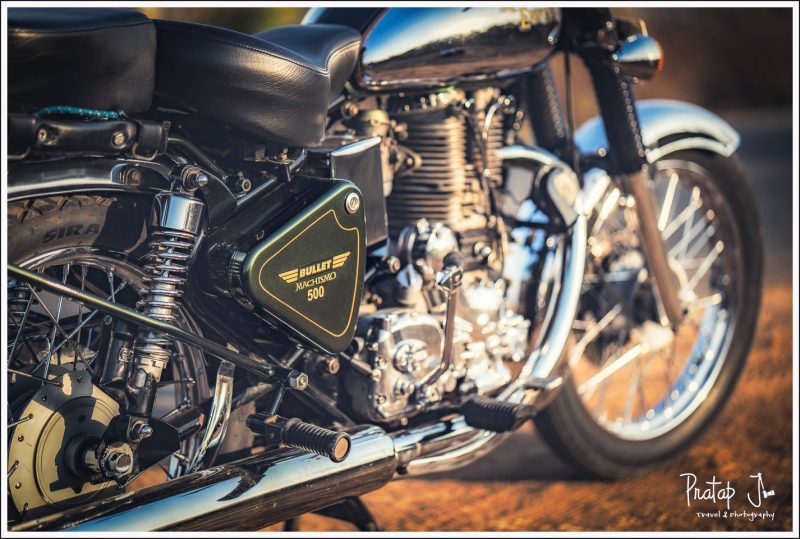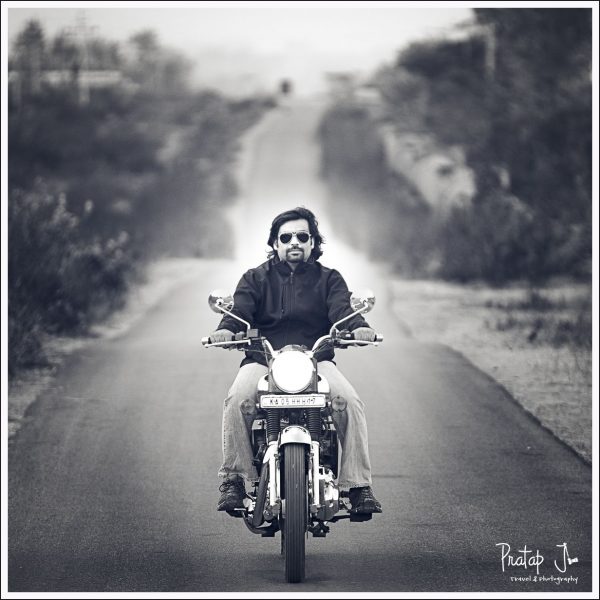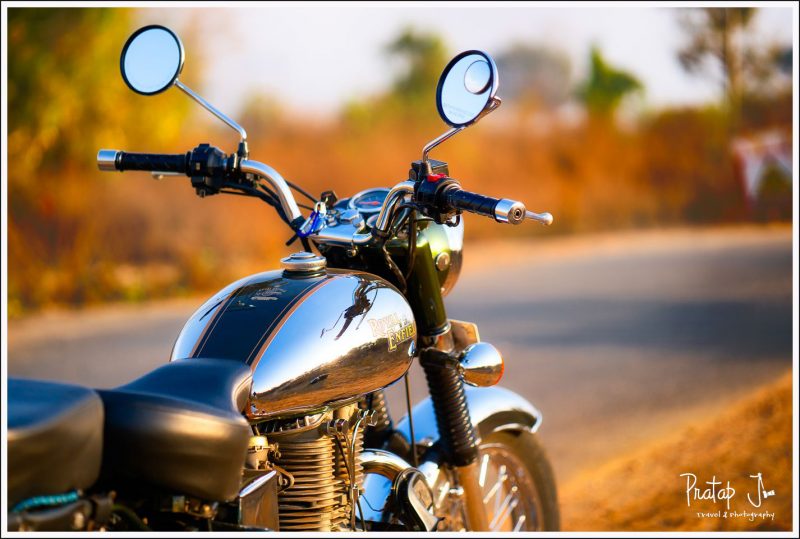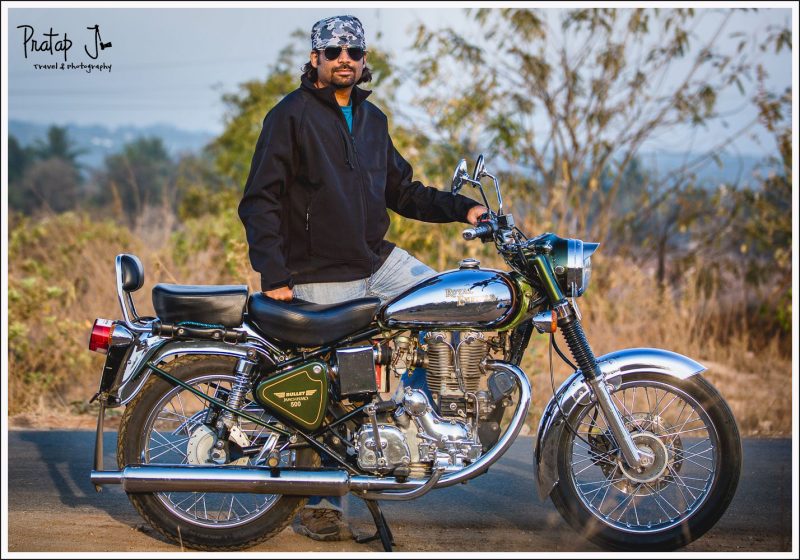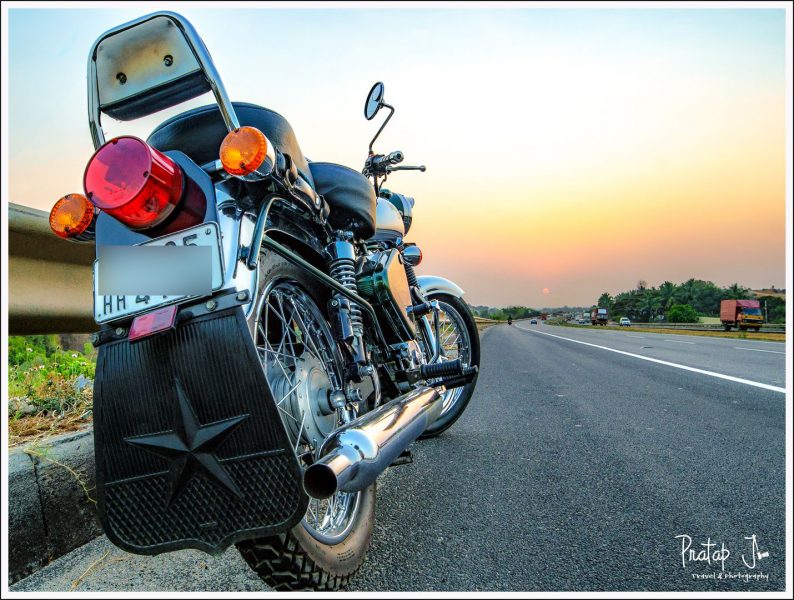 I purchased my Royal Enfield from a friend in 2012. I enjoyed five years of stock experience until I decided to restore it. After five years of riding a Royal Enfield, I knew that reliability wasn't its strength. Newer motorcycles definitely require less looking after compared to a Royal Enfield which needed regular visits to the garage. But only when you ride a Royal Enfield will you know why it is one of the most loved motorcycles in India.