This blog won the first runner's up prize in the August 2016 Blog Contest conducted by India Hikes!
Hampta Pass is a 4 day trek which starts from Manali and ends in a place called Chatru which is in Spiti Valley. I did the Hampta Pass trek in the August of 2016. The trek was organized by India Hikes. I was with a team of 24 other trekkers.  On this trek I witnessed the vegetation rapidly change from lush green to stark and desert-like as the days progressed. Manali is in the Kulu region of Himachal Pradesh, which is as beautiful as any other hill station. Chatru is in the rain shadow region of Spiti. And Hampta Pass is the gateway from one unique geography to another.
We experienced the best of monsoon on all days. We crossed innumerable puddles and streams, walked under a waterfall, waded across a fierce river, and got soaked to the bone in heavy rain. I even slept wearing my rain coat the night water entered my tent. 🙂
The Hampta Pass trek is an easy to moderate trek. There were certainly moments when the going got very tough. The trek starts at about 10,000 feet from a place called Jwara. You climb about 1500 to 2000 feet every day. We had to do most of the walking on slush and rock, and had to be careful about every step. In a different season, the trek might be a little easier. The highlight of this trek is the river crossing, and you can see all of that in the video below.
Day 1 – Chikka Camp Site
We saw some of the most beautiful natural sceneries on the first day of our trek. Tall pine trees and towering Himalayan peaks kept us company for the first half of the trek. After a while, we started walking beside a raging river, which had swelled due to the constant showers. It took us more than 7 hours to reach the first camp site. Our tents were laid out on a lush green meadow. There were waterfalls all around us. It was like being in paradise.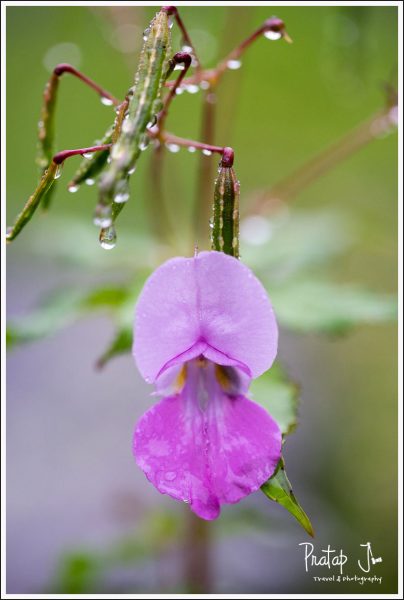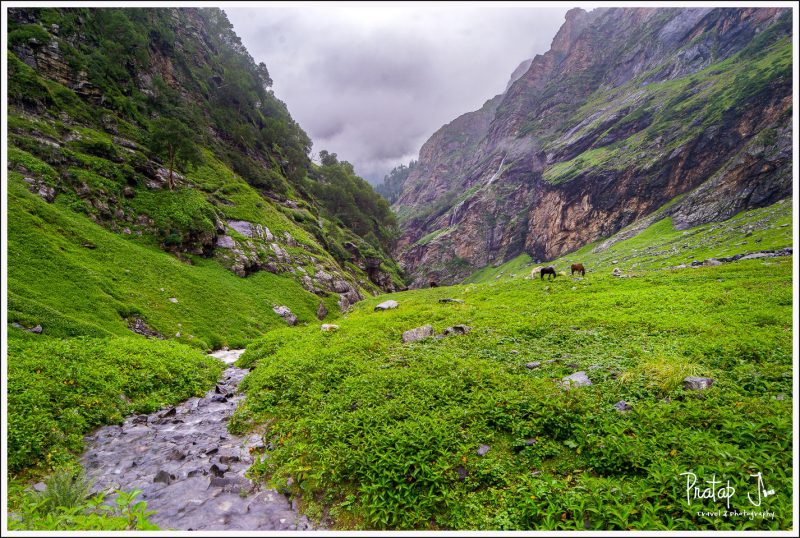 Day 2 – Balu-ka-Gera Camp Site
The treeline disappeared on the second day. The vegetation around us got shorter.  Wildflowers in pink and yellow were strewn all around. The terrain, flora, and fauna reminded me of the Valley of Flowers trek which I had done in the same month many years ago. The river still kept us company, but was mostly wide and ferocious. The route was more rocky than the first day. Clearly, we were gaining altitude.
Although we did not have any wading to do on the second day, we crossed plenty of cold streams which left us with wet feet. The most difficult one was just before our campsite.
Owing to the constant rain, I did not take a lot of photos in Balu-Ka-Gera.
Day 3 – Shea Goru Campsite
Shea Goru or Shia Goru was our third campsite. Our tents here were right beside one of the tributaries of the Chenab River. Fed by melting glaciers and monsoon showers, this river was cold and loud. And we had to cross it by foot the next day.
The snow-clad Indrasan peak stood formidable and high next to our camp site. But I mostly pointed my camera to a few unknown peaks on the opposite side. The skies were still moody, but during the brief moments when the clouds cleared, we could see the other snow-clad peaks which surrounded us.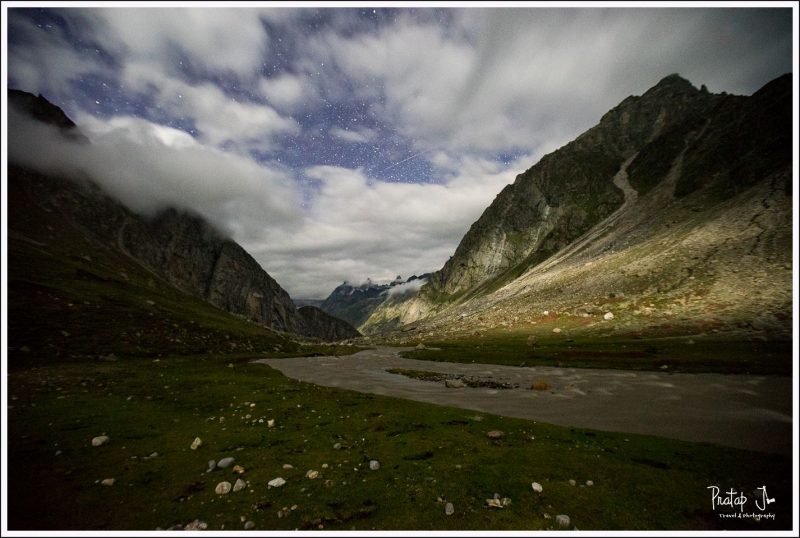 Day 4 – Chatru and Chandratal
After 3 days of hard trekking, the fourth day was a gentle down hill walk to the village of Chatru. We were in the desert of Spiti, so the terrain was mostly rocky, with only small shrubs growing in between. From Chatru we traveled by vehicle to the beautiful lake called Chandratal after staying a day in Kaza. Situated at 14,000 feet, this emerald colored lake is a photographer's paradise. I had visited Chandratal in 2014 too. Unluckily, the skies did not clear up the day we camped in Chandratal. It threatened to pour any moment. This again greatly reduced my attempts to capture photos.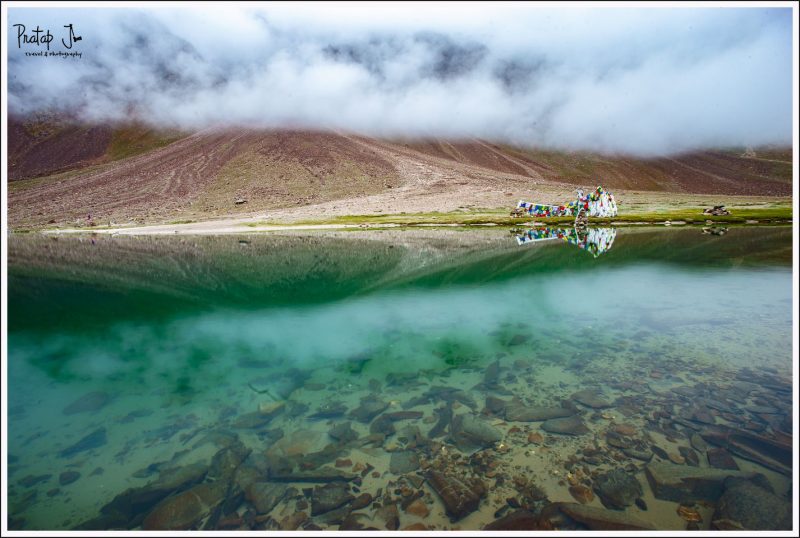 Hampta Pass – The Movie
I did not take as many photographs as I generally do, on this trip. I was also using a Sony A7II instead of my trusted 5D Mark III body. Because it was raining on all days,  I did not want to expose this new camera to the elements. The weather wasn't very conducive for my kind of photography too.  I did most of my shooting on a GoPro Silver 3 which I borrowed from my photo mithra, Srinivasa. I put together a movie which captures the essence of the trek. It is about 9 minutes long. Watch it with audio on!
GoPro Pictures from the Trek