In October 2022, I visited Singalila National Park in West Bengal, India, as part of a photography group. The itinerary was planned exclusively for four nights of Milky Way photography. Singalila National Park is a place of immense natural beauty. However there is a very short window to shoot the Milky Way, in that region. October and March are the only two months when the skies are clear. Clear skies are essential for Milky Way photography.
I have been chasing dark nights to shoot the Milky Way for several years now. Here in the South, it is difficult to find a dark spot close to Bangalore. Wildlife is always a challenge because the dark spots are invariably close to the forest areas. And then, there is the unpredictable weather which ruins things. So many of our Milky Way outings from Bangalore have ended with us staring at a cloudy sky. Many people have pinged me to ask about dark places in Karnataka for astro photography, but I have no definite answer! You can only keep exploring and trying every year, hoping that the stars align in your favour (pun intended). In that sense, I was glad that the tour organizers from Siliguri could conduct a tour exclusively for astro photography in a location which is NOT Ladakh or Spiti Valley.
Before I get into the details about our trip to Singalila National Park, I need to talk about what goes into making a photo. Nature photography as a hobby is difficult to pursue when you have to travel beyond your home/neighbouring state. Especially, if you are a middle class photographer who needs to slog it out on weekdays to enjoy a few weekends in a year. Your success as an outdoor/nature photographer is heavily dependent on the opportunities that you can take advantage of. Living close to the locations such as the Himalayas, or being a full time photographer helps in maximising opportunities. For someone like me who has a day job, going to distant, beautiful lands does not happen easily. So, behind every photo is an untold story of meticulous planning, and travel.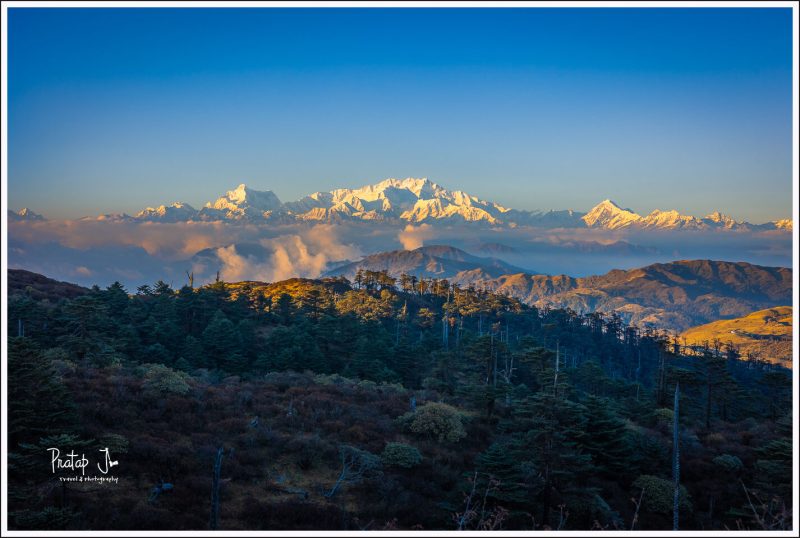 The journey to reach Singalila from Bangalore was no cakewalk. And yet, memories of those mornings, waking up to see the first light hitting Mount Everest and Mount Kanchenjunga was worth the effort. To reach the first location inside Singalila, my friend and I took a four hour flight, and then changed two taxis after an overnight at Bagdogara.  One of those two taxi rides was in a four wheel Bolero which was anything but comfortable, due to the road condition. But the weather gods were kind to us and we had clear nights, so we captured the starry skies on all four nights.
If I want to visit these places again, the sheer thought of traveling the distance from Bangalore to Singalila makes me shudder. Adding to this, we photographers have to deal with impractical weight restrictions that domestic airlines impose. To carry all my gear, along with warm clothing, I ended up paying an excess baggage fee of around ₹5000. On the positive side, our photography tour organisers had planned the itinerary very thoughtfully. This not only meant reaching the destinations at the right time, but also avoiding tourists and trekkers who throng Singalila. Sandakphu is the highest point in West Bengal and within the National Park.
I thought I had come prepared to face the cold in the Himalayas. However, my clothing wasn't sufficient to face the winds. From the first night till the last, my feet and toes hurt due to the freezing temperatures. The first thing I did after returning to Bangalore was to upgrade my gloves! I purchased this pair, and now I have to wait for my next trip to the mountains to test it out. Some warm clothing which I purchased in Leh last year served me well on this trip.  Since our stay facilities were basic, getting back to a warm room with a heater or fireplace after shooting outside in the cold nights wasn't even an option. Two of the three places where we stayed did not have electricity and running water. The food which they prepared was not what I am used to eating on a daily basis. Milky Way photography can not only be demanding, but inconvenient too!
In terms of camera gear, I was well equipped. After years of taking Milky Way images that I was not very happy with, I was finally prepared to make use of all my learnings, on this trip. So, did I take my best photos in Singalila? No! I humbly admit that I have a long way to go. Especially, when compared to the photography mentors on the trip. They were very talented pair who raised the bar higher. If you aren't getting the drift already – the quest for Milky Way photos is eternal!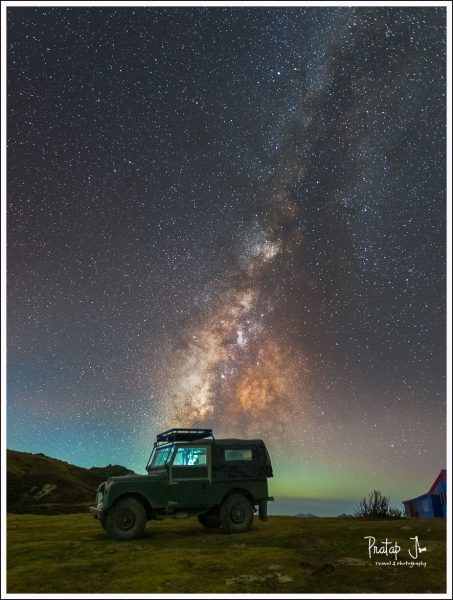 I carried a Canon EOS R6 on this trip, apart from my full spectrum Sony A6100. I had loaned my Sony A7c to a friend. I was using a friend's Canon 16-35L II myself, because my Irix 15mm f2.4 lens had focusing issues. For the A6100, I used my Sony 16-35 f2.8 GM lens – one of the best lenses in my bag. Needless to say, the Sony 16-35 f2.8 GM lens is far superior to the Canon 16-35L II f2.8 lens. I also had a borrowed a Canon 100-400L II lens which I did not use much. The most important piece of gear in my bag was the MSM Rotator star tracker. It had already proved to be one the best investments for night sky photography, when I took to Andaman in March 2022. I had made a few mods to it after Andaman, so using it in the field was easier in Singalila. The MSM rotator along with the Canon R6 proved to be a wonderful combination. The R6 is a joy to use. It comes with innovative features such as shutter activation when the LCD screen is touched, sensor protection when the camera is turned off, and of course, Canon's well thought of button layout. I truly enjoyed making images with it
On the first night in Singalila, we photographed the Milky Way rising above a small lake at Tonglu. This was a beautiful setting, but we it was very misty at sunset. The wispy clouds lingered for a long time, and our lenses kept fogging up. Soon, strong gusts of wind blew away all the mist. Being the first night of photography, I hadn't warmed up sufficiently enough (mentally and physically). My body practically froze due to the wind, and my brain quit working. I ended up making a silly mistake. I shot all frames at 21mm, instead of 16mm. I did not realise this until I came back to Bangalore. Luckily, the core of the Milky Way was close to the horizon, so I was able to capture it at 21mm.
It had been a day of long travel, and we were all tired, so after the lake shoot, we went indoors. The Milky Way sets by 7.30 pm in October. It was a sleepless night in the trekker's dorm for me because of a dog which kept barking non-stop. I thought that something was wrong with it, and the animal lover in me couldn't sleep. The next morning someone told me that it was a Tibetan Mastiff which is very ferocious after dark. Apparently the locals rely on this breed to keep leopards away. The continuous barking was indeed unusual and painful to listen to.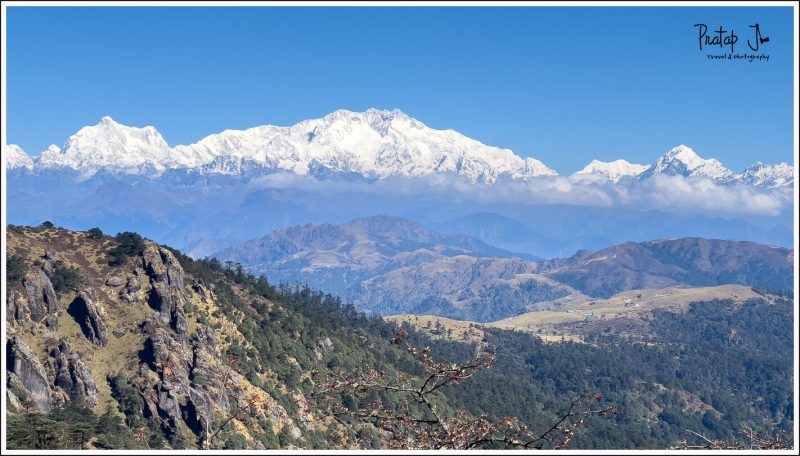 On day 2, we traveled to the second location known as Chondu. This place was beyond Sandakhphu and in Nepal. It was a plateau, with a vast and open area all around. Our hut was the only structure as far as the eyes could see. Well, there was a cheese factory that we could see, but it was two mountains away. We visited the factory and 'stole' some cheese on one of the two days that we stayed at Chondu 🙂
It was cloudy when we reached for lunch, but that evening we got to photograph a colourful sunset. Little did I realize that behind the clouds was an incredible view of some of the tallest peaks in the world! That night, we shot the Milky Way close to our place of stay, which was again a dorm. This location had no network, electricity or running water. I was quite surprised at how the local Nepali folk ran the dorm by fetching water in cans from a distant water source, every day. Chondu was also much colder than the previous one. It was difficult to stay outdoors for long because of the windchill. Nevertheless, we got our Milky Way photos and went indoors for dinner. The kitchen and dining areas are always the warmest in the mountains.
My cameras were quickly running out of juice due in the cold. I had a power bank to charge them, but soon the power bank itself needed to be charged. Luckily, a few folks went to the Sandakphu the next day to charge their batteries. It cost me ₹450 to get the power bank charged though 🙂 Lack of electricity in remote places is another challenge thrown at us, photographers.
We stayed for 2 nights at this location. Early in the morning, my friend and I headed out at 5 am to shoot the sunrise. And that is when what wasn't obvious the previous day, became clear to us. Our location had a stunning view of Mt Kanchenjunga, Mt Everest and all the peaks in between! It was an unforgettable sight to watch the first rays of the sun lighting up the white peaks. We shot timelapses until the sunlight became too harsh, jogging around in the same spot to keep ourselves warm. Do watch the video at the end of this blog for a glimpse of how Mt Everest lights up.
During the day my friend and I scouted around and found an interesting composition for a Milky Way timelapse. I also soaked in all the sun I could, by sitting outdoors. It was extremely quiet and calm. There were no vehicles, no mobile signal and no annoying tourists. But, there were plenty of cattle and goats around, merrily grazing away. They deftly avoided us humans, who had come from hot, sweaty Siliguri to cold Singalila and not bathed for 2 days.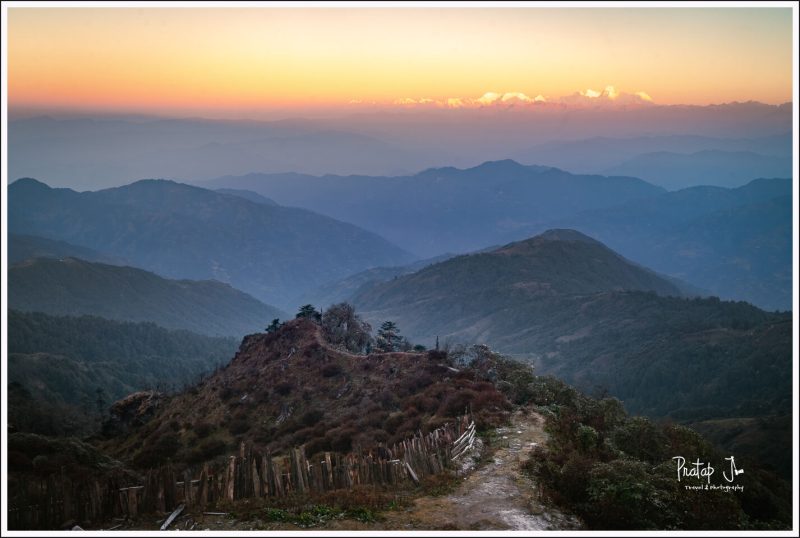 That evening, the windchill became more. Despite the misery which the cold brought, my friend and I went to a predetermined spot to shoot a sunset timelapse first, and then start the Milky Way timelapse. The cold hit us hard after the sun went down. While our Timelapse's were running unattended, we joined the rest of the group to shoot the Milky Way with props that the organisers had arranged. We ended up staying outdoors in heavy winds for far too long. My body froze beyond my tolerance limit. When I retired indoors, all I could think of was getting some warmth. With no source of heat, I resorted to wrapping myself in thick blankets. But our cameras were still outside! Later, at 9.30 pm, my friend and I mustered courage to go fetch them. Thankfully, our efforts paid off.  The cameras had captured the Milky Way move across the sky. However, I had missed capturing the Lenonid meteor showers which had put up a grand display on that clear, dark night.
It is during times like these that I begin calculating the cost of missed opportunities. And what I could have done to avoid making those costly mistakes. Many a time, just trying to stay warm takes a lot of energy. But, I think it is important to be prudent of the fact that photography is not a competitive sport. There is no prize at the end of a trip. What matters is that you enjoy the time behind the camera. I am not saying I did not enjoy my time. But it is important to acknowledge that compromises were made and opportunities were missed. And these compromises were because we chose to rough it out in the search for dark, clear skies.
The next day we packed up from the second location where we had spent two nights, and drove to the third location, Tumling. But, not before waking up before sunrise to capture the golden hour, once again. In spite of 2 sunsets and 2 sunrises at Chondu, I didn't feel like I had captured enough. I really wish I could return to these places in Singalila National Park someday.
At Tumling, which was the final location on the trip, we checked into a nice hotel with running water and attached bathrooms. It was a huge relief to take a shower after 3 days. The food they served in the hotel had plenty of variety and I quickly regained my energy. That evening, we went out to shoot the Milky Way again. This time, four of us broke away from the main group and did our own thing. We hadn't scouted the location during the day time because we were busy enjoying the room, so we were literally shooting in the dark. The basic prerequisite of landscape and Milky Way photography is to spend some time understanding the location. Pre-visualization is important and it can happen only during the daytime. It is important to do a proper reccee of the place during daytime, which I couldn't do at Tumling. This is the advantage which the local photographers, like our mentors who were from Siliguri, had. Having visited these places multiple times, they knew what to shoot.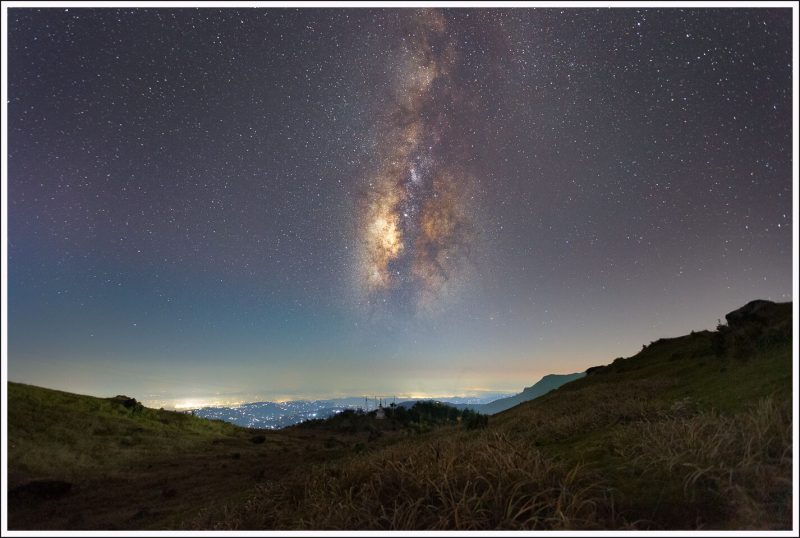 On the final day we left Singalila and made the long journey back to Siliguri. Again, we had to change taxis at Manebhanjan. It was evening when we reached Siliguri. Our trip had come to an end and we had parted ways. I was still elated at having visited places with stunning views of the Himalyan mountains. Singalila had enchanted me so much that I only carry beautiful memories of the Himalayas.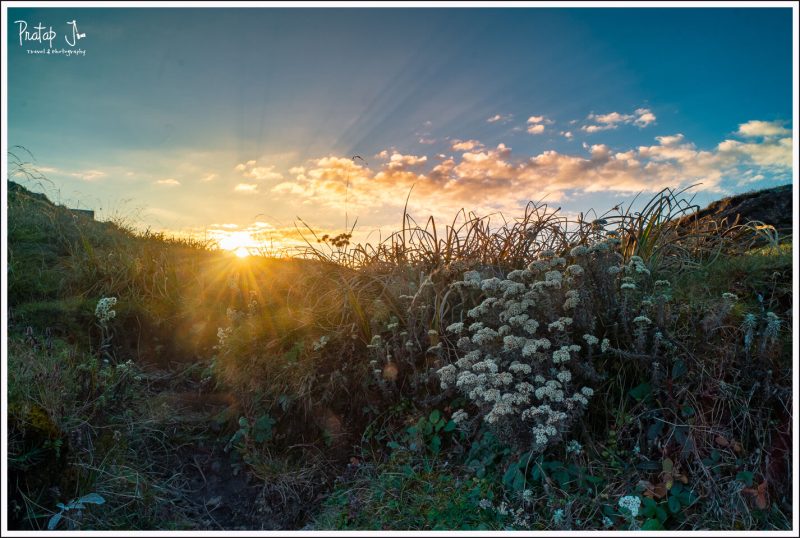 Back in Bangalore, I began the laborious task of processing the Milky Way images. I had several personal commitments which meant I couldn't stay in one location for several weeks. I managed to create a tutorial on how to process the Milky Way from start to finish. You can watch it here: https://youtu.be/uhIcqDes2o4
Also, do watch my vlog of the Singalila National Park trip.
Watch the YouTube vlog from this trip on YouTube
Many thanks to Exposure Photography for organising this tour.