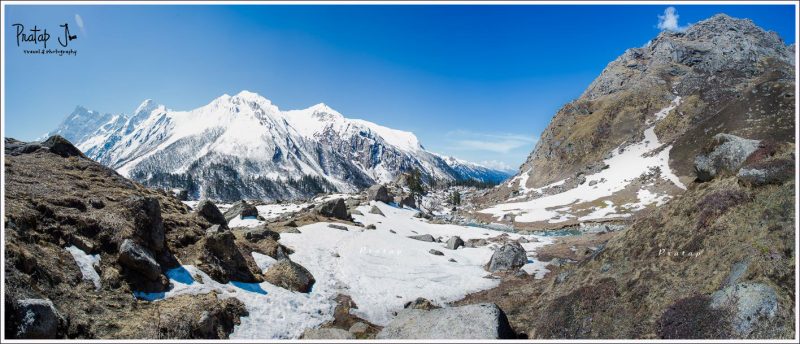 Trek Itinerary
20th April – Dehradun – Purola
21st April – Purola – Taluka
22nd April – Taluka – Osla
23rd April – Osla – Har-Ki-Dun
24th April – Har-Ki-Dun – Osla
25th April – Osla – Mori
26th April – Mori – Purola – Mussoorie
27th April – Mussoorie – Dehradun – Delhi
Har-Ki-Dun had been on my mind ever since I visited the Valley of Flowers in August 2010. I knew it would be my next destination. I generally visit the Himalayas once a year, so technically I should have gone in 2011. But a couple of things happened in the years in between, including a trip to Bhutan, and I finally made it to Har-Ki-Dun this year in April. Right from the beginning, I was focused on making this trek as photographically fruitful as possible. I wanted to capture the beauty of the Himalayas in all its glory. To be able to do that, I knew I had to carefully plan the itinerary. I also needed the necessary support system – so I can focus on photography and not have to worry about survival in the hills.
So as a first step, my wife and I began contacting hiking guides to find out their rates. The Internet was our main resource, and we got the numbers of a few guides from discussion forums and blogs. Most of the guides quoted similar prices – and yes, they were all equally expensive. We learnt from the Har-Ki-Dun Protection and Mountaineering Association (http://www.harkidun.org/) that the rates were fixed for guides who lived in those parts. I casually contacted Bal Bahadur – the guide I knew from my Kuari Pass trek. Surprisingly he too quoted a similar rate, even though he was from Uttarkashi. We settled for Bal Bahadur since we grew tired of following up with other guides and bargaining with them. To their credit, they were all very polite and respectful, but I just happened to be comfortable trusting someone I had traveled with before. Bahadur quoted a flat rate of Rs 35,000 for 2 of us, including food, stay, permit charges and taxi from Purola to Taluka and back. This was a tad bit heavy on our pocket, but at the same time we couldn't find a third companion which would bring the cost per head down.
Delhi to Taluka
I chose to travel to Delhi by Rajdhani, and it was a unique experience by itself. Indian Railways uses food as a means to pamper the travelers, and for obvious reasons. All I can remember from the trip was eating, and waiting. Waiting for Delhi to come that is. Since I was alone, the trip was really boring. But I was spared the ordeal of beggars, the heat and dust – constant companions on most Indian sleeper class trains. I couldn't escape noisy kids though. The train was full of them.
I spent less than a day in Delhi, before catching an overnight train to Dehradun. My wife joined me at Delhi, and we were glad to get out of the oppressive heat. Dehradun was a lot cooler, especially when we reached at 5.30 am. We used the train compartment toilet to freshen up, so we were ready to go to Purola directly. But it wasn't as easy as we expected it to be!
Bahadur had asked us to catch a bus (bada gaddi) to Purola. He made it sound like it would be as easy as traveling to Majestic, in Bangalore. Our first surprise came when we didn't find a tourism booth at the railway station. We asked some guy at the railway inquiry booth, and he hadn't heard of Purola. He used his general knowledge, and asked us to go to the Inter State Bus Terminus (ISBT). But at the ISBT, the guy at the inquiry counter asked us to go back to the railway station! Apparently there are buses from the railway station to Purola. But since we just paid 100 bucks to travel from the railway station to ISBT, we were in no mood to go back. So he suggested we take one bus to Vikasnagar, and another to Purola from there. The confidence with which he spoke fooled me again – I thought Vikasnagar was within Dehradun. After more confusing directions from people, we managed to find a bus from ISBT to Vikasnagar, but it ended up being a 1-hour journey. Luckily the bus was not crowded as it was still 7 am. So we had ample space to keep our bags and travel comfortably. Vikasnagar was just a transit town, and we immediately found a bada gaadi to Purola. It was a 6-hour journey, up the mountains, and we reached Purola by about 2 pm. The bus stopped at a small town fly infested town for breakfast. It turned out to be more like brunch because we were served rotis and rice along with dal. Soon we realized that this was going to be the drill everywhere in the hills. We were in the land where choice of food was limited to "roti and dal chaawal". Luckily for us, we had Bahadur as our guide. His reputation for serving good food on treks preceded him. Our intention of halting in Purola was to buy supplies for the trek. We told Bahadur to spare us the ordeal of having to eat potatoes on all days. He actually heard us out, and we don't remember eating a lot of potatoes, or suffering its consequences during the 7 days we were in the mountains!
After an overnight stay in a stinky and tiny hotel at Purola, we took a taxi (chota gaadi) early next morning to Taluka. It was a good 5-hour journey, and we left at about 6.30 am. Along with our supplies, the taxi accomodated Bahadur, 3 porters, a cook and us. I know, a huge support system for just the two of us! I was so glad to get out of Purola, because it was a dirty town where there was a man spitting on the road every moment. Actually this spitting business was kind of epidemic in that part of India. Everywhere, everyone was doing it.
The drive just beyond Purola was breathtaking and beautiful. The morning light through the mountains added to the magic. Good roads cut through tall pine trees and green hillsides. Just outside Purola, golden light lit up green paddy fields in the plains below. We stopped for breakfast at Mori, where we ate tasty radish parathas made fresh in front of us. The middle-aged couple running the eat out were very friendly – typical of folks from the hills. We didn't find this kind of warmth in other places, but we did see a lot of resoluteness as we climbed higher. The man at the eat out was very excited when he learnt I was from the South –and told me that he had worked in Salem and Coimbatore for a few years.
Before entering Sankri, where most trekkers stop their taxi journey and then continue on foot, we registered our names at the forest check post. Scanning the register, I saw many names of foreigners and was happy to note that people from all over come to these beautiful parts. The hills are nice to be in only as you go away from civilization. Almost all villages with road access are filthy. That is when you look far away at the distant mountains to find beauty. There was practically no road from Sankri to Taluka, and our jeep was rocking like a boat in the high seas. The jeep passed waterfalls, landslides and thick forests to finally reach Taluka.
Taluka to Osla
By the time we reached Taluka, we were feeling totally spent, even though we hadn't trekked even a mile. Traveling in the hills can be quite tiring. To top that, I couldn't stop to shoot a lot of the breathtaking scenes we saw. But such is the outcome of traveling in the Himalayas. I was prepared for it, and had tucked away my camera in my bag. Those who have travel sickness are at their worst. Luckily the weather was good all through, and that was a saving grace. If it were raining, we would have been in deep trouble!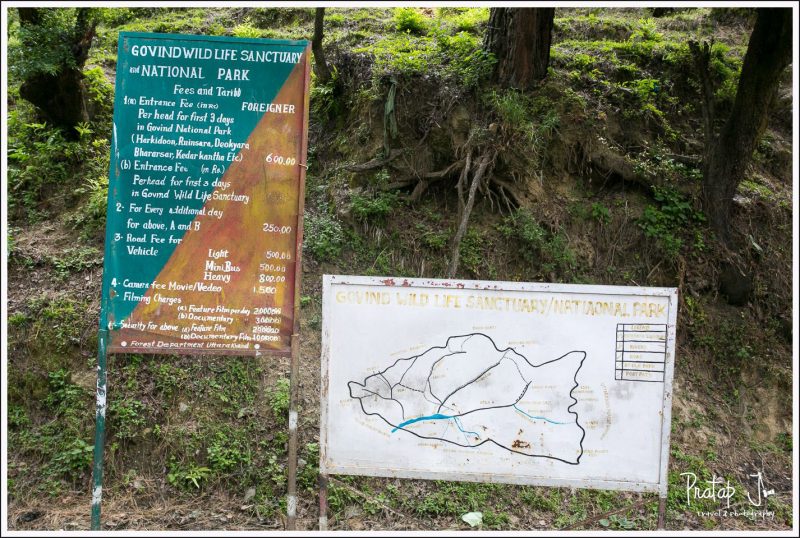 These travel experiences actually help the travails of mountain life sink into city slickers like us. It reminds us to leave behind our notions of comfort, punctuality and cleanliness. Landslides, bad weather and narrow roads can cause unexpected delays. Your best options for food are dusty, fly infested dhabas by the roadside. They generally serve gas-inducing cuisine. You cannot put your head out and enjoy the mountain air while traveling because you don't know when someone in front of you would puke their guts out. But miraculously, most trekkers survive all this. So did we.
At Taluka, lunch was in the only dhaba in town. The swarm of flies at the dhaba were phenomenally large in number. I was surprised when we didn't find one in our food. But the food was tasty 🙂 The GMVN guesthouse was under much needed renovation, and the forest guesthouse wasn't open to public yet. So out of the available options, we chose Manish Lodge at Taluka.
After lunch, I felt a little adventurous and took a cold water bath. The temperature was about 13 degrees centigrade, so it wasn't that bad. I even washed some of my clothes! They did manage to dry by the next day. My wife and I went to the riverside to explore the outskirts of Taluka. The entire village had about 30 houses. We passed by a couple of traditional wooden houses, one of which also served as a cowshed. The cows dwelled downstairs, while humans were put up in the first floor. There were a lot of mules hanging around near the lake as well. They are used to transport supplies to settlements beyond Taluka, where there is no motorable road. The mules are colorfully decorated, but timid like their donkey ancestors, while the mule owners are young men who personify the free spirit of horses.
Overcast skies and light showers chased us back to our lodge where we spent the rest of the evening until sunset. After the rains stopped, we stepped out again for a stroll, but were soon indoors, as it got really cold. Taluka has no electricity, and mostly runs on solar powered backup. Bahadur and his men were busy cooking dinner for us. This morsel marked the beginning of Bahadur's hospitality for the trek. We enjoyed a delicious meal made from fresh veggies. The thing about the mountains is that however tired you are, you can quickly regain your strength after a good meal. And a good appetite is a sign of a healthy body, ready for the mountain trails.
The next morning, we left Taluka by 7 am after a breakfast of omelet and bread. Our spirits were high and we met a few local women carrying baskets on their backs. My wife and I were both in a good mood and we enjoyed being amidst the locals, but reality soon hit us. We couldn't keep pace with them! After a brief hike downhill, it was time to ascend. Soon, the porters who left Taluka also over took us. And after an hour and half of hiking, we had covered only one-fourth the total distance!
The route until now was mostly beside the river. It was nice to have gurgling water for company as we walked on the green path. After a while, we left the river behind and started slowly and steadily climbing. We were in the middle of thick Himalayan forest. The trail was well defined for most part, but very rocky. We had to take calculated steps to avoid tripping. The hiking poles that we were using were immensely helpful. We ensured that we drank water, and refueled with dry fruits at regular intervals.
Taluka to Osla is a total of 13 km. Because the route is through thick jungle, you don't know what lies ahead. It is also difficult to gauge the distance covered. Only when you meet a local, or when we'd catch up with Bahadur, we get to ask. But they always answer in riddles, like, "another few hours." When we saw the village of Gangar at 12 pm, we mistook it Osla. We felt so relieved! Bahadur and his men were waiting for us at the river ahead, and when we caught up with them, we heard the bad news that Osla was another 4 km or so ahead. In spite of our slow pace, we were exhausted. And Gangar to Osla was a steep ascent. After a brief halt and refreshment, we continued.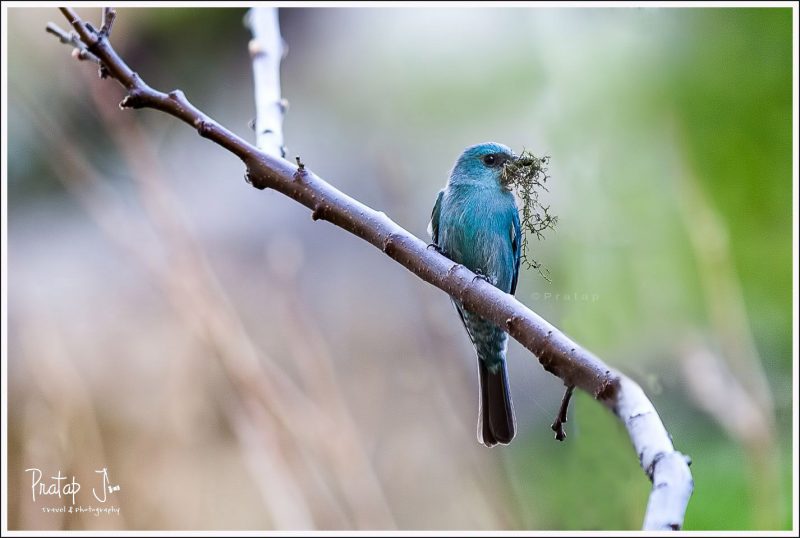 A little ahead, we met an American couple that were carrying their own backpacks and traveling by themselves. They seemed very much at ease even though they did not know the language, and were far away from any sort of connectivity to the rest of the world. After exchanging a few words with them we bid good-bye. This meeting pepped me up a little because here I was, with 3 porters and yet unable to keep a good pace. But this resolve of mine did not last 20 steps. I think we completed the last stretch from Gangar to Osla with the maximum number of breaks.
We finally made it to Osla by about 3.30 – 4.00 pm. Bahadur reached first, while two young porters reached after us, as they were as exhausted as we were. Of course, they were carrying 3 times what we were. It turned out that the village of Osla was actually further ahead, and we were at Seema. This is where the GMVN guesthouse is. Seema has only a few other abandoned buildings. After entering the GMVN guesthouse, I was in for a rude shock. The place was in shambles! We chose the so-called 'deluxe' room, which was cold, damp and had no running water. They were quite huge and spacious, and the quilts and mattress were actually a luxury considering how far away we were from the closest motorable road. The other option was a dorm-type room. The rest of the rooms were locked, and I guess unused.
After 'checking-in', we quickly gulped down some hot Maggie that Bahadur had ready. He and his men occupied the kitchen in the ground floor, and one peek inside and I knew we were better off in our room. At least it had heavy quilts to keep us warm. A bath was out of question, so I just tucked into the mattress and tried to take rest.
After a brief drizzle, the sun was out again. Sunset is usually only after 6 pm. I was outdoors again, after an unsuccessful attempt at taking a nap. We were now wearing all the warm clothes that we had carried, but the cold was still biting us. Because our legs hurt, we did not want to go far and explore Osla. I didn't do any photography as well. We were the only trekkers at Osla on this day. After sunset, all I remember us doing was trying to keep warm. Nothing seemed to work, and our brains slowly started freezing as well. The exhaustion was taking its toll. Fresh and hot dinner was luckily served early, after which things got better. We began to feel warm inside the bedding.
A very heartbreaking incident involved a particular dog that had accompanied us all the way from Taluka. The mutt had kept us company for the entire 13 km! It probably sensed that we were the only group in all of Taluka that had the most food. At Osla, the mutt slept patiently outside our room door as we were trying our best to keep warm inside. As the temperature went down, it started softly calling out to us. Poor thing was probably exhausted and cold as well. All our supplies were with Bahadur. I fed it a few biscuits that I had, and my wife placed a towel to keep it warm. At dinnertime, we asked Bahadur to feed it rotis as I was sure it needed the energy to keep warm. Just as we were speaking of the dog, it came down to the kitchen and obediently waited outside. Bahadur didn't seem too happy about feeding the dog, although he said he would. That was the last we saw of it. Next morning, it was nowhere to be seen. I am sure the porters drove it away. I hope it survived the weather and found company to go back to Taluka. But we had to go on, to Har-Ki-Dun!
Seema to Har-Ki-Dun
It was the day to visit Har-Ki-Dun! We were up early, and expected to leave by 6 am. But things did not go as planned, for a number of reasons. Some of it was related to the poor infrastructure at the GMVN guesthouse. There was no running water, and this delayed not only Bahadur and his men, but as us as well. It is hard to be productive in extreme cold. One generally yearns for hot water/chai to start the day. Due to the water situation, Bahadur couldn't prepare breakfast on time as well. When we finally packed and left, it was 7 am. The sun was out and the weather was great. As usual, my wife and I left first. We crossed the bridge that connects Seema to the village of Osla and beyond. Osla is towards the left, while our destination is towards the right. The bridge looked well constructed, but immediately after that was a bad patch. We had to navigate through some large rocks, which was irrigated by a constant trickle of water. It was an upward climb, and by the time we scaled this path, Bahadur had caught up with us. It was treat to watch him tread the same path as we did, but with much more ease. He eventually overtook us while we paused to catch our breath. Any ascend was a stress-test on our hearts and lungs.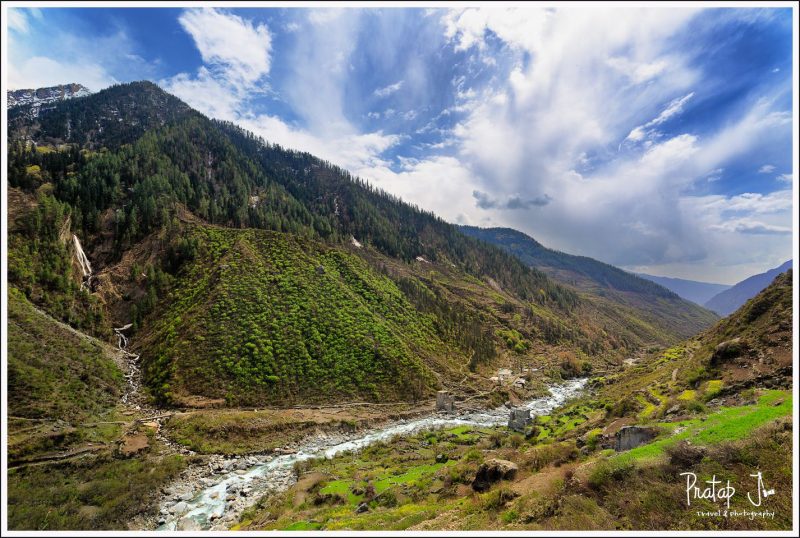 After this challenging stretch, we reached a well paved mountain path that seemed flat for as far as our eyes could see. This boosted our spirits, and we also came across locals from Osla who were on the same path, walking towards fields. The mud trail ran through a relatively flat stretch of valley, and parallel to the river. On one side was the river, and on the other, parts of the land was in cultivation. The villagers were friendly, and also mildly amused by us. I am not sure how many of them had even seen other parts of India, especially big cities from were strangers like us come from. During small talk with one of the ladies, we were offered porter services for a fee. I was carrying my camera rucksack, and my wife had a small day pack. The lady said she would come with us to Har-Ki-Dun, and return the same day to Osla. I was surprised because it was the first time I heard of someone capable of doing a round trip to Har-ki-Dun from Osla in one day. However, a little later, one of our porters told us that some trekkers don't stay in Har-Ki-Dun, but instead do a round trip in a day from their base camp at Osla. Osla offers camping opportunities, and is preferred for those carring their own tents. Seema is good only for the good-for-nothing GMVN guest house. To us, visiting Har-Ki-Dun in a day sounded like making a round trip from Bangalore to Chennai. The ladies made it sound like a round trip from Bangalore to Mysore. However, this didn't matter to us as long as we were on the flat stretch that we were enjoying currently. In fact, at one point I was a little optimistic of doing a round trip myself.
So the thing about trekking in the Himalayas is that as soon as you start feeling all mighty, the mountains soon show you who is mightier. Ahead of us was this steep ascend, and to get to the base of it, we had to cross a stretch that had recently been affected by a minor landslide. This stretch was only about 100 meters, but one wrong step and we would go sliding down with the rock and dirt to the river below. On the bright side, this fall didn't look fatal. Maybe only requiring an airlift due to broken bones. But we had the lovely ladies of Osla for company, and they encouraged us to follow them confidently as they showed us how to cross broken bridges and steep cliff-sides like a boss. However, once this feat was accomplished, they decided to carry on, probably to achieve the aforementioned feat of making a round trip to Har-Ki-Dun in a day. They soon disappeared around a bend, and just as we were about to follow them, Bahadur shouted from higher ground, indicating that we had to climb up, instead of walk straight. So we started to walk up, taking small easy steps and using the walking sticks for support. In about 20 minutes that we took to reach the top of the mountain, we used up most of the energy that we had gathered from breakfast. But here we were, much higher from Seema, and just a little closer to Har-Ki-Dun. It felt great! Two more mountains, and we would reach our destination. Our porters spoke encouraging words and overtook us. The time was 8.30 am.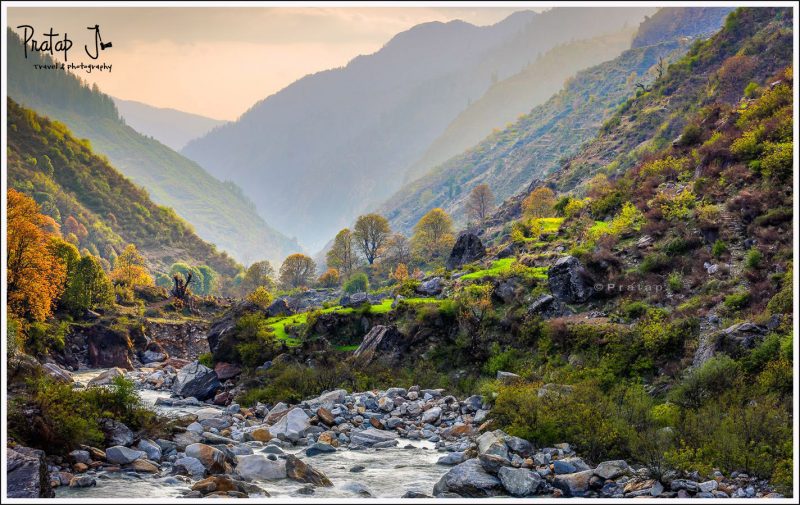 The beauty around us was overpowering. The intangible reward of beautiful sights after a tough climb is probably best received by city blokes like us. I wondered what the locals, and men like Bahadur think of the Himalayan beauty. We were now away from the valley, and in high open Himalayan ground. To a distant we saw beautiful snow-clad mountains. There was fresh snowfall just above Seema as well. Pine, cedar and other alpine trees dotted distant mountain sides. My wife indulged in a mountain peak identification exercise with Bahadur. Seema was still within visible distance, but not for long. Soon, we were to make a complete left turn to leave all sights of civilization behind to hike towards Har-Ki-Dun. We had one more challenge ahead of us, and this time the magnitude of it was very much measurable. This is how it looked:
I had a fruit or two and started the ascend. It was tiring, and mostly due to exhaustion. I was hoping my body could run on solar energy. We were well past the tree-line, and the bright Himalayan sun beat down on us. We look like ants, on the side of the humongous mountain. We finally made it up after an hour and a half. The sights from this height were even more rewarding. The air was cooler, and mild breeze teased our tired bodies. It really felt like heaven! We were told that the toughest part was behind us, and I believed this naively. Just as we were to make the final left turn, we were greeted by two locals coming down with a horse. They turned out to be the Har-Ki-Dun GMVN manager, and his man-Friday. The manager, a pudgy man wearing traditional attire looked a little funny. The two were going back to Osla, as no tourist had turned up at Har-Ki-Dun, as yet. I began to make some calculations to make sense of this. Do much capable trekkers and local ladies leave Osla by 7 am, check-in at Har-Ki-Dun by 11, and return home by sun-down? How else could the manager have a cut off time of 10 by when to expect trekkers at the GMVN guest house? And here we were, at 11 am, still half way through.
We finished our check-in formalities at the mountain side. Over conversation while entering details in the register (the man did not know how to write), we inquired about the weather at Har-Ki-Dun. Like most mountain people, he answered in riddles. The wind was blowing strong as we spoke, and I feared that the manager's pen would go flying into the deep valley next to us. The horse was impatient, and one snort and my hat would probably fly away as well. I was not looking down into the valley, thanks to my vertigo. But we had to complete the formalities. I optimistically said we would stay at Har-Ki-Dun for two days. Why not? The weather was great where we were, and we had covered all the distance to enjoy exactly this. Bahadur even paid the manager the requisite amount. The manager in turn asked the boy to accompany us, and we bid farewell. I was careful to stand on the side close to the mountain, and let the horse cross over from the side close to the cliff-edge. And in the process, we had to brush against each other. Yes, that was exactly the width of the path.
From here on, to Har-ki-Dun was an exercise in patience. The GMVN house keeper mentioned to Bahadur that we had to pay extra for firewood, but our guide confidently replied that his men would collect the required materials from around. This statement meant that even Bahadur wasn't aware of what was in store for us. But currently, the scenery changed dramatically after we first crossed an alpine forest. The hard part was mostly behind us, although we were just too exhausted to feel this welcome change in effort. At the forest, we saw a bunch of vultures feeding off a dead animal at a distance. We were told that this was the kill of a Himalayan tiger. The prey was most likely a horse, belonging to one of the locals. The remains was just a bunch of bones, so we couldn't tell. I liked the sound of tiger, and hoped to see one. I reckoned that Himalayan tigers wouldn't be man-eaters, and I would get a few rare photographs in exchange to making this encounter. Unfortunately, we never came across any tigers. Just beautiful sights, and lots of birds enjoying the same. We were so engulfed by the beauty of the place, that we presumed that we were already in Har-Ki-Dun. I had read a lot about the famed beauty of the Gharwals, and the place we were in matched what my imagination had cooked up.
Unfortunately, Bahadur and his men were nowhere in sight, and we just continued walking, hoping to find the GMVN guest house sooner or later. We knew that the GMVN guest house was the only sign of civilization beyond Osla. There are no villages or settlements after Osla. But for almost two hours of hide-and-seek, we never found GMVN. Because we assumed that we were already in Har-Ki-Dun, we were walking slowly and taking photographs. However, we soon had to leave the beautiful valley behind, and start ascending in search of the elusive GMVN guest house. A few more steps ahead, and lo, behold! In front of us was a huge patch of snow! I was totally unprepared for this. There were no footprints or trail in the snow. I did not know which direction to take. Exhausted and feeling lost, I decided to just continue straight. But the snow was slippery! We had to take calculated steps, and it was all upward. Luckily, two of our porters saw us from ahead, and gave us directions. They had disappeared when we got there, and ahead was more snow. The path was such that we couldn't see too far ahead due to huge rocks blocking our view. We just kept treading on, and shortly later we saw a tiny guest house at a far distance.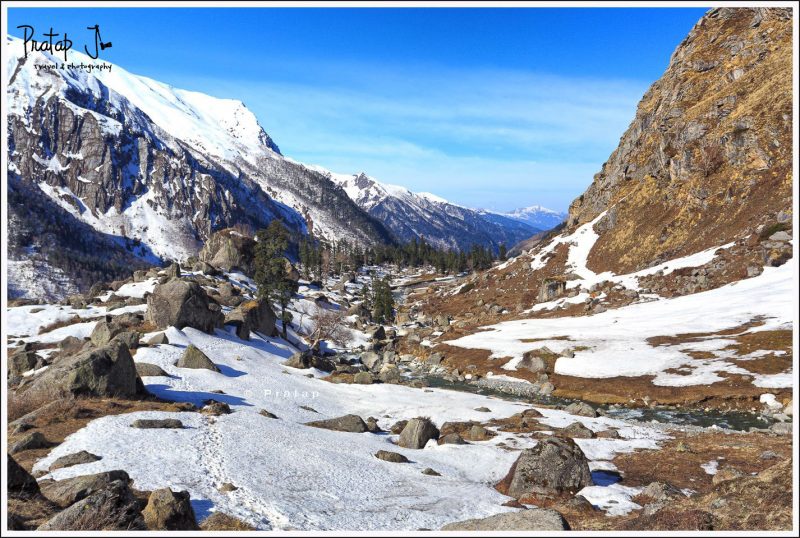 This was it! The guest house was at the base of a huge mountain. This sight was majorly dramatic. The tiny GMVN guest house and nothing but huge mountains, glaciers and a frozen river beyond implied that we were in the middle of nowhere. The snow was deeper here, and luckily for us another porter came with an ice pick to rescue us. He dug
out a path, as we slowly walked to ensure we don't slip and slide away into the cold stream that was flowing by the side. After about half an hour of walking this snow trail like on a tight-rope, we reached the guest house. There was no way we could explore what lay beyond Har-Ki-Dun without the necessary equipment – ice picks and snow chains for our shoes. It was breathtaking, overwhelming, and extremely disappointing all at the same time. To add to my woes, my shoe started falling apart after I hit the snow trail. A grand arrival, this was.
Inside the guest house, the cold was biting. The problem with cement structures is that they trap the cold inside. We chose to stay in the dorm, because the deluxe double bed room did not have a working toilet. All this and the thought of not being able to move in any direction without the help of someone with an ice pick made us feel crippled. But here we were – at a destination that was totally nothing like what we had imagined. For better or worse, this was mother nature again showing us to accept things for what they are.
The co-ordinates of Har-Ki-Dun as per MotionX GPS app on my iphone is as follows:
| | |
| --- | --- |
| Latitude: | 31º 09′ 12″ N |
| Longitude: | 78º 25′ 51″ E |
| Altitude: | 3,650 m |
This is different from what Google Maps shows up when you search for GMVN Guest House. I guess whoever recorded the coordinates did not do so correctly. Below is the correct location (green arrow):