Har-Ki-Dun in Pictures
Due to unfavorable weather, and extreme cold, we decided to stay in Har-Ki-Dun for only one night. Initially, Bahadur was against this idea, and also a little angry with us. He had paid the GMVN manager for two nights, and cutting short our stay meant that his money was gone for good. At around 5 pm, a storm hit us, and Bahadur realized that staying back was risky. His men wouldn't be able to go out to collect firewood, and that meant more money to GMVN to use existing firewood stocked inside the guest house. GMVN has a good stock of supplies – maggi, firewood, bisleri and other ration. This could have easily kept us alive for a week, should we have stayed back. But we weren't prepared for the cold weather. The only warm clothes that we had was insufficient. Hence, we all decided it was best for us to return the following day. The dorm room in GMVN had about 10 beds, and we used up two quilts each to keep ourselves warm at night. The porters and Bahadur occupied the deluxe room, but don't ask me how they managed without a toilet 🙂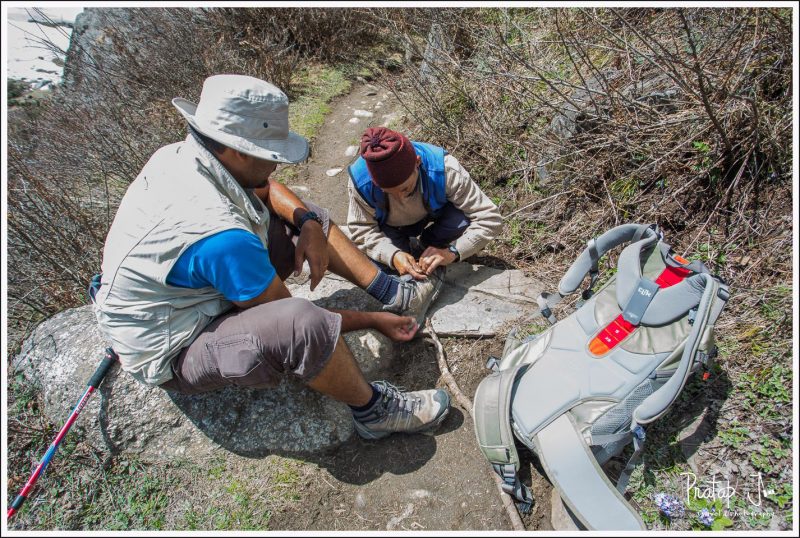 We left the next day by 10 am, and reached Seema by 3 pm. The descend was fairly easy, although the threat of rainfall (and subsequent danger of landslides) was constantly troubling us. Luckily, we never caught any rain until we reached Seema. We met small groups that were trekking to Har-ki-dun while we were returning. We heard that some of them couldn't reach their destination because of the rains in the upper Himalayas. We were not only lucky to finish our trek to Har-ki-Dun the earlier day, but also wise enough to return before the rains. We interacted with a couple from France near the bend. They had grand plans of camping out in the Himalayas for a week, and eventually descending via Yamunothri. Bahadur indicated that this was an extremely difficult trek at this time of the year. A third member from their group returned with us to Seema as he was unable to proceed further. The French couple had several years of mountaineering experience, and their confidence was as mighty as the mountains. I don't know what happened to them eventually, but I am sure they had a whale of time tackling the Himalayas.
Two months after we finished the Har-Ki-Dun trek, Uttarakhand was battered by floods. The official death count ran into several thousands. Our prayers go out to the people of the Himalayas, who are at the mercy of nature. A lot of visitors come unprepared, and our prayers go out to the Lord to give them some basic common sense.
Misc. Trek Photos
If you wish to experience Har Ki Dun, check out these fixed itineraries from HikerWolf.