Valley of Flowers, Day 1
This was it! After a long and delayed journey, here we were ready to trek to the Valley of Flowers! The abode of exotic birds and flowers, tucked away deep in the Himalayas. A place that has enchanted many a mortal and immortal soul. Belonging to the former variety, we planned to leave for the Valley by 6 am. This was a tall order considering the 14 km trek we had done the previous day. Perhaps we could have left by 5 if we were super humans with no need of food. If you are close, capable of managing without or on canned food, I recommend just that. The best views are for early birds, as we were to discover.
The sun was up by 6, showing us how beautiful the scene outside our room was. Ghangaria is surrounded by steep mountain sides. Yet they didn't seem as tall from other places like Joshimath, because we were already as high as possible. The weather looked clear that particular morning. Perfect locale and air for enjoying time away from the hustle and bustle of city life. But we had to cover another 3 km uphill to the entrance of the Valley, so we couldn't enjoy the moment for long. We had already asked for an early breakfast of wheat porridge the previous night. This is the best thing to have in the mornings. Doesn't fill you up, gives you energy, and is good to have on a chilly morning. We had also asked for parathas to be packed for lunch. Once inside the Valley of Flowers, which is also a National Park, there are no shops or shelters.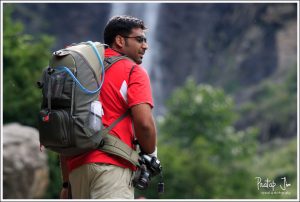 Unfortunately, we couldn't leave as planned. It was 8 by the time we walked out of the GMVN complex, day packs and all. Our first task was to find and talk to Rajnish Singh Chouhan – a well known local guide and a not so well known nature photographer. We almost lost him because he initially declined to accompany us. His charges were Rs 1500 per day, which probably seemed too lucrative to let go. So he agreed to be our guide and asked us to go ahead while he prepared himself for the trek. The entrance to the Valley is 3 km from Ghangaria, and there is a good 12 km of hiking to do once  inside. How much of the Valley you cover really depends on the time you have, weather conditions, and what you want to see. We later learnt that you need a at least three days to see the entire Valley. And maybe it is for this reason that the entrance tickets you buy are valid for three days (something which figured out the costly way).
Getting to the entrance of the park took us about half an hour. We knew we were in a magical place as soon as we crossed the gates. Exotic birds were singing on nearby branches. Bees were buzzing around tiny flowers, and a narrow path disappeared into lush, green jungle. Rajnish joined us by the time we finished the formalities at the entrance. He also brought along a porter to whom we offloaded our bags. Visitors have to provide names and other details, apart from buying tickets. Camping is not allowed inside the Valley, so visitor movement is tracked.
Rajnish began showing us his expertise almost immediately. Of course, I don't remember most of what he spoke, but the first thing he pointed out to were maple leaves. I had no idea that maple grows outside of Canada. Cross-checking with Wikipedia now tells me that it is indeed found across Asia. He went on to talk about other shrubs, leaves, berries, flowers and even the mountain rabbit-mouse (which Roopa was happily shooting outside the park). Apparently the mountain rabbit-mouse grows a tail when fed with man made food stuff. In the wild, being a herbivorous, it has no tail. I am unable to verify this information, but my search tells me that this creature is called Runda by the locals, and you can read about it in detail here.
Rajnish informed us that visiting the Valley has been a daily ritual for him. He is a local from the village of Byundar, which is not far away from Ghangaria. In fact, the other name for the Valley of Flowers is Bhyundar Valley. Over the course of the trip, I found the people of this place very enterprising. This is something which even Anurag Dangwal had mentioned back in Bangalore. You can read an interesting article about the people of Bhyundar here.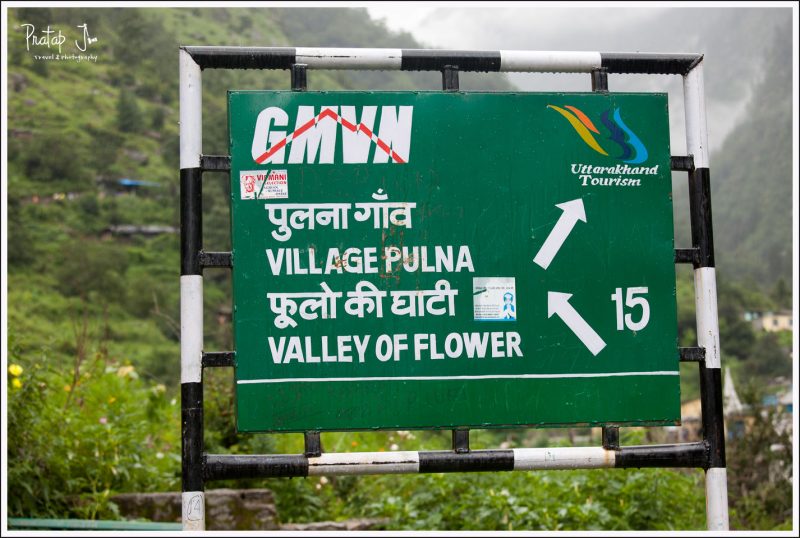 Unfortunately, I couldn't keep pace with Rajnish's running commentary about every twig, stone and leaf. With only 1 brain to process inputs from all senses, I was at a loss as to what to give preference to. Not surprisingly my photography instincts took precedence, and I lost out on a good amount of trivia. By the time I caught up with Rajnish again, he was explaining about Himalayan bears and how to escape from one. The man had seen it all – and even photographed some amazing things. Becoming a guide was probably the most logical thing to do. Rajnish's love for nature seemed very deep, and his interest in photography although a little out of place, quite understandable. Two eyes and a lifetime isn't enough to soak the beauty around. Moving from one area of narration to another, we soon reached a bridge. The fresh, and icy cold water from the mountains flowing beneath sounded furious. After crossing the iron bridge, the trek inside the Valley of Flowers got a little arduous. Shooting some intimate long exposures of the flowing water, I got left behind as others began climbing. I joined them soon, but struggled to catch up. Also, the fatigue from the previous day began to show, and we started taking frequent breaks. A little advice here – don't spend too much time before the bridge. Keep a steady pace and try to cross it as quickly as possible. The best of the Valley lies after the ascent. By the time we huffed and puffed our way up, it was 11 am. The weather quickly began to change, and we anticipated rain. Rajnish had gone far ahead. By the time we caught up with him, it began to rain. It was also lunch time. There is a huge rock where the relatively plain land of the Valley begins. This is the only natural shelter in the Valley (at least from what I had seen). For this reason, the place is a popular lunch halt, and we had ours there as well. Unfortunately the first day in the Valley turned out to be a disaster due to the rains. The weather didn't improve, so on Rajnish's advice we turned around after lunch. We had barely seen 20% of the Valley!
Our hike back was relatively quick. We were back at the gates by around 3:30 pm. The rain had ceased by then, but I was very disappointed at not having seen much. 🙁 More so because the weather actually didn't turn too bad. Hoping to spot the birds from the morning, three of us stayed back near the gates. I had barely shot any photos during the day. Hanging around there didn't help, as the birds we had heard and spotted in the morning were nowhere to be seen. With no more hopes of capturing anything, we returned to the GMVN guest house. Our first day in the Valley came to a close by 5 pm.