Valley of Flowers, Day 2
This was the day originally planned for the more strenuous climb to Hemkund. But after the previous day's washed out trek to the Valley, we had to return. Sure, Hemkund was also on the itinerary. But we knew we'd be betting on the weather for clear views of the seven peaks visible from Hemkund. Also, we were advised to ride on a horse – an idea that didn't go down well with everyone. The horses have a mind of their own, and going uphill on one can be scary. So we were back to the gates of the Valley of Flowers National Park. And this time we were early – by 7:30 we crossed the bridge inside the park after which starts the steep climb. Vivek didn't join us as he wanted to go to Hemkund. It was good to have a representative from our group visit the place and tell us what we missed. Unfortunately he carried our previous day's tickets with him, and we had to buy fresh ones (tickets are good for 3 days).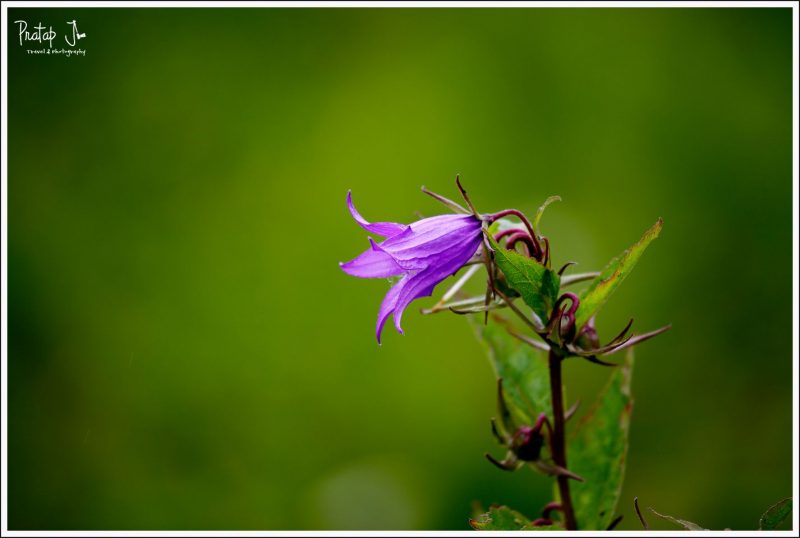 Apart from the quick pace, being well rested also helped us cover more distance than before. I was trigger happy like there was no tomorrow (at the Valley). The weather was great too. Wide angle to macro, I got it all. We crossed the rock-shelter by 10:30, and entered the best part of the Valley. And boy, what a sight it was! The narrow stone-paved path cut through fields of green, dotted with flowers of different hues. We saw new species of wild flowers, along with an occasional elusive bird. We had to press on, because there was lots more ground to cover. My photography halts was slowing me down, but it didn't bother me because I was getting splendid frames. The terrain was plain after the rock, so there was no physical exertion required. It also opened up into a vast field, so you truly get a feeling of being in a magical place. Look one side, and you see a distant waterfall. Look another way, and you see distant misty mountains. Look ahead, and you see a narrow trail through an open field of green. Look beside, and you see a pretty flower with tiny drops of water. The vastness of the place was beautifully complimented by the silence around. I really felt like I was in a fairy-tale (shared with other humans, of course).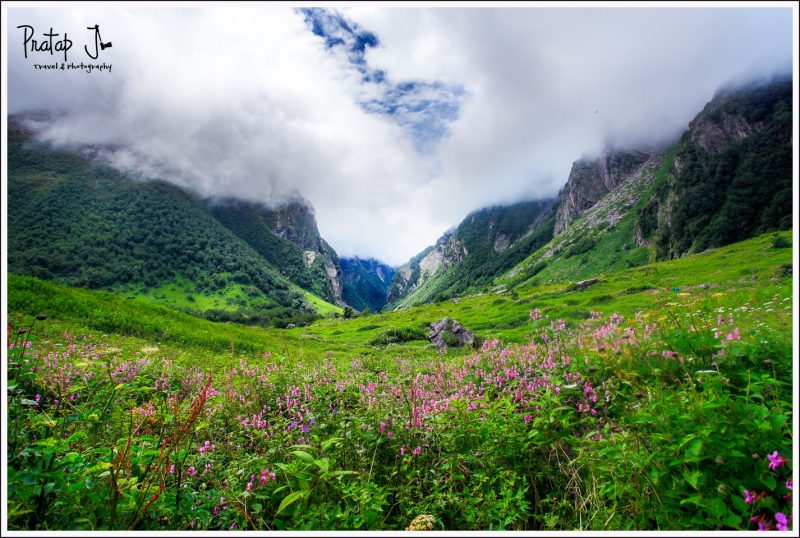 After crossing yet another stream, Roopa and Nagesh went ahead to Legge's grave. I stayed back to slow down my photography by setting up the tripod. The time was 1 pm, and the only bad news was the dark clouds that began gathering. But that was hardly a worry. Waiting for Nagesh and Roopa to finish their visit to the grave, I had time to soak in the place. After shooting to my heart's content, I settled down on a rock to look around with my eyes, instead of the view finder. I knew I was rushing through the journey all this while, but that was the price paid for unexpected delays. From this experience of mine, I recommend keeping aside at least 3 days for the Valley. On day 1, you can just explore the place. Legge's grave is not
really the end of the Valley. There is more beyond, and the landscape apparently changes. The only way of reaching till the edge of the Valley is by not stopping along. Day 2 can be spent photographing. Day 3 can be used to catch up on what you missed during the earlier two days, or to explore deeper parts. We were trying to cram exploration and photography while trying to race against the weather. Luckily the rain gods were good to us on this day, and we didn't get any downpour until Roopa and Nagesh got back. It started drizzling only as we started to walk back to the rock-shelter. Hungry due to the continuous walking, we munched on our packed lunch like hungry wolves. The clouds had engulfed the area by then. Trekking back was all there was left to do. But this time, I was satisfied. Sure, it would have been great to walk beyond Legge's grave because every part of the Valley is different from the other. There is always a next time, and I now had good reasons to return.
We had to be extremely careful while hiking back. In fact, I had witnessed a lady from another group slip and fall near the rock-shelter, and she had to be carried back. The incessant drizzle made the trail very slippery. Good shoes are a must. The stone paved path is actually irritating. It forces you to watch every step and is highly uneven. But I suppose it is the easiest way to maintain a trail in this wilderness.
Retracing my steps for the second day, it felt like I knew the distances and obstacles along the way. I knew where to fill my water bottle, where to keep a firm foot and where to park my tired backside. We also kept meeting the same people over and over again. The satisfaction of having enjoyed the Valley was on their faces too. We were back at the bridge by 4 and that made me sad. I was in no mood to return to civilization! Unfortunately, up in the mountain, the day draws to a close very quickly. At the gates of the Valley we made small talk with some foreigners who wanted to enter then. Apparently they had left Govinghat that morning, reached Ghangaria in 4 hours and didn't know what else to do. 🙂 They wanted to visit either Hemkund or the Valley on the same day.
A few more clicks here and there, and I was finally out. I got to shoot the mouse-rabbit and some more birds. Once outside, I saw tired pilgrims returning from Hemkund. Their faces showed a mix of exhaustion and spiritual gratification. I wanted to take photographs of them as well, but I dared not. I had premonitions of Sardajis and Sardarnis taking offense.
Once back to Ghangaria, we had hot maggi at Hotel Himalaya. This seemed to be the most popular hotel around, and is situated right opposite the GMVN complex. It was oil massage and bath time afterward. Dinner was at Hotel Himalaya again.
The next day, we were to leave Ghangaria – the village that runs on generators and has no vehicles. Yes, for 3 days, we saw no vehicles and heard no honking. Take a moment to imagine that.
Back to Civilisation
With heavy hearts we left Ghangaria on the morning of the 12th. The weather was bad, but we were used to it by now. We hired the same porter who had accompanied us to the Valley because we found him to be good. Descending did not leave us gasping, but we had to be very careful. Our heads were perpetually pointed downwards. I didn't intend to shoot much, but was carrying my tele lens just in case. The trek was uneventful for most part. I spotted plenty of pretty birds and really wished I had a longer lens. We could empathize with travelers climbing up, and encouraged those who asked us the most important question – how much more to go. 🙂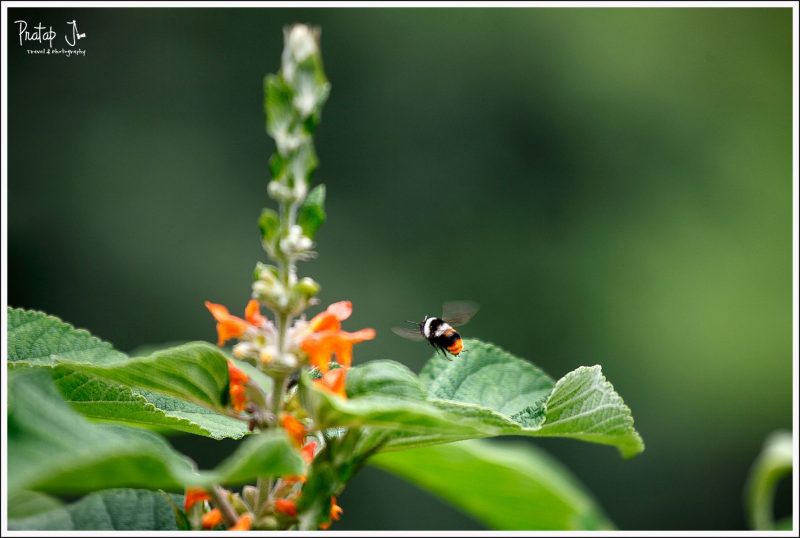 We met our driver at Govindghat and set off to Birahi. We spent the night at the GMVN guest house there and left for Rishikesh the next day at 10 am. Our trip officially ended at Rishikesh. We then hired a private vehicle to go to Delhi. The heat in Delhi was simply too much to bear and a very unceremonious way to end the trip.
Epilogue, gear notes and other geeky stuff
A lot of thought and preparation has gone in to create the images you see here. This trip was planned from a photography point of view right from day 1. I always knew that the trek would be physically demanding, so I planned around it. Luckily in the age of e-commerce, it is no longer difficult to access tried and tested gear. Real world feedback from genuine users means that you can know what to expect from your investment. Some of you may be interested in knowing what gear I used on this trip. I'll list them here, along with a short explanation.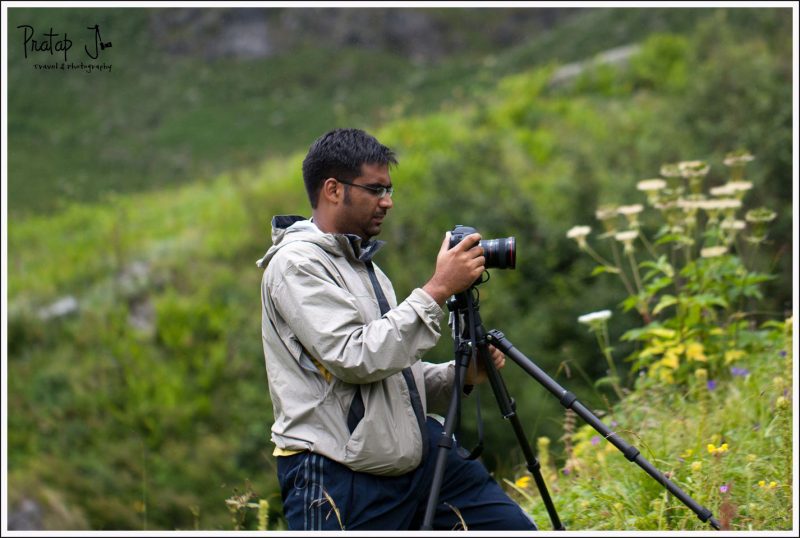 Camera Gear
I used the following camera equipment on this trip:
Canon EOS 5D Mark II – The best camera body I have used till date. Full frame and full of awesomeness. When coupled with the right lenses, the images out of this baby are top class.
Canon EF 100mm F2.8L USM Macro with Hybrid IS – My first field trip with this lens. Replaces my 100mm non-IS macro lens. The old one set a pretty high standard. This one raises it higher.
Canon EF 70-200mm f/4.0 L IS USM – My tried and trusted go-to travel lens. Works great for everything from macros to portraits. L-sweetness and versatility in a package which no other lens can beat.
Canon EF 17-40mm f/4L USM – The wide-angle miracle worker that every landscape photographer trusts.
I carried all this, along with my 580EX II and ETs and 35mm f/2 in a new Clik Elite Nature medium backpack. I took the plunge and invested in this camera backpack just before the trip, after owning several others previously. The Clik Elite really belongs to an elite class of packs – a rare breed of a camera backpacks made exclusively for hiking. Featuring a highly technical support system and a hydration sleeve, this backpack not only held my gear safely, but also made it easy for me to trek with a full load of camera gear and other personal stuff like a raincoat, fleece jacket, snacks etc. It  comes with a built in rain cover and has as many pockets as I need. I was so pleased with Clik Elite's quality that after the trek I went ahead and purchased their chestpack to compliment the Nature Medium. Camera support was the Benro C-269 Travel Angel Carbon Fiber Tripod with J-1 head which has seen quite a lot of action in the field. I used a cheap plastic rain cover which was completely destroyed after 4 days of abuse. My field backup strategy was a Creative Zen Vision W which unfortunately gave me problems because I had forgotten to format it using a computer before the trip. Failing to have a backup device, I had to control my shooting.
Clothing and accessories
Previous treks in the Himalayan region have taught me a thing or two about using the right footwear and clothing in the outdoors. I made new additions to my hiking kit before the VoF trek and they all performed great.
Raincoat – The North Face Venture. Waterproof for the rains, and breathable to allow perspiration to evaporate. Lightweight and packs into itself. Loved it!
Warm clothing – Fleece jacket and beanie cap from Decathlon. Gloves from Lowepro (which I hardly used) and a multipurpose cotton shemag.
Footwear – My year old gore-tex waterproof and breathable hiking boots from Adidas. Hiking socks from Decathlon and Woolmax.
Hydration – A Platypus water bottle and a Steripen Classic hand held water purifier. None of us fell sick during the entire trip so the Steripen most probably did its job :). We always sterilized water before consumption, and trust me – water after Joshimath is horribly impure.
Timekeeping – My year old Decathlon MW 600 watch. Incidentally, this was the only thing that didn't perform. The watch was supposed to measure altitude and predict weather, but it totally failed. I returned the watch once back in Bangalore and got a refund.
In spite of all this preparedness, I was not oblivious to the fact that many others on this trek barely paid attention to clothing and footwear. It was not uncommon to see sikhs on the Govindghat-Ghangaria route walking with hawaii chappals, and wearing no protective rain gear. Nothing beats the advantage of having a good immune system and being physically strong. This is can be achieved only by practice. Physical conditioning is a challenge for most city slickers, and doubly difficult for those in the IT field. Relatively speaking, the VoF trek was not very physically challenging. Also, we were never too far from a petty shop selling essentials like snacks and water. The abundance of porters meant that we had a choice of doing this trek in utmost luxury. We were almost always walking on clearly marked routes and were in the company of other travelers to get inspired by, or give inspiration to. Electricity to charge all our gadgets was also not a problem at Ghangaria. Speaking of which, I am unable to fathom how the first settlers at Ghangaria would have transported generators up the mountains!
All through the trek, we were reminded of the need for emergency medical services, but did not find any. There were no hospitals or emergency rescue teams. The presence of a military base in Ghangaria was reassuring. Various locals had mentioned that pilgrims dying while climbing up to Hemkund was not uncommon. The route is treacherous, with the thin air and high altitude adding to the risk. I cannot think of any other Indian hiking route that is any better, so I suppose here in our country your fate is entirely your problem.
If you wish to experience Valley of Flowers, check out these fixed itineraries from HikerWolf.