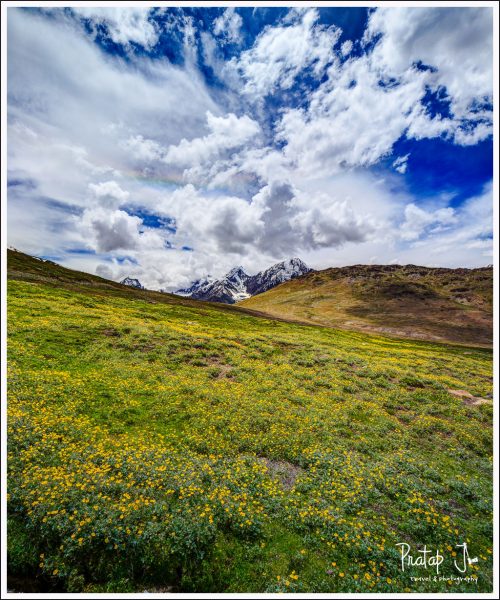 The journey from Kaza to Chandratal was long and tiresome. The sun was harsh, and I was weary after a sleepless night at Langza. It was probably the high altitude that gave me insomnia, and I hadn't slept a wink. Earlier that morning, I was up early, shooting the beautiful fields at Langza and that made me all the more tired. We left Kaza at 10 am to Chandratal, our final destination in Spiti Valley. A few hours into the rocky journey, our pilot vehicle suddenly stopped at an unexpected location. Arun, our tour leader, had chosen a spot with beautiful wild flowers. At a distance, we could see snow-clad mountains. Although it was nearly midday, the sky was perfectly blue and filled with fluffy clouds.  Picture perfect! The only thing left was for us to get creative with our photography.
Now the thing about shooting landscapes is that it is not as simple as holding the camera and pressing the shutter button. The lens attached to the camera has a different field of vision compared to our eyes. Our brains can balance what is near and what is far. But ultra wide angle lenses, the type used to take landscape photos, generally cannot do this. The foreground is usually exaggerated, and only a part of the scene can be in sharp focus. So the challenge is in composing your frame such that it makes your audience feel like they were there. In this photograph, I used a Canon 24mm Tilt-Shift lens. This is a unique lens that helps you get both the foreground and background in focus. You can also shift the lens to shoot a panorama and get a large field of view.  By giving importance to the foreground, I have tried to portray the bed of wild yellow flowers – what got us so excited after seeing vast areas of barren land.
Pro tip: Wesley Picotte talks about using a Tilt Shift lens to shoot panoramas here.