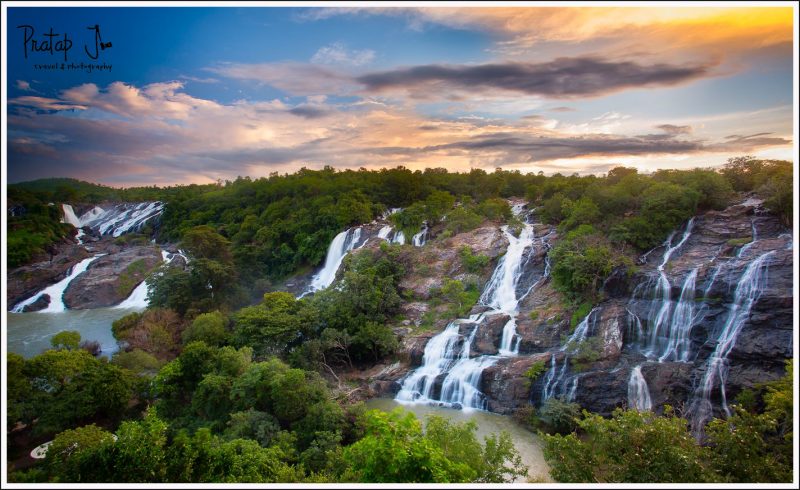 Gaganachukki and Barachukki are twin water falls around 150 km from Bangalore, in a place called Shivanasamudra. They are also known by two other names – Simsha and Bluff. River Cauvery pours flows from a height of around 350 meters here.
Though geographically next to each other, Gaganachukki and Barachukki are 30 minutes apart by road. Tourists are not permitted to go down near the water at Gaganachukki, but can do so at Barachukki. Farms that surround Barachukki make this place more scenic. Not surprisingly, Barachukki sees more visitors. You can climb one of the two watch towers to get a panoramic view of the place.
In spite of the natural beauty, human apathy towards the environment was abound at Shivanasamudra. Plastic garbage welcomed us as we neared the falls. Sundays no doubt brings in the most number of tourists. You'd expect people visiting the outdoors to be more sensitive to the environment, but that does not happen in our country. More open area only means the freedom to litter in more places. About ninety percent of the tourists were only interested in eating and taking photos of themselves. The beauty around seemed to serve no purpose except as a backdrop f0r photos.  We photographers were certainly the odd ones out.
I made this photograph during sunset. It captures a portion of Barachukki. Both Gaganachukki and Barachukki are segmented falls. Forest guards at Barachukki were strict about ensuring that the tourists vacate the place after sunset. This is understandable, because Shivanasamudra is in the forest area of Kollegal. Why can't the government show the same concern towards keeping the place clean?
See more photos from Karnataka here.