The year 2020 will go down in history as the strangest in the memory of many individuals. For me, 2020 was when so many things fell in place, thanks to the pandemic related all-India lockdown. I've always wondered why we city slickers waste time in traffic, causing stress to oneself and pollution to the environment. And it took a pandemic for the authorities to realise that life is beautiful minus the stress and grind of commute. Sure, the lockdown was hard on Indians for financial and personal reasons, but I think a majority of the people in bigger cities enjoyed working from, or staying at home.
Having spent 4 years of my academic life in a small village, a lot of things that the lockdown taught the world came naturally to me. I have always enjoyed silence. I was at my happiest during the lockdown when there was absolutely no traffic on the roads, and very few people moving around. The air was cleaner, the birds were happier, and I was busy doing what I love in the extra time I had on my hands. This was exactly how my life was during my engineering – far away from motorable roads, surrounded by greenery, and long days where time moved slowly.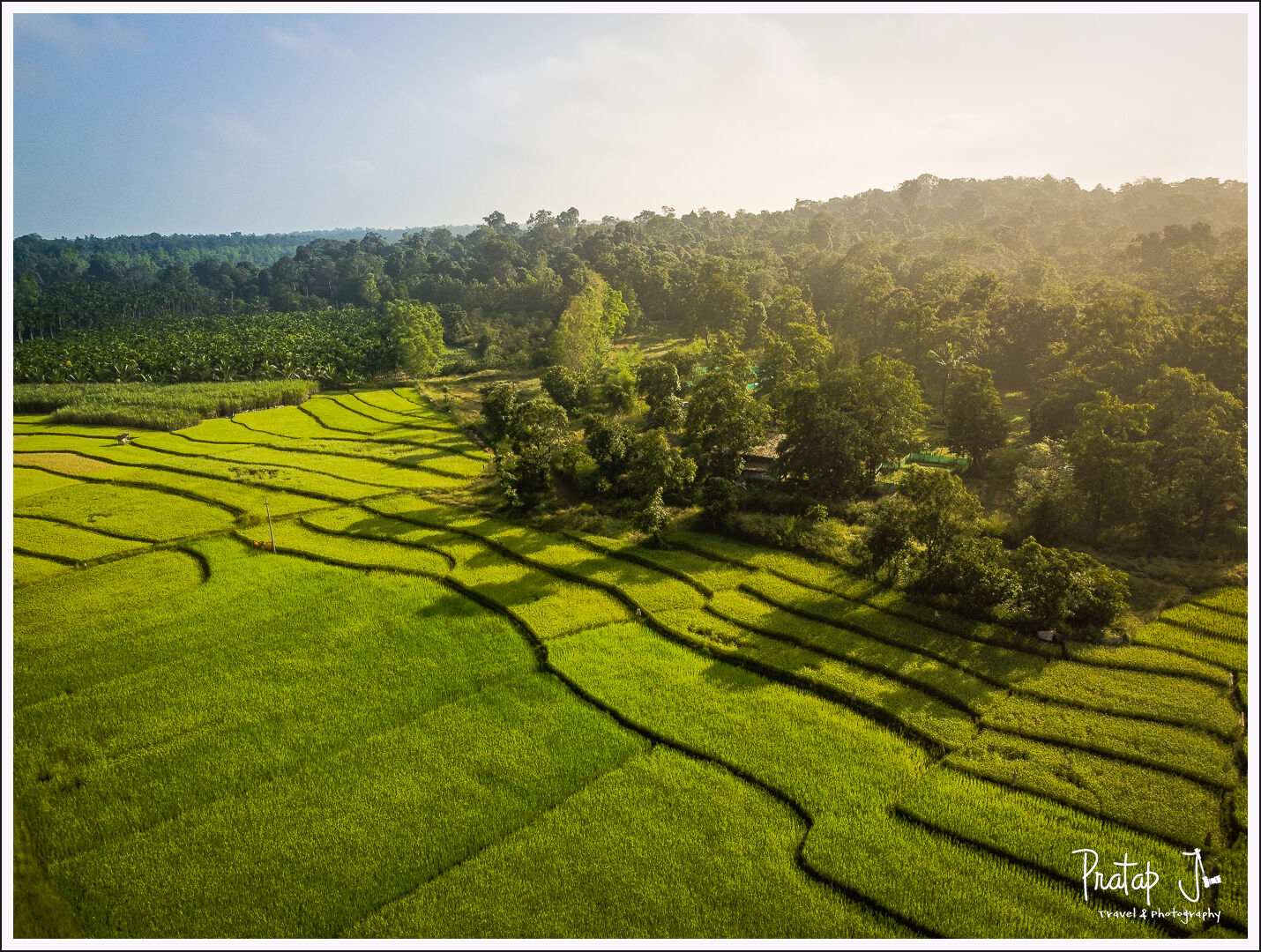 But once the lockdown was lifted, this beautiful phase of calmness became a thing of the past. The yearning to reconnect to nature only grew stronger. Luckily, I discovered a place where one can experience unspoilt nature without missing on the comforts of modern life.  Drongo Nature Camp is situated in Uttara Kannada district, near a small town called Banavasi. It is not too far from the bigger town of Sirsi, either. In fact, it lies on the road connecting Banavasi and Sirsi. Suhas runs the place, and Omkar Pai is the naturalist.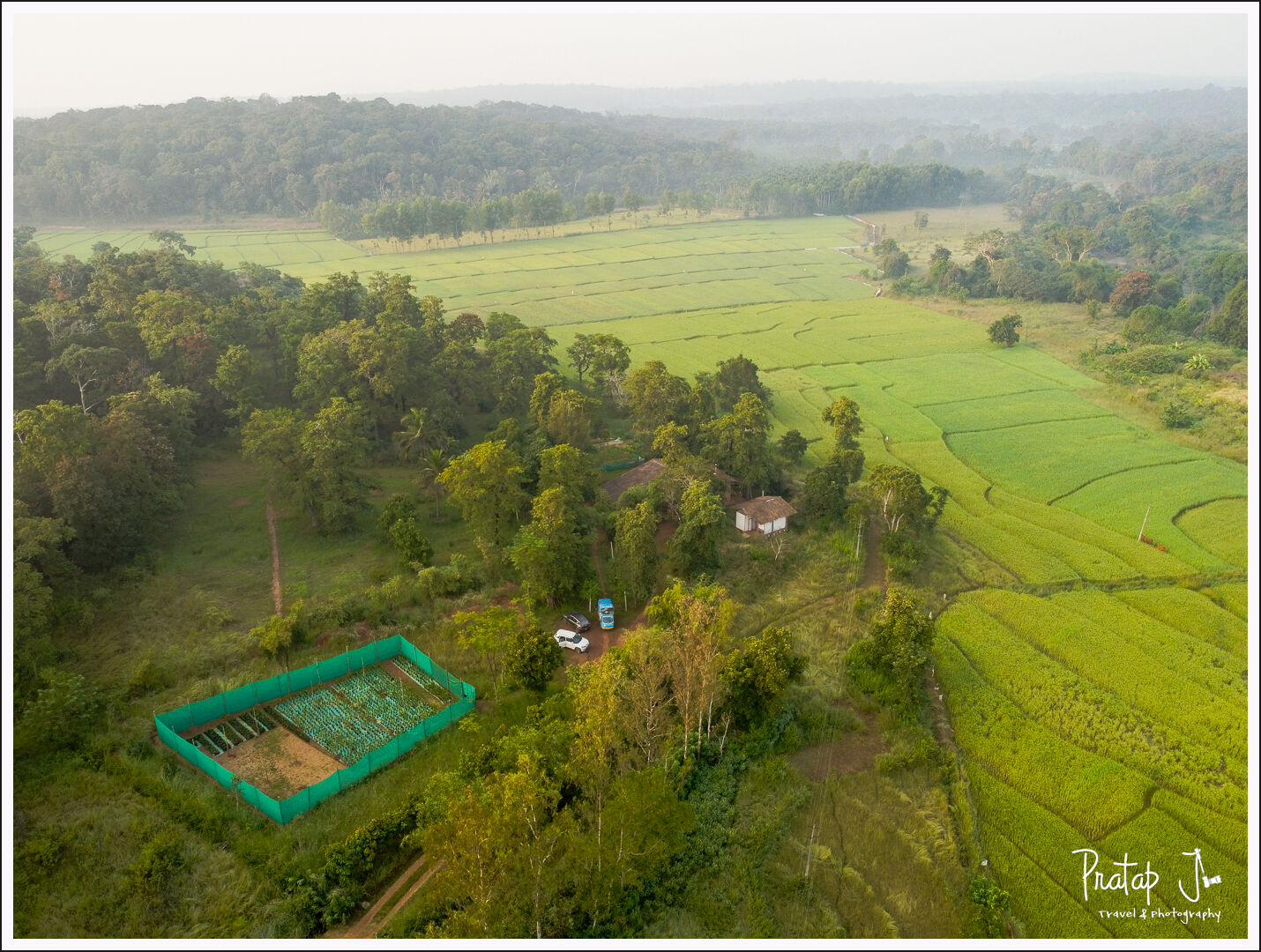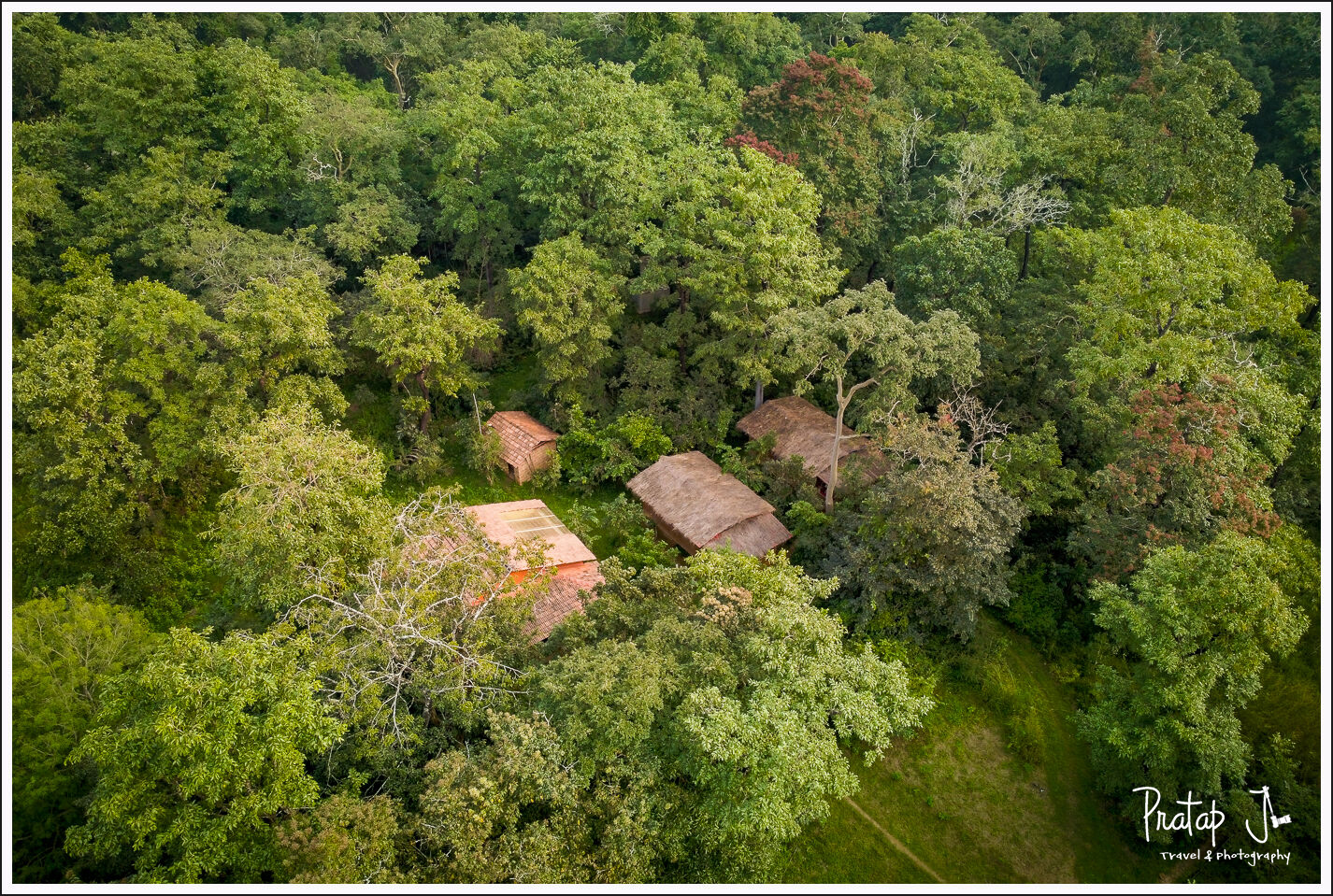 Banavasi is famous for the Madhukeshwara Temple built in the 9th century. We visited the temple the same evening that I arrived at Drongo Nature Camp. I have been to this temple before, but it looked beautiful that evening at sunset. The Nandi statue carved from stone is one of the I have seen.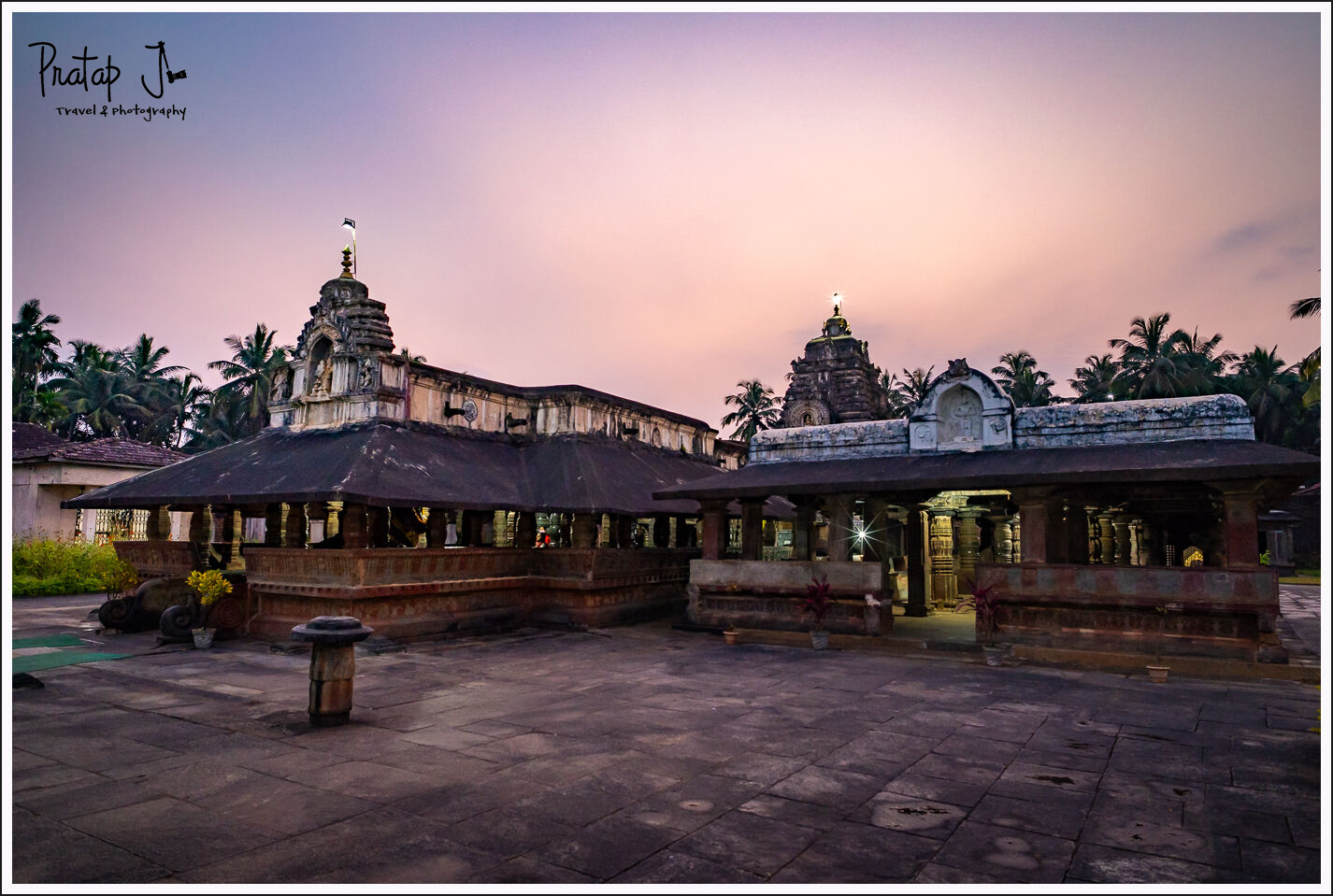 I have been making annual visits to the popular waterfalls in and around Yellapur, since 2013. I conduct a landscape and waterfall photography workshop in the month of October or November. During the workshop, we visit Sathodi, Magod and a few other cascades in the region. Due to the pandemic, the 2020 edition of the workshop was called off. My intention to stay at Drongo Nature Camp was to visit places in Sirsi I hadn't been to before.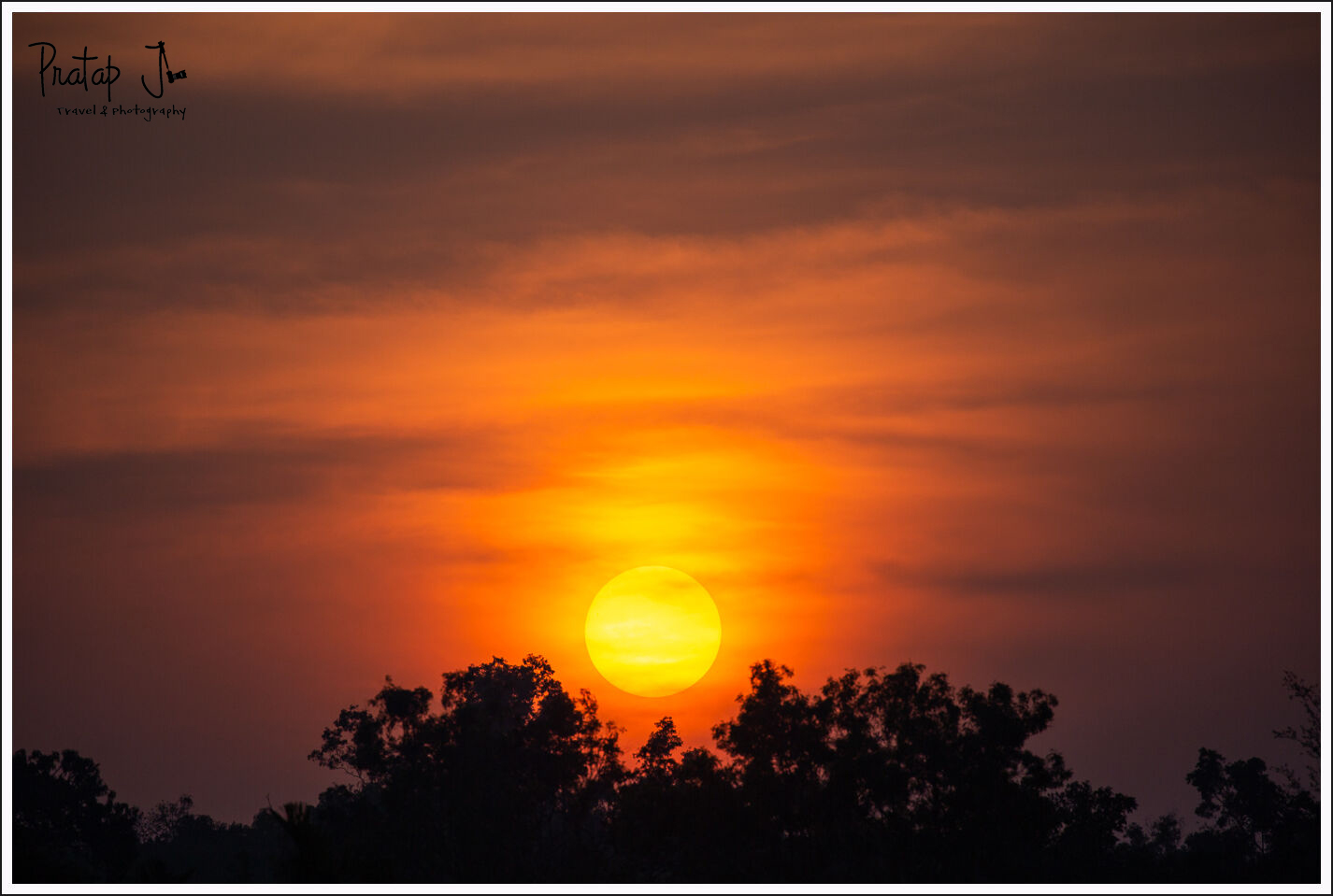 It was 2 pm when I arrived at the property, after driving from Bangalore. We were welcomed with a local herbal drink, which tasted unlike anything I had before. This was followed by lunch. The spread consisted of locally sourced ingredients, and the dishes were all from the Uttara Kannada district. Needless to the say, the food was both healthy, and tasty. If you have not eaten local household Uttara Kannada food, Drongo Nature camp is where you must go to experience food which is seldom available in restaurants.
When I had called up Suhas, the properer of Drongo Nature camp, to make my booking, he had told me that the Camp premises is a great location for birding. The property is on the edge of a forest, and he said I needn't have to go far for bird photography. Since I am a very opportunistic bird photographer I pointed my lens towards a branch only when I had nothing else to shoot. So, I was quite content with the limited number of birds I photographed at Drongo. The place had other surprises in store for me. I was told that dedicated birdwatchers have known to spot more than 30 different types of avian life in Drongo.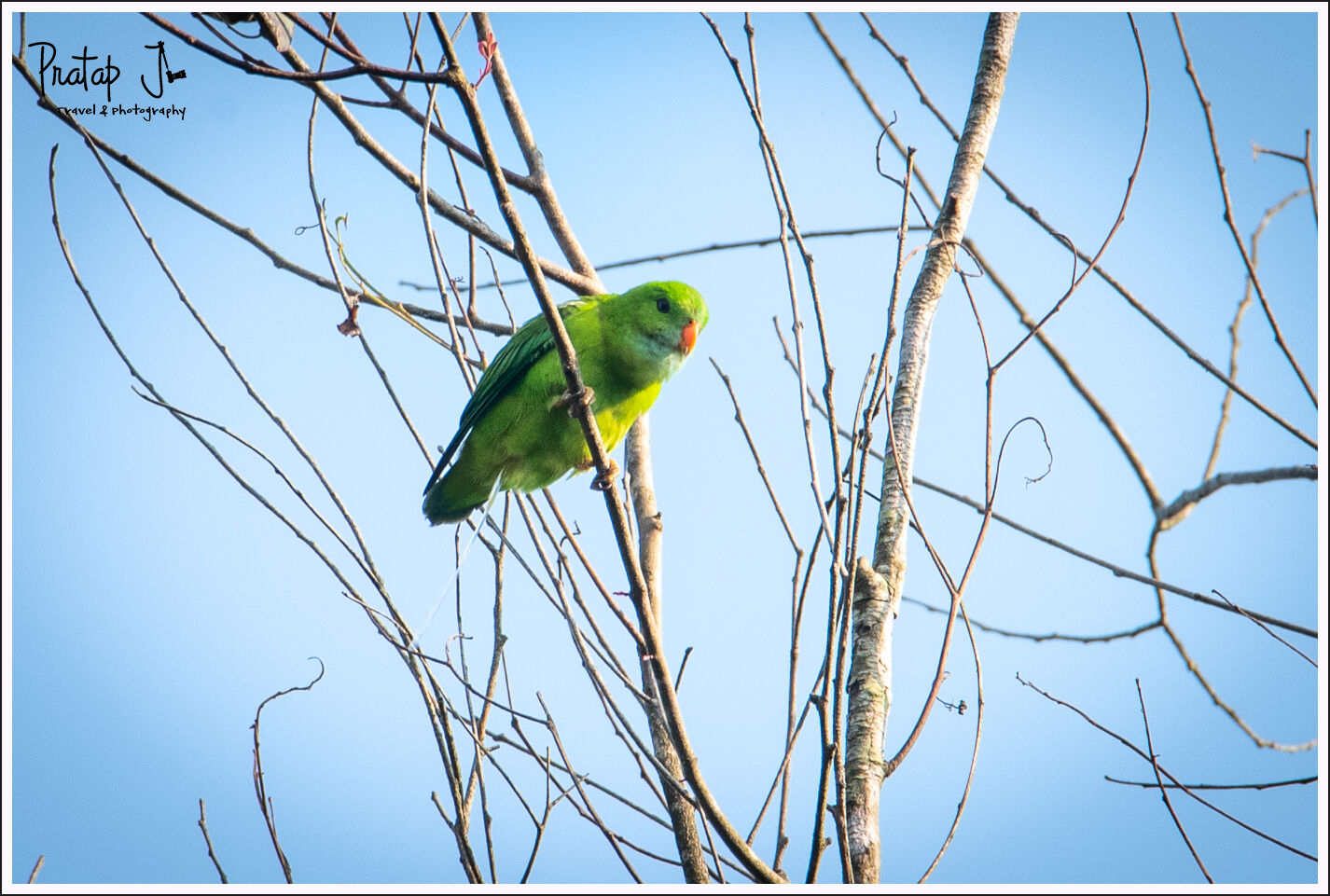 It is quite well known that the Sirsi-Yellapur region is home to numerous small and big waterfalls. Thanks to Omkar, I learnt that this part of the Western Ghats is also a macro photographer's paradise. In the right season, snakes, frogs, toads, butterflies and a whole lot of small living things come out in the open. The rainforest becomes the macro photographer's playground, much like Agumbe, which holds the crown for herpetology.  In November, we did not find snakes in the wild, but I did manage to photograph a few frogs and toads. Again, owing to a shift in what really interests me these days, my focus on macro photography was fleeting.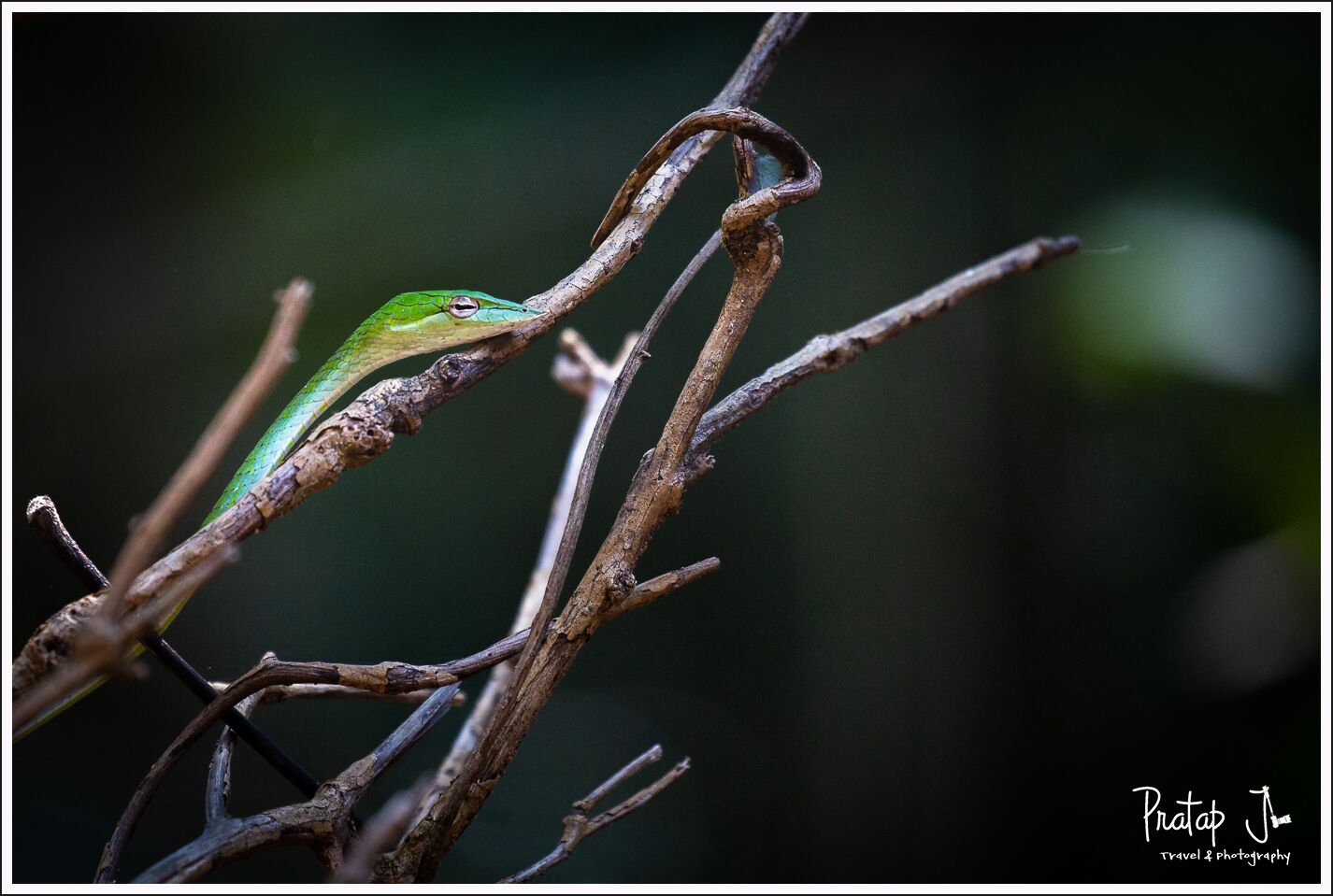 What really stood out to me at Drongo Nature Camp was the stunning night sky. Once the sun went down, which happens early in November, I was overjoyed to the low levels of light pollution at Drongo Nature Camp. I did not have to go far for astro photography, as the surroundings of Drongo Nature Camp was sufficiently dark. Gudnapura lake which is only a few kilometres away also seemed like an excellent location for night sky photography when we were there the previous evening. But fogging of the sky and lenses is a common issue in winter, so the frames I shot at Gunapura did not turn out nice.
Over the course of my stay, thanks to Omkar, I got to shoot some really nice frames of the November Milky Way from just outside the premises. Just like how spotting a certain species of bird is thrilling for the birdwatcher, catching a gimplse of the Milky Way on a clear night excites me.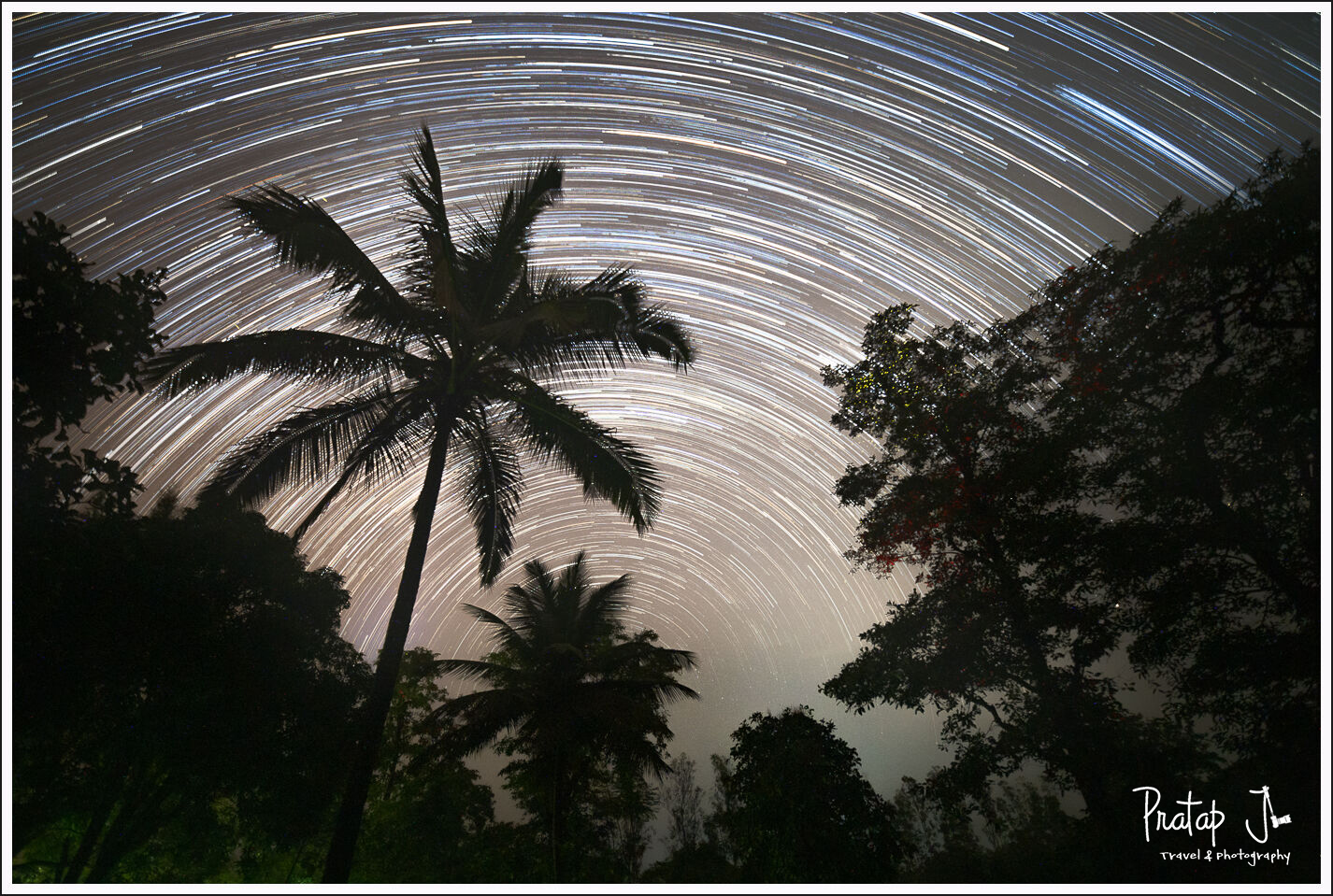 Not wanting to give up on my quest to see a new waterfall during this visit, I visited Burdue falls on the second day of my stay. It was a 2 hour drive through beautiful village roads. The route which Google Maps suggested wasn't part of the main highway, so I pretty much had the road to myself. However, a few kilometres away from Burude, I sensed that the route shown by Google Maps is incorrect. Upon confirming with a few locals who asked me to retrace my steps and follow the signboards to Burude, I was on the 'official' road to the waterfall. The locals told me that the route shown by Google Maps also lead to the waterfalls, but the approach is not good.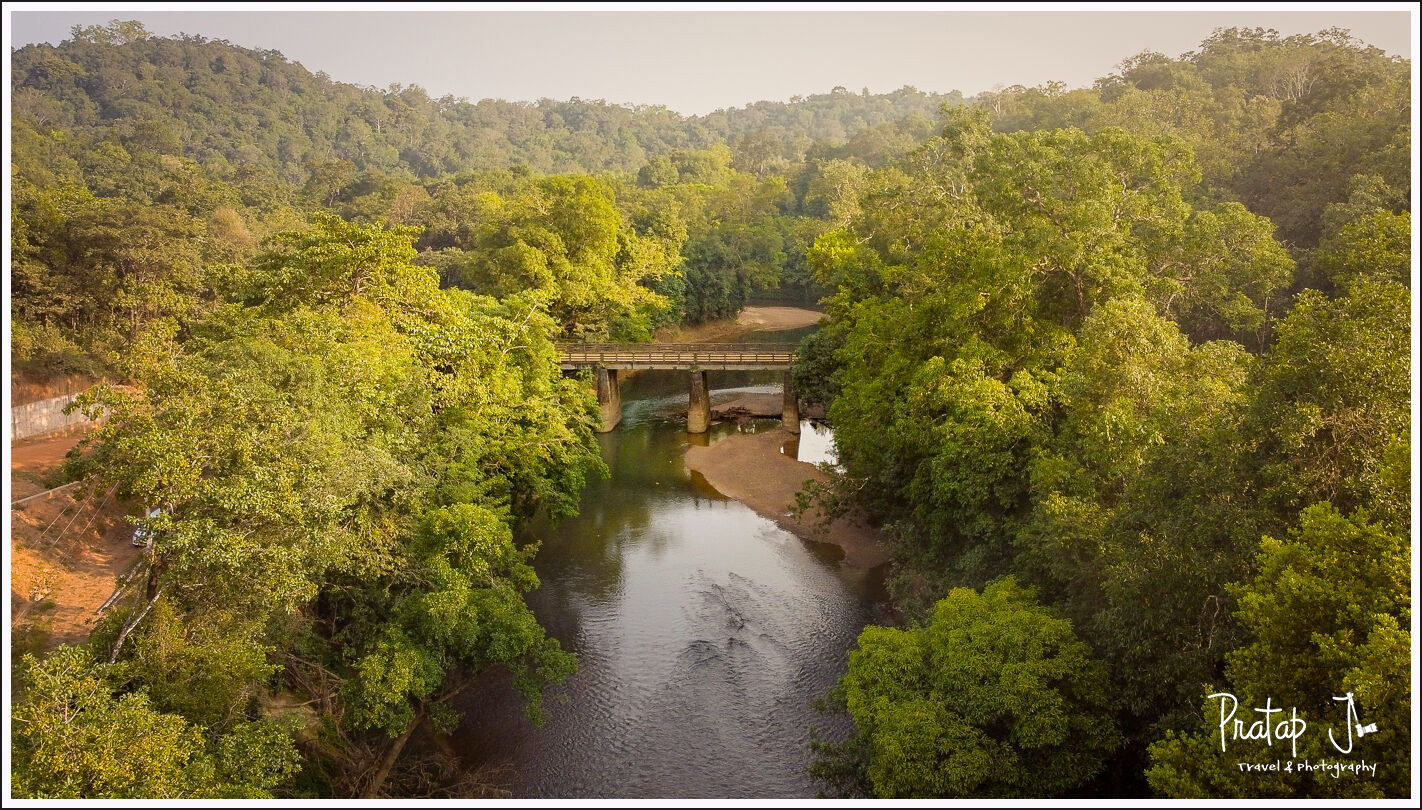 The official route got progressively narrower and the last stretch is most likely untraversable by four wheelers during the monsoon. Luckily, it wasn't raining and my Maruti Brezza did not have any problems tackling the rough patches. At one place, a rat snake causally crossed the jungle path, and I braked in time to watch it slither away into the bushes.
Burude was more massive than I had imagined. It is like a lady with a flowing gown. Although situated deep inside the jungle, the Tourism Department of Karnataka has attempted at developing it into a tourist spot. But in their infinite wisdom, a concrete stairway that seemingly goes down towards the base of the falls, stops abruptly midway as you start descending. You are on your own after that.  A big sign board warns visitors not to go down further, but at the river bed, I saw a life guard waiting for a us to go down below. However, I did not go further because I did not want to risk life and limb. It was also going to be impossible to climb back up with a camera backpack.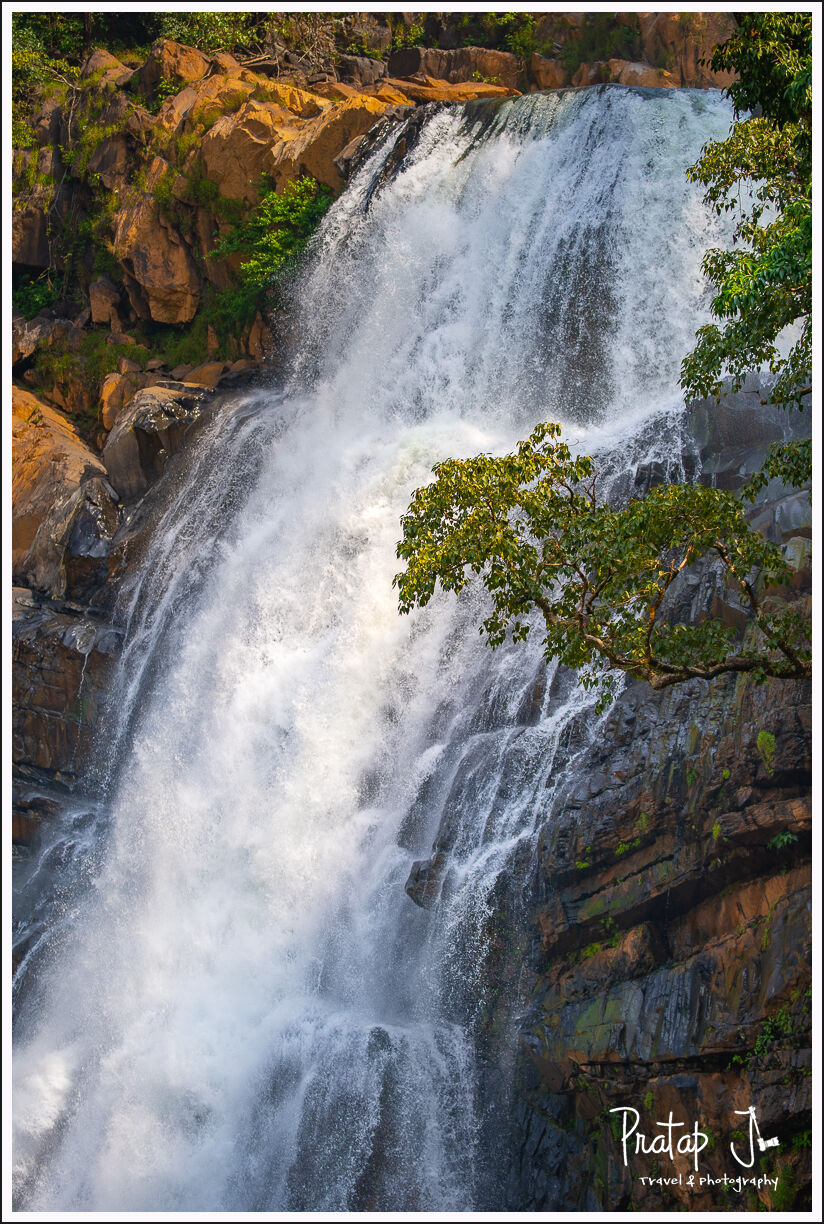 I was content with the mesmerising view of the grand waterfall from above. I was well aware that the real treat to the eyes is from the base of the waterfall. The color of the water there was turquoise, and for a moment, I envied the lifeguard's job.
It is increasingly becoming evident that most people in India don't see nature the way I do. For many, a waterfall or a river bed is a place to have fun irresponsibly. It is public property after all. Almost every scenic spot in the region is filled with trash. For this reason, the locals of Sirsi-Yellapur hesitate to reveal the coordinates of lesser known waterfalls, to outsiders.
On the other hand, I am always on the lookout for pristine locations which don't show signs of human activity. Nature awes me without the need for intoxicants. I find natural beauty to be the best inspiration. But alas, thanks to my fellow Indians, who are highly immature and irresponsible, this is getting difficult with every passing year. The irony is that the internet, where this blog lives, is the very source of destruction. Any natural location which gets popular due to a viral post on social media becomes a big dump yard in no. time. The instagramming crowd is oblivious to the destruction because a selfie for social media is their only motive. So, maybe the Tourism Department's idea of truncating the stairway to Burude isn't such a bad idea.
On the way back to Drongo Nature Camp, I stopped at Bheemangudda – a popular hillock in the outskirts of Sirsi. This sunset viewpoint offers a panoramic view of the rolling hills and highlands. The forest department recently started regulating entry to this place, so at 6 pm just when the colours in the sky started to get vibrant, a guard came and chased us all away.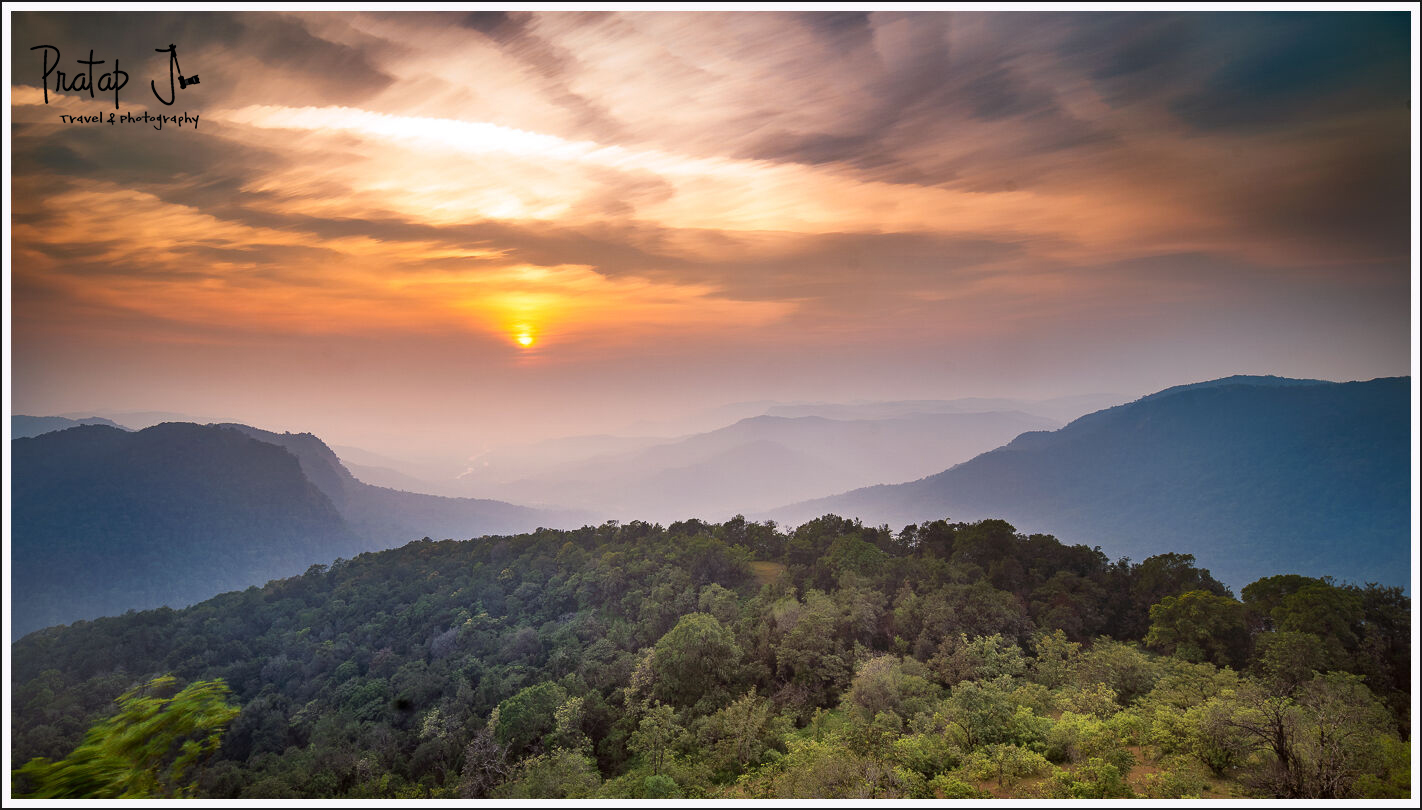 I checked out of Drongo Nature Camp after a 4 day, 3 night stay. My advise to you, dear readers, is to stay for a minimum of 3 nights to experience what Drongo and the nearby places have to offer. During my stay, I saw only 2 waterfalls, but there at least 6 well known cascades worth visiting near Sirsi and Yellapur. Ask a local, and he will tell you of many more, but they can be approached only after a trek.
The drive back to Bangalore was pleasant, because most of it was on AH47. Suhas's hospitality extended beyond my stay – he packed food for me to have on the way back to Bangalore! This kind gesture should be suffice to tell you how much he cares about his guests. I thank Suhas and Omkar for the memorable stay at Drongo Nature Camp.