Trek to Poochapara
I woke the next morning at around 6 feeling refreshed, and headed out straight to the watch tower. And boy, what a sight it was! Since it was dark the previous night, we were totally unaware of the beauty surrounding us. But in the morning it was all so evident. The sight of clouds drifting across lush green mountain ranges was a great way to start the day. The things I saw and the feelings I felt that morning are forever impressed in my memory. The others soon joined me at the watch tower and we shot everything from macro to telephoto till about 8:30. We were on paradise – we had the entire jungle to ourselves, we had a watch tower that gave us a great view of Silent Valley and we were doing what we love to do best – photography. Man, what a feeling!

After a really tasty breakfast of ganji, we were unsure what to do next. According to our original plan, Jayan was to come to Sairandhri that morning and we were to trek to Poochapara with him. But he was incommunicado and the forest guards seemed reluctant to let us hang around. We thought we'd buy time by telling the guards we need to have a bath and get ready. But luckily for us, the Range Officer of Sairandhri came from Mukalli at around 11 and gave us definite information that Jayan wouldn't be coming for another day and we would have to trek to Poochapara without him. So we freshened up and prepared ourselves for the trek – 2 camera backpacks, 2 rucksacks, leech socks, water bottles and high spirits. The Range Officer of Poochapara and a guard, Sadanand, were to trek with us.
It was downhill and easy from the Officers' Quarters to the hanging bridge. River Kunthi was at her full glory, and crossing the hanging bridge was exciting (like in the Indiana Jones movies). I had my first (and only, IIRC) fall just near the river but with some quick acrobatics, I managed to save my camera and Jayan's lens from damage. In fact, they didn't even touch the ground. 🙂 Sandeep, who was watching me from behind, commented that my stunt was really funny and a sight to watch.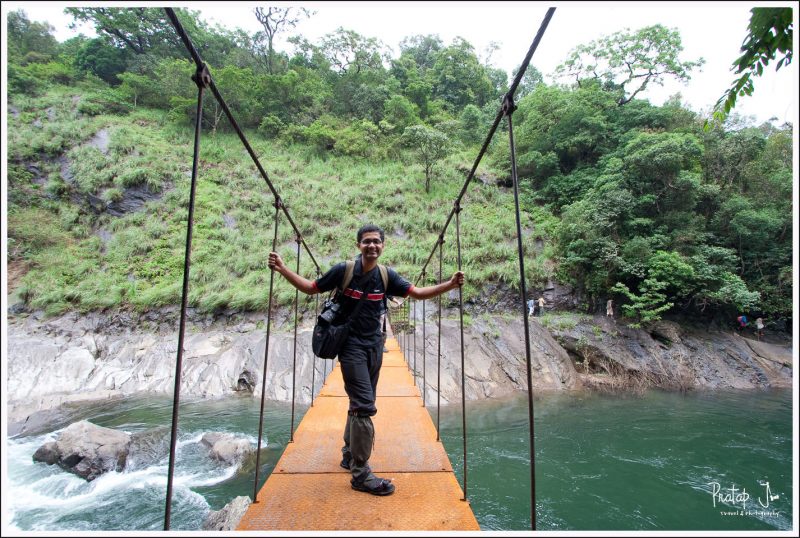 Just after crossing the bridge, we had to walk across an almost straight rock face. The edge was narrow and we had to walk nearly sideways facing the rock, hands searching for grip along the wet and slippery edge, legs spread apart and feet positioned sideways. Any mistake and it would be straight into river Kunthi. The constant flow of water seeping through the rock and the algae made this stretch really precarious although Sadanand looked as though he was strolling in a park. The guy has been in service for 12 years and my respect for him really grew when I got to hear stories about his passion and dedication. In fact, he was the first person to really create an impression on me – he would clean our rooms, cook and serve us food. He would call birds by whistling and he knew the scientific names of almost all birds and mammals. He didn't speak much but he was alert – always showing us something interesting on the way. If we had problems crossing any of the risky paths, he would be there without even being called. He was agile as a mountain goat and had stamina that could match an athlete. And to top it all, he knew how to use our SLR. Just like that. He picked up one of our cameras one day and started shooting – in manual focus! He apparently learnt all this while on the field with Jayan.
After the short, but risky rock edge, it was uphill for almost a kilometer. We met another guard enroute and he carried our provision. He was fast and disappeared from sight while we sedentary workers huffed and puffed. The trek uphill was quite exhausting, but once he got on top the view was simply awesome. Down below we could see the white waters of river Kunthi, surrounded by green mountains. High above, we could see the watch tower. And ahead of us we could see more of the steep incline leading into thick jungle.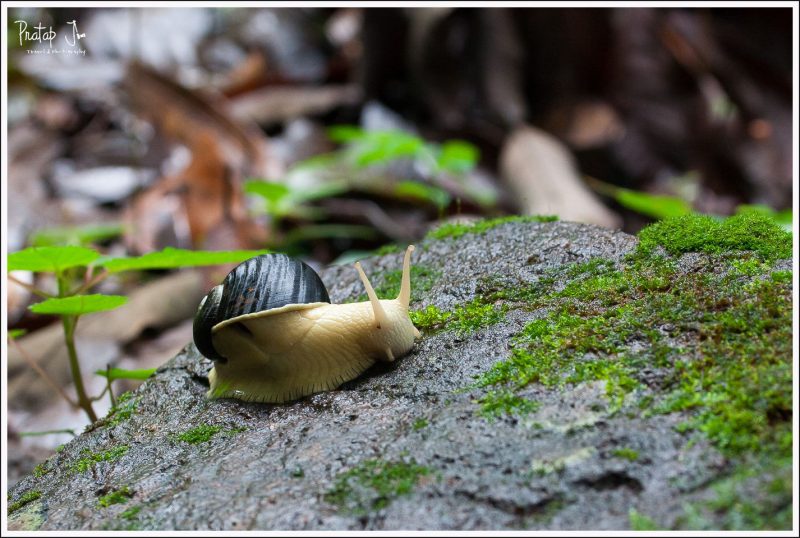 Although I haven't made any mention of it, we had leeches on us all along the trek. They would jump on to our leech socks and wriggle into the damp corners of our floaters. While stopping to catch our breath we would open our floaters to find a bunch of these slimy creatures trying their best to suck through the leech socks. Although Sadanand was wearing leech socks, the other two guys weren't (and they didn't seem to care). They had their legs exposed, so any time they spotted a leech clinging, they'd remove it by pouring a little gutkha, or by hand.
After scaling the steep incline, we headed into thick jungle. This section of the trek was relatively easy, and we got to see lots of interesting sights on the way. Elephant dung was spotted at regular intervals, while mushroom made interesting patterns on fallen tree trunks. We saw snails, frogs, butterflies and other jungle life. We crossed small streams and water falls, stopping at places to shoot or take rest.
We crossed one small stretch of open grassland which was fresh and welcoming after the dampness of thick jungle. The Poochapara peak was a constant companion, getting closer as we gained altitude and covered the distance. At one place we could also see the Poochapara Officers' Quarters, with its radio tower making the place look like a military station.
After about 2 km of relatively easy hiking, it was up hill once again. We took this stretch easy, moving very slowly. Unlike the earlier steep climb, this one was damp and under the canopy of trees, and we couldn't sit anywhere because of leeches. Nevertheless, both Sadanand and the Range Officer ensured each one of us made it, moving at our pace and encouraging us. Of course, they shared their in depth knowledge and answered many of questions best to their ability (language problem being the main hindrance).
Finally, just as our energy levels were hitting low, we reached an opening. There was a path going to the left and one to the right, and I stopped to make sure that Rajith and Rohith, who were behind, don't take the wrong turn. I didn't seen what was ahead to the right, but when I did, lo behold, in front of us was the Poochapara Officers' Quarters. We were tired and the time was half past two. We had trekked for almost three hours, covering around 7 km of thick jungle and steep ascent. Like Sairandhri, the Poochapara quarters was also surrounded by a moat (to keep elephants at bay), and overlooked the mountain ranges of Silent Valley. This sight could give any resort a run for its money. When we entered the quarters we realized that the place was so well maintained that it was indeed almost like a resort. The construction wasn't brick and mortar, but more of an asbestos and wood camp shed. We spent the first fifteen minutes getting leeches off our socks and floaters and then freshened up. Sadanand had already got cooking after freshening up, and lunch was ready in a jiffy. How does food taste when you've just trekked three hours and you are amidst Mother Nature? Heavenly!
The cleanliness and hospitable staff at the Poochapara camp shed is something I will remember for a long time. In spite of being so far away from civilization, these men were high in spirits and very professional in their approach. They did all the cooking in groups, and all meals where served to guests first. The staff minded their own business and only the Range Officer interacted with us. Meals were served on time, and the bed was laid for without us even uttering a word. Toilets were clean and the entire camp shed was really well maintained. Later that night, we saw them keeping up to date by watching the regional news and I was really impressed. Here they are, so far away from their families for extended periods of time, but making sure they don't lose touch with the outside world.
Evening at Poochapara
After lunch and a little resting, we were uncertain about what to do next. The Range Officer asked us if we would like to visit a nearby peak before it gets dark and the rains start. I stupidly asked him what time it would start raining. He gave me a how-dumb-are-you look and I quickly replied, right-o, let's get going. Sadanand and another guard were our companions once again, and we left at around 3.30 pm. This time the trek was short, and we didn't climb very high because mist was slowly engulfing the peaks. We spend some quality time on a rock edge, looking into at the steep valley and gorgeous mountains. The Poochapara peak was standing guard to our right. We would catch glimpses of the peak when the mist would clear briefly for a couple of seconds. I asked Sadanand if he had ever been on top of the peak and he replied with an affirmative, in a been-there-done-that tone. Just sitting there, breathing cool, fresh mountain air, watching the clouds drift, hearing the guards speak of their experiences, was an amazing feeling. Rajith and I were clicking snaps but I gave up after a while because the wind was too strong and I was losing touch with the moment.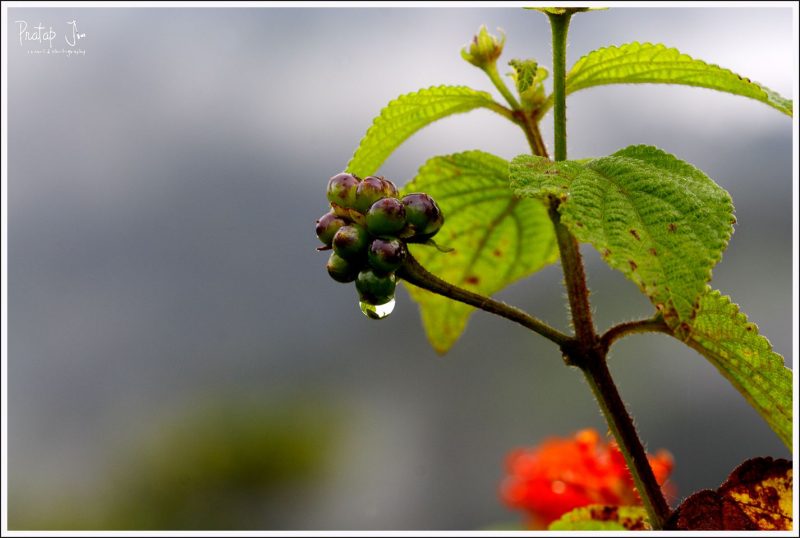 We walked back as the winds got heavy, and once at the camp shed, we pulled out chairs into the court yard and sat watching the mountain ranges. The staff began cooking and we were tending to leech bites and just chilling out. Dinner was served at 8 and our beds were ready once we finished eating. Although the mattresses were not sufficiently wide for four of us, we tucked into our blankets and slept with great joy in our hearts.
Back to Sairandhri
The next morning we woke up to shoot more photos of the misty mountains. Because Jayan's whereabouts where unknown, our new plan was to return to Mukalli the same day and try and get back to Bangalore by catching a night bus. Puttu was served for breakfast and we big farewell to Poochapara at half past 9. Sadanand was with us on the trek back and this time it was relatively easy. It was downhill all along and we reached Sairandhri by 12:00. At Sairandhri, after the mandatory leech cleaning, we stopped by at the Information Center where we got to see educative stuff about Silent Valley. Just then Jayan made a dramatic entrance and everyone's mood changed. After the initial formalities we headed back to our rooms to freshen up. Lunch was served after that and we could make out that the staff had turned very friendly in Jayan's presence. I guess until he came, they took us as strangers but once they saw Jayan interacting so closely with us, they took it easy.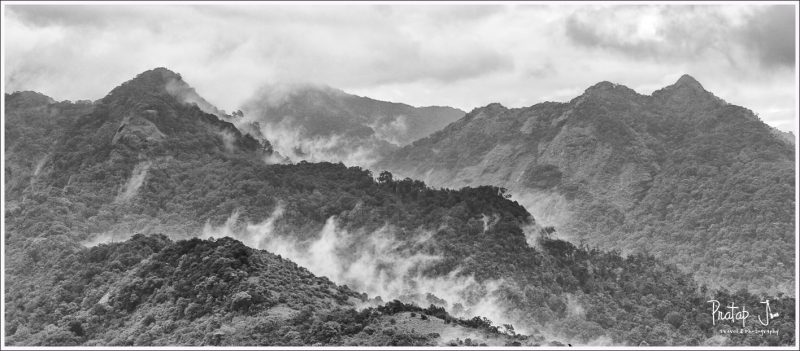 There was confusion about our departure, with Jayan thinking that our train tickets where booked for the same night. But when he came to know that they were actually for the next day (Tuesday), he insisted we stay back. Of course, we were more than happy to extend our stay at Sairandhri so we stuck to our original plans of leaving on Tuesday.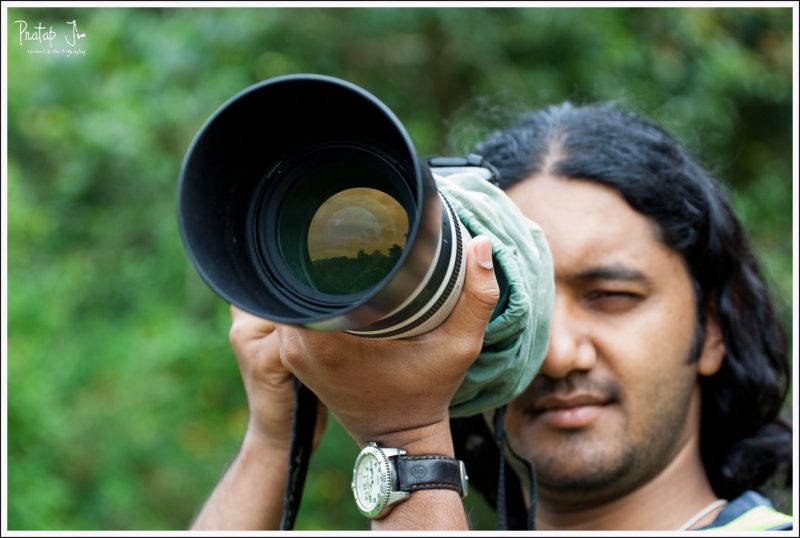 Post lunch Jayan showed us his photographs and we were all awed by it. Some retired to take rest while I went out to shoot with his 100-400L IS lens. The clean mountain air and tasty food ensured that none of us were too tired to explore some more of the mountains. Jayan had promised to take us to a grassland area close by later in the evening and that's what we did. The grassland offered an amazing view of the mountains from a different angle, with the Kunthi River snaking its way through the valleys. We also got to see a dramatic sunset with the majestic mountains in the foreground. The rest of the evening was relatively uneventful and we retired to bed feeling satisfied.
Walking the fire line
Tuesday was our last day at Silent Valley. But it was not to be a day of just good-byes. Jayan and the Range Officers had arranged another short trek for us. It was a steep ascent again, and this time along the 'fire line'. The path we walked separated the National Park from the buffer zone (which housed the tribes). Every summer the grass would be cleared along this path to prevent forest fires from spreading into Silent Valley. Just before departing on this hike, we heard elephants and every one including the staff and the guards became alert. The Range Officer predicted the possibility of us spotting the herd on our hike and we were all quite excited.
The steep climb up the fire line was worth the effort because once we reached on top, we had a beautiful view of the buffer zone. The plan was to hike down the opposite side, but the Range Officers and I trekked back the way we came. Sadanand and the others took the other route which was very steep and dangerous. Unfortunately neither of us spotted the elephants, although the winds carried their smell and we were aware of their presence somewhere in the jungle.
Our Silent Valley trip had drawn to a close after the fire line hike. But it was the start of another relationship. We were all pleasantly surprised when the Range Officer of Sairandhri refused to accept any money for our extended stay. The hospitality of the staff is something we are all very grateful for. They also invited us to come during December – January, when it is summer and there are no leeches. Most of the staffers gave us their personal addresses and asked us to send photos. We had clicked group snaps with all the members and the warmth of these people and their dedication really touched us.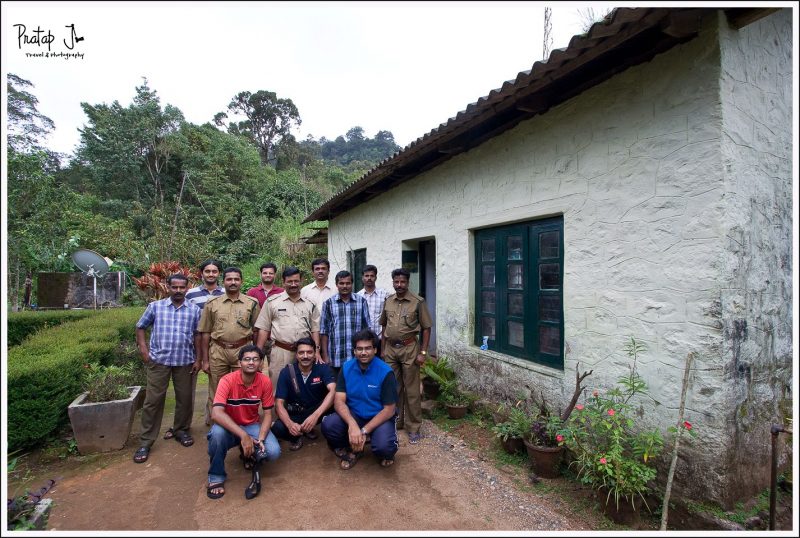 After a hearty lunch, Jayan and we left Sairandhri in his friend's Tavera. Our destination was Palakkad, with a pit stop at Mukalli. We bought some real good honey at the Ecological Development Center (EDC) at Mukalli, and bid goodbye to Soman. We interacted with Jayan during the drive and he gave us lot of tips on how to expand our photography. He also sowed the seeds for our next adventure – Chinnar Wildlife Sanctuary.